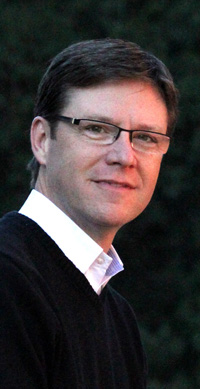 President Gregg Hunter of Christian Camp & Conference Association

American Gregg Hunter has transformed from a troubled youth to a true man of God with a heart for children. After a woman funded a Christian camp experience for him in his teens, the now President of CCCA (Christian Camp and Conference Association) is making sure the future of world will be equipped with positive ideals and Christian values.Recently, I had a chance to speak with Mr. Hunter about the association he represents. We talked about everything from his humble beginnings, camp activities, the safety of camp and the global aspect of CCCA.Without further ado, here is our complete discussion.
Q1: What inspired you to get involved with camps for low-income children?
A1:
When I was 17, I was invited to go to a summer camp for youth, but my family couldn't afford the fee, so I had to decline. Then a caring person in my community offered to pay my way, and my life was changed dramatically as I began a relationship with God at camp that week. I am passionate about providing that same opportunity for kids all across the United States – to raise funds for CCCA member camps to be able to host any child or youth, even if they can't afford to pay.
Q2: What was your claim to fame?
A2:
I was a loud, obnoxious kid looking for attention and behaving badly in order to get it.
Q3: I have never attended a camp of any kind, could you please describe a day in the life of a camper?
A3:
Camps across the U.S. are very different from one another, but nearly every CCCA member camp includes an emphasis on outdoor adventures and activities, fast-paced fun and time to build friendships with their peers and positive adult role models. At Christian camps, there is a time to learn about God through short lessons from the Bible.
Q4: What are some activities the campers enjoy?
A4:
Again, all camps are different, but some have extensive waterfront activities, from skiing and wakeboarding to parasailing and canoeing; others have horse programs, mountain biking, ropes courses and rappelling, team competitions and great food. Often kids say they most enjoyed making new friends and talking with leaders about the issues of life that matter most to them. And the leaders listen.
Q5: What are the rewards of camp for children?
A5:
When children and youth leave behind the stresses and expectations of their normal daily routine and enter the temporary community of a camp, they have the time and space to consider who they really want to be and the type of future they want to pursue. They also experience many adventures they would never have the chance to experience at home, like some of the activities above, making it what many call the best week of their lives.
Q6: Due to priests' scandals in the church and the raging hormones among young people, many may be apprehensive about sending their children to a religious camp because of the fear of sexual misconduct. What does your camp organization do to combat these fears?
A6:
We encourage all our member camps, about 850 across the U.S., to develop and adhere to strict policies and practices that help to ensure the health and safety of every camper. We also point them to resources that operate to provide these. Our member camps exist because the leaders love young people and want to serve them and make a positive impact in their lives. Our experience is that they take seriously the responsibility for adhering to health, safety, and behavior policies.Parents considering sending their children to any camp should feel free to contact leaders there and ask questions about their policies. They may also ask to speak to other parents who have sent their children to that camp over the years. That's what I would do as a parent. I would also encourage parents to go to www.ThePowerOfCamp.com and select "Find a Camp" so they can search for a member camp nearby for their child.
Q7: The formerly Buddhist and Confucian nation of South Korea has a growing number of Christians in recent years. Do you want to take your Christian camp experience to the global scale? If so, what impact do you feel your faith based camps will have on countries of different religions?
A7:
Christian camping is already global. I just returned from a conference in Spain this week hosted by Christian Camping International, representing leaders from similar associations from 20 countries. Each of these countries has its own collection of religious traditions and cultures, and the Christian camping associations are committed to working cooperatively and peacefully alongside and within those cultures.
Q8: What is the ultimate mission of Christian Camp and the Conference Association?
A8:
Our mission is very simple, really. It is to serve our member camps and conference centers by helping to maximize their ministries. We want to help enhance what they are already doing well in their service to children, youth and adults, and to improve in areas that need to be strengthened. Learn more about the CCCA and Gregg Hunter's mission by visiting the following websites:http://thepowerofcamp.com/http://www.ccca.orgFollow Kristy M on Twitter @ShellyM86