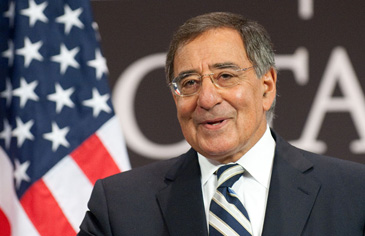 US Secretary of Defense Leon Panetta
US Secretary of Defense Leon Panetta will travel to New Delhi early next week in advance of this year's U.S.-India Strategic Dialogue, which will be held in Washington on June 13, 2012.The Defense Department announced Panetta's trip shortly after Secretary of State Hillary Clinton paid a visit to India in early May to review progress in the strategic partnership.While some recent commentary suggests the U.S.-India relationship may be "adrift" or "oversold," the Obama administration continues to devote high-level attention to the bilateral relationship. What is the purpose of Secretary Panetta's upcoming trip and what does he hope to accomplish?
Q1: What significance does the Obama administration ascribe to the U.S.-India security and defense relationship?
A1:
Earlier this year, the Obama administration outlined a rebalancing of U.S. priorities in the Asia-Pacific region through the Defense Department's new strategic guidance. That document paid a somewhat unexpected level of attention to India. While making a general reference to long-standing Asian allies as a group of "existing alliances," it specifically emphasized that, "The United States is also investing in a long term strategic partnership with India to support its ability to serve as a regional economic anchor and provider of security in the broader Indian Ocean region."Since then, a series of high-level meetings has taken place between Washington and Delhi to discuss next steps for this "long term strategic partnership." In April, Assistant Secretary of State for Political-Military Affairs Andrew Shapiro traveled to India to conduct the first U.S.-India Pol-Mil talks since 2006. According to Shapiro, "the principal objective of these talks was to reaffirm our commitment to the bilateral relationship and chart a way forward toward a deeper defense partnership. And I believe that the talks made important progress to that end."Concurrently, upon her arrival last month as the new U.S. ambassador to New Delhi, Nancy Powell emphasized that her top objectives would include, "Expanding our defense cooperation across all the military services and at all levels… Encouraging India's role in promoting a peaceful, prosperous, and democratic Indian Ocean region and increasing cooperation on counter-terrorism and global threats."Secretary Clinton reinforced this message during her May visit. Standing alongside her Indian counterpart, External Affairs Minister S.M. Krishna, she stated that the United States and India need to deepen security cooperation and work together "to promote a shared vision for the Asia Pacific."
Q2: So, why is Secretary Panetta going to India now? Is this his first trip to India?
A2:
The U.S.-India strategic relationship exists within the context of broader U.S. interests across the Indo-Pacific region, and Secretary Panetta's trip to India will be just one stop along the way of a swing through the region. According to Panetta's press secretary, departing May 30, he will first stop at U.S. Pacific Command in Hawaii to meet with Admiral Samuel J. Locklear III (USN) and then travel to the Shangri-La Dialogue in Singapore, where he will deliver opening remarks to the plenary session to speak about the United States rebalancing its relations toward the Asia-Pacific region and U.S. defense policy in an era of austerity. He will also attend one-on-one meetings with his counterparts from other countries in the region including Singapore, Japan, the Republic of Korea, and Australia. Panetta will then spend two days in Vietnam for meetings to "continue to work" on a strong bilateral defense relationship. Finally, he will conclude his trip with his two-day stop in India and will meet with his counterpart, A.K. Antony, as well as other senior Indian government leaders, including Prime Minister Manmohan Singh.This visit will be Panetta's first trip to India in his capacity as secretary of defense, and it will be the first such visit since former secretary of defense Robert Gates met with counterparts in New Delhi in January 2010. However, Panetta has made previous trips to India, including in his previous role as CIA director. In fact, his first overseas travel as head of the CIA was to New Delhi.
Q3: What is the purpose of Secretary Panetta's visit to India?
A3:
Further strengthening of the U.S.-India relationship is a priority for the U.S. government—President Obama calls it "one of the defining partnerships of the 21st century." Among the issues to be on tap during discussions in New Delhi are regional security, defense trade, and military-to-military relations.First, regional concerns, including China's growing influence, Pakistan's internal instability, and Afghanistan's post-2014 security, are all ones that the United States and India share. With regard to China, Director of National Intelligence James Clapper noted earlier this year in testimony before the Senate Select Committee on Intelligence that "despite public statements intended to downplay tensions between India and China, we judge that India is increasingly concerned about China's posture along their disputed border and Beijing's perceived aggressive posture in the Indian Ocean and Asia-Pacific region." He went on to note that, while India does not anticipate a full-scale conflict in the near future, it is positioning itself for limited conflict along the border region and supports a strong U.S. posture in Asia.Meanwhile, as U.S.-Pakistan relations remain tense, India's relations with its neighbor have shown some recent signs of improvement in a number of areas, especially through expanding trade ties. Still, Pakistan's internal turmoil and the security of its nuclear arsenal remain potential threats to stability in the region and mutual interests that the United States and India share.These interests include the future of Afghanistan following the scheduled withdrawal of U.S. troops in 2014. As Director Clapper also noted, "New Delhi in the near term is unlikely to send troops or heavy equipment to Kabul because it does not want to provoke Pakistan. India's increased engagement is aimed at helping the Afghan Government sustain its sovereignty and independence during and after ISAF forces draw down." While India will be a key actor in Afghanistan's post-U.S. withdrawal in 2014, and while U.S. and Indian goals in Afghanistan are broadly consistent with each other, India is extremely wary of being caught holding the bag in Afghanistan with a suspicious and unpredictable Pakistan in between them.All of these regional concerns, plus a continuation of the ongoing dialogue between the United States and India on Iran and steps to curb its nuclear ambitions, are likely topics of conversation when Secretary Panetta is in New Delhi.Second, defense trade is another key component of the broader U.S.-India security and defense relationship that certainly will be discussed. The sale of advanced defense systems between the two countries sets up a series of opportunities for close technical interaction and collaboration. As Assistant Secretary Shapiro put it, "Defense sales therefore both reinforce our diplomatic relations and establish a long-term security relationship."Although the United States has experienced some disappointments in its defense trade relationship with India—including not being selected by India in its advanced jet fighter competition—the fact remains that U.S. defense sales to India have grown from nearly zero to more than $8 billion in the past decade. Ambassador Powell recently said that the two countries "are poised to sign an additional $8 billion in Direct Commercial and Foreign Military Sales." In this regard, there is some speculation that, in his meetings in New Delhi, Secretary Panetta will aim to seal a $1.4 billion deal to sell India 22 Boeing-made Apache Longbow attack helicopters.Finally, the state of U.S.-India military-to-military cooperation will be on the table. It is an oft-stated fact that India conducts more military exercises with the United States than any other country—now up to 50 annually—and this channel of engagement is likely to grow, adding more possibilities for the two countries to cooperate on a range of operations including antipiracy and humanitarian relief efforts. India is also one of the oldest participants in the U.S. International Military Education and Training (IMET) programs, established more than four decades ago and graduating more than 1,700 Indian officers in that time.
Q4: Is the U.S.-India security and defense relationship "adrift" or "oversold"?
A4:
A number of commentators have recently suggested that the U.S.-India strategic partnership may have been "oversold" in the mid-2000s, or that the relationship is now in a state of drift with both Washington and New Delhi preoccupied with domestic, economic, and political concerns, and facing a legislative gridlock (which they certainly are). This sentiment is easy to understand, especially given the number of high-profile initiatives in recent years like the U.S.-India civilian nuclear agreement that have drawn attention to the new U.S.-India strategic partnership. However, grand gestures and headline-grabbing agreements cannot alone sustain the relationship. The United States and India are at a point in their relationship where "implementation" and "consolidation" are the watchwords, and they are getting down to the nitty-gritty work of understanding each other's bureaucratic structures and political cultures. This phase of the relationship will have its fits and starts and may at times be frustrating for both sides. Nevertheless, Secretary Panetta's trip should serve as a reminder that bilateral security and defense exchanges continue at the highest levels and that the United States remains committed to this "defining partnership," with India emerging as an important "provider of security in the broader Indian Ocean region."
Karl F. Inderfurth holds the Wadhwani Chair in U.S.-India Policy Studies at the Center for Strategic and International Studies (CSIS) in Washington, D.C. Nicholas Lombardo is program coordinator with the CSIS Wadhwani Chair.
For more information about Critical Questions or CSIS policy experts, please contact Andrew Schwartz, aschwartz@csis.org, (202) 775-3242 or Ryan Sickles, rsickles@csis.org, (202) 775-3140, and be sure to follow #CriticalQuestions @CSIS on twitter.