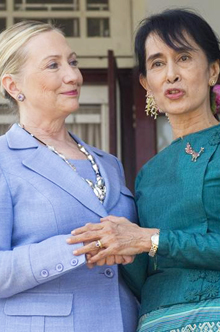 Hillary Clinton with Aung San Suu Kyi
Secretary of State Hillary Clinton's visit to Southeast Asia this week and her meeting with U.S. and Southeast Asian businessmen in Cambodia on Friday give her the ideal platform to spell out what the U.S. government plans to do about its economic sanctions against Myanmar, also known as Burma.Myanmar and the United States stand at the most important crossroads since the military seized control of that ill-fated country five decades ago. The strong showing by Aung San Suu Kyi and her party in by-elections in April, coupled with a raft of other political and economic reforms over the past year, have convinced many countries, including the United States, to soften or drop their economic sanctions against Myanmar.Secretary Clinton announced on May 17 that the United States would suspend sanctions against financial transactions and investments by U.S. companies in Myanmar. But so far nothing has happened. An interagency group from various government departments has met several times to hammer out the conditions of what is known as a general license that would govern the terms under which U.S. companies could begin operating in Myanmar.More than a month later U.S. companies are still waiting. It is urgent that this license be granted quickly to ensure that American firms are fully engaged with Myanmar during this time of political and economic transition and that they are not left behind as companies from other countries charge ahead and seize opportunities.The competitiveness of U.S. companies should not be the primary driver in the decision to suspend sanctions—and indeed it was and is not—but once a decision is made, timing becomes critically important. Further delay only disadvantages American firms with no corresponding policy advantage for the U.S. government.Suspension of sanctions does not mean that suddenly U.S. companies will be doing business with the bad actors originally targeted by sanctions. The Treasury Department's list of Special Designated Nationals, individuals, and companies implicated in human rights abuses will continue to prohibit U.S. companies from deals with those involved in drug trafficking, money laundering, and other nefarious activities.The debate within the interagency group is reportedly focused at least in part on what conditions should be put on U.S. companies investing in Myanmar and whether certain sectors should be excluded. Many companies are open to transparent reporting about their investments to the government but fear stringent conditions that amount to backdoor sanctions.More broadly, the United States should explore a longer-term effort to deepen relations and encourage reform with Myanmar. While the easing of investment and financial services sanctions is a welcome and necessary step, a host of other sanctions, including a ban on imports, remain in place.Recently, foreign governments that had earlier imposed economic sanctions on Myanmar have rolled them back. The European Union, Australia, and Norway are now reengaging with Myanmar to the benefit of their companies and jobs for their workers. Large business delegations from the United Kingdom, France, Australia, and other countries have visited Myanmar in recent months.Japan, which did not impose sanctions on Myanmar, has agreed to $6.1 billion in debt forgiveness and restored full-fledged development aid. This will pave the way for Japanese firms to build power plants and other major infrastructure projects in Myanmar.For the U.S. government to suspend sanctions but then withhold timely approval leaves U.S. businesses out in the cold. This will not encourage Myanmar's broader economic reform process or help the country build a sound industrial base. Nor will it enhance U.S. credibility in the region at a time when Washington is seeking to rebalance its ties to Asia.U.S. companies, by law and tradition, have some of the highest standards in the world when it comes to transparency and corporate governance. The involvement of well-run U.S. companies in sectors from manufacturing to agriculture and natural resources can help establish international best practices, respect for labor and human rights, rule of law, measures to rein in corruption, and environmental protection in those industries. Keeping U.S. businesses on the sidelines will not only give a head start to investors from other countries less inclined to prioritize these important issues, but also deprive ordinary Myanmar citizens of much-needed, nonexploitative employment opportunities.Changing the status quo in Myanmar's natural resource industries, for example, by inviting U.S. competition into these sectors could help dilute the monopolistic grip of state-owned enterprises and businesses linked to corrupt officials and state-owned companies loyal to the military. Keeping U.S. companies out of the bidding for developing energy and natural resources in Myanmar simply ensures that lower-standard operators that are not bound by the Foreign Corrupt Practices Act or ignore environmental imperatives dominate the sector. Myanmar is in dire need of capacity building throughout its economy. Opening the door to well-governed U.S. companies could also help draw a highly talented Burmese diaspora back home to help reconstruct their country.Myanmar's road to full economic engagement will be uneven and slow. But further delays by the United States will result in a missed opportunity to let American businesses, which are the world's most innovative and dynamic, actively engage with the people of Myanmar to upgrade their devastated infrastructure and build factories and farms to create jobs in both countries.
Charlene Barshefsky and J. Stapleton Roy serve on a U.S.-ASEAN Eminent Persons Group appointed by President Barack Obama to advise the United States and the countries of Southeast Asia on steps to bolster their relations. Barshefsky is a former U.S. trade representative and Roy is a former U.S. ambassador to China, Indonesia and Singapore.CSIS Southeast Asia Program serves as the secretariat for the U.S. members of the U.S.-ASEAN Eminent Persons Group.
Commentary
is produced by the Center for Strategic and International Studies (CSIS), a private, tax-exempt institution focusing on international public policy issues. Its research is nonpartisan and nonproprietary. CSIS does not take specific policy positions. Accordingly, all views, positions, and conclusions expressed in this publication should be understood to be solely those of the author(s).