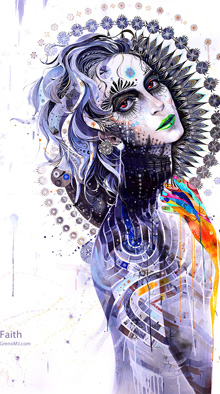 "Faith" by South Korean illustrator
Lee Min-Jae
K-Pop may have stolen the hearts of millions across the world, but artist Lee Min-Jae is capturing global attention with his mesmerizing artwork. Lee, whose artistic nickname is GrenoMJ, creates massive murals of colorful human portraits that quenches the abstract artist's thirst.Recently, I interviewed the young talent for my entertainment focused blog BTSCelebs. We touched on subjects like his inspiration, K-Pop, length of time it takes to complete a masterpiece, his recent travel abroad and so much more.
Q1: What inspired you to become an artist?
A1:
It was something that just happened really. I enjoyed seeing someones cartoons and manga drawings one day and then started doing it myself and eventually it developed into the style I have today.
Q2: How do you decide on a subject to paint/draw?
A2:
If it inspires, it inspires.
Q3: K-Pop is becoming very popular around the world, Do you have an idol crush?
A3:
I think many of them are very talented and very beautiful.
Q4: Do you think drawing a singer could help your art's popularity reach new heights?
A4:
Of course it's what people do to bring their art to new audiences and a new series I am working on will feature some recognizable faces from film, music etc
Q5: How long did it take you to complete your most difficult piece?
A5:
Some pieces have taken over a year, off and on.
Q6: What additional talents do you have besides art?
A6:
Have to leave a little for people to discover for themselves.
Q7: Have you created any of your pieces in foreign countries? If so, where?
A7:
Israel is where I just recently started a piece the size of a shipping container, but it was only 80% complete. It's HUGE!!!
Q8: What do you predict for your future in art?
A8:
I do not predict, but I hope more people see my art and enjoy what they see.Learn more about artist Lee Min-Jae by visiting the following websites:http://btscelebs.wordpress.com/http://grenomj.com/Follow Kristy M on Twitter @ShellyM86