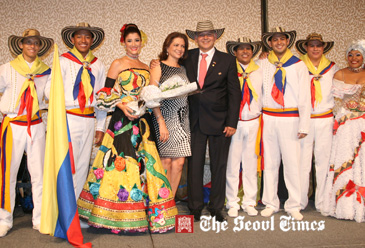 Colombian Ambassador to Seoul Jaime Alberto Cabal Sanclemente (center) poses with dancers at Lotte Hotel in Seoul.
Colombian Ambassador to Seoul Jaime Alberto Cabal Sanclemente hosted a grand reception at Seoul Plaza Hotel in downtown Seoul on July 9, 2012 on the occasion of its National Day and the 50th anniversary of establishing its diplomatic ties with South Korea.Colombia's National Day is the Independence Day of Columbia, which falls on July 20th every year since it gained its independence in 1810 from its former rule of Spain. This year Colombia commemorates the 202nd anniversary of its independence day.The dinner reception was participated by hundreds of high-profile guests including scores of top foreign envoys posted in Seoul. Among them were Mr. Koo Bon-Sang, honorary consul of Colombia, and Mr. Rafael Antonio Salazar Galvez, Ambassador of the Republic of Guatemala and South Korean Foreign Ministry's Deputy Minister for Planning and Coordination Lee Si-Hyung.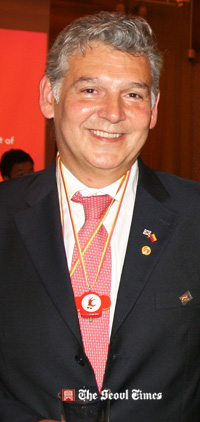 Colombian Ambassador to Seoul Jaime Alberto Cabal Sanclemente
Mr. Lee delivered a congratulatory speech following a welcoming speech by the Colombian envoy.After a majestic performance by the military honour guard composed of South Korean and UN soldiers the rich and dynamic dances and music by scores of Colombians captivated the attention of the audience.The dance and music performances were presented by the members of the "Barranquilla Carnival," which has been declared by the UNESCO as a Non-Material Heritage of Humanity.Colombian Foreign Minister María Ángela Holguín failed to come to Seoul for this celebration due to reasons of force majeure, as her initial flight from Bogotá was cancelled, the Colombian envoy said in his speech.In the speech Amb. Sanclemente emphasized the long and unique diplomatic ties between South Korea and Colombia.He called the bilateral ties "framing the history of joint fight and brotherhood between the two peoples" in the speech."This year we commemorate the 50th Anniversary of the formalization the diplomatic relations between Colombia and Korea," he said. "In fact our relations began in an unexpected fashion"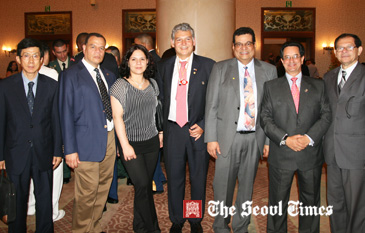 Colombian Ambassador to Seoul Jaime Alberto Cabal Sanclemente (center) poses with other top diplomats. At left is Managing Director Yoon Sung-Bang of The Seoul Times.
He said that the ties goes all the way back to 62 years ago when Colombia Colombia made the brave decision to respond to the UN call and decided to send 5,000 plucky Colombian men to aide South Korean in its war with North Korea.Based on this special relationship of friendship and brotherhood the bilateral ties and economic exchanges have been developed for the last half a century, he argued.He said that the ties were closely tightened as the Colombian President Juan Manuel Santos made a state visit to Korea last September and South Korean counterpart Lee Myung-Bak visited Colombia.By exchanges of presidential visits the ties were promoted to the highest level of cooperation and to the level of strategic partners," he stressed.He also couched upon the conclusion of the negotiations for the Free Trade Agreement between Colombia and Korea.In year 2011 the bilateral trade volume between Colombia and South Korea 1,405 million US dollars. South Korea exported to Colombia 1,095 million worth of goods whereas it imported 310 million US dollar's worth of mainly law materials.South Korea main export items are passenger cars, car parts, and heavy construction equipment and import items include coffee, crude oil, briquette, alloys, and scrap iron.South Korea has invested in Colombia in such areas as wholesale and retail businesses, manufacturing business, and mining areas.Such major South Korean businesses as Samsung Electronics, LG Electronics, and Hyundai Motors are currently operating in Colombia.Korea National Oil Corporation (KNOC), SK Energy, and Golden Oil are involved in projects of material development in the Latin American country.
For details or inquiries contact the Colombian Embassy in Seoul at 720-1369.