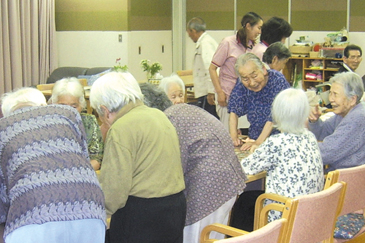 A nursing home in South Korea's provincial area is filled with senior people. Aging is emerging as a serious social problem in South Korea as in many other countries of the world.
WASHINGTON DC — The Center for Strategic and International Studies (CSIS) Global Aging Initiative has released a study on retirement attitudes and trends in East Asia's rapidly aging emerging markets. The new report, Balancing Tradition and Modernity: The Future of Retirement in East Asia, is based on a survey that CSIS conducted in China, Hong Kong, Malaysia, Singapore, South Korea, and Taiwan. Co-authored by Richard Jackson and Neil Howe, it is part of the multiyear Global Aging Preparedness Project, which was launched by CSIS and the British financial services group Prudential plc in 2010, with the publication of The Global Aging Preparedness Index, a unique new tool for assessing the fiscal sustainability and income adequacy of retirement systems around the world.Among the report's major findings:
The traditional "Confucian ethic" expectation that families themselves will provide for their elderly members is under unprecedented pressure. Only small minorities (from a low of 4 percent in China to a high of 22 percent in Singapore) believe that grown children should be responsible for the retirement income of their parents.There is strong support for individuals taking greater responsibility for financing their own retirement. In most countries — China and Malaysia are exceptions — people prefer personal savings-based retirement provision to government provision.For today's elderly, retirement can be a time of economic hardship. Retired respondents in all of the countries worry a great deal about becoming "a burden on their children" (40 to 85 percent), being "poor and in need of money" (30 to 85 percent), and being "in ill health and having no one to care for them" (50 to 80 percent).Although retirement prospects are improving for members of today's working generations, most are still not adequately prepared. Gaps in pension coverage and low replacement rates mean that government and employer retirement systems are unlikely to meet their needs—and very few are saving enough on their own to ensure a decent standard of living in retirement.Based on the survey findings, the report offers concrete recommendations for how decision makers in government and business can help individuals better prepare for their own retirement—and East Asian societies as a whole better prepare for the imminent aging of their populations."As societies worldwide age, the challenge for governments and businesses is to anticipate and meet the needs of tomorrow's growing elderly populations," said the report's authors Richard Jackson and Neil Howe. "The challenge is especially daunting in East Asia, because the region faces onrushing age waves while it is still developing and modernizing. How decision makers deal with that challenge will have important implications not just for the future prosperity of their own countries, but for future global prosperity"The picture that emerges from the survey is one of societies in the midst of a breathtaking transformation. Birthrates have plummeted and families have shrunk. Affluence, educational attainment, and familiarity with markets are rising. And huge generational fissures are opening up between younger and older generations. Yet despite East Asia's remarkable development, the very modern is often found side by side with the very traditional, with dynamic high-tech industry coexisting with large informal sectors and underdeveloped welfare states."Responding to the challenges caused by an aging population is critical to Asia's future. It is critical that policy makers and the industry work together to address this vital question," said Donald Kanak, Chairman of Prudential Corporation Asia, part of Prudential plc. "For 88 years, Prudential has been helping individuals and families in Asia plan for their future and protect their long-term financial well-being. We are pleased to partner with CSIS on the Global Aging Preparedness project, providing important insights into retirement expectations across the region."The Future of Retirement in East Asiareport, as well as supplemental materials including data, analysis, and media coverage, are available on the project website at: http://gapindex.csis.org/asia.For more information on the report's authors, view their biographies here:
Richard Jackson
Neil Howe
About CSIS
The Center for Strategic and International Studies (CSIS) is a bipartisan, nonprofit organization that seeks to advance global security and prosperity by providing strategic insights and practical policy solutions to decision makers.
About Prudential plc
Prudential plc is a company incorporated and with its principal place of business in England, and its affiliated companies constitute a large global financial services group. It provides insurance and financial services through its subsidiaries and affiliates throughout the world. It has been in existence for over 160 years and has £351 billion in assets under management (as at 31 December 2011).
*Prudential plc is not affiliated in any manner with Prudential Financial, Inc, a company whose principal place of business is in the United States of America.