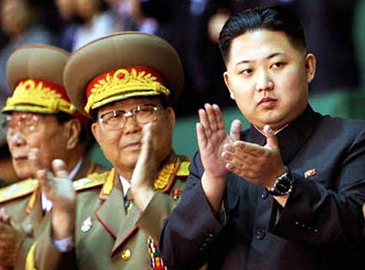 North Korean leader Kim Jong-Un (right) with his brasshats
In recent days, there has been a lot of speculation about changes apace in North Korea. Western and Asian media have focused on three events. First, a mystery woman began appearing by Kim Jong-un's side at official events, including a Disney-themed performance. Second, there was a surprise North Korea announcement that Vice Marshal Ri Yong-ho was dismissed from the top military posts. Then a day later, there followed the announcement that Kim Jong-un had been given the title of marshal, the highest military title that a living North Korean can earn in the country. The latter two are the most significant.
Q1: Who is the "mystery woman"?
A1:
The mystery woman was first seen on July 6 when the Korean Central News Agency (KCNA) released a photo of her sitting beside Kim Jong-un during a pirated Disney performance by the North Korean Moranbong Band at the Pyongyang Theater. She was also seen accompanying Kim the next day at the mausoleum of Kim Il-sung. On July 15, she reappeared in KCNA photos standing next to Kim Jong-un during a visit to Kyongyang Kindergarten in Pyongyang.There are three theories as to her identity. One is that she is Kim Yeo-jung, the DPRK leader's younger sister. However, it would be highly unusual for a female sibling of the North Korean leader to be given such a prominent role. A second theory is that she is Hyung Song-wol, a former vocalist of North Korea's Bocheonbo Electronic Music Band and rumored to have been Kim Jong-un's lover. A third and most likely view is that the DPRK is unveiling the wife of Kim Jong-un. It has been rumored that Kim's wife is a 28-year-old woman whose last name may be Hong and was born in Chongjin to a doctor mother and professor father. Hong is thought to be a graduate of the elite Kim Il-sung University and may have married Kim Jong-un in 2009 and now has a three-year-old daughter. As part of the cult of personality leadership and power transition, it would seem necessary to signal with this marriage that the Kim clan will continue generations into the future.The proximate reason for Kim's attendance at many recent children's events was a celebration of the large-scale children's festival in June. However, this could be emblematic of an effort to offset the popular narrative in the West of massive human rights abuses in the country. It is also clearly an attempt to instill loyalty in the next generation of citizens, whom Kim expects to be following him for decades to come.
Q2: Who is Ri Yong-ho and why was he sacked?
A2:
Ri Yong-ho is known to be the closest military adviser to Kim Jong-un who rose to prominence since September 2009 after Kim Jong-un was anointed as a successor. He was personally chosen by Kim Jong-il to act as a military mentor to the young son. Before he was sacked, Ri had been vice marshal and vice chairman of the Central Military Commission since 2010. He had served as the chief of the general staff of the Korean People's Army since February 2009. And before that, he had held the very important position as head of the Pyongyang Defense Command from 2003, which is responsible for defense of the capital and family compounds. He is reportedly 69 to 70 years old and had served in the military for approximately 52 years. Ri was number four on the funeral list of Kim Jong-il and was one of seven top officials who accompanied Kim Jong-un following the hearse in Kim Jong-il's funeral procession. It is safe to say that there was no more important uniformed general in the DPRK military until his ouster.Many speculations are circulating about Ri's sudden dismissal. One theory posits that this is an attempt by Kim Jong-un and the ruling party to rein in the military and bring it under control by sacking the army's powerful chief. North Korea's announcement of Kim Jong-un's appointment to the rank of marshal on July 18 seems to buttress this theory. Others speculate that Ri lost Kim Jong-un's confidence or lost out in a power struggle with Choe Ryong-hae, who was made vice marshal in April without any military experience but outranked Ri in the party hierarchy.
Q3: What does Kim Jong-un's new military title mean?
A3:
With his new appointment to the rank of marshal, Kim Jong-un finally inherited all three of his father's titles in the party, military, and government. He already earned top posts in the party and government in April 2012 when he was made first secretary of the ruling Workers' Party, chairman of the party's Central Military Commission, and first chairman of the National Defense Commission. Although Kim Jong-un was appointed supreme commander of the military in December 2011, he had remained a four-star general since 2010, a rank lower than that of vice marshal, which had been held by Ri. Coupled with Ri's departure, Kim Jong-un's new military title essentially places him at the top in the military, allowing him to exert greater influence. In North Korea's military hierarchy, only the title of grand marshal is higher, and it has only been bestowed on the country's founder, Kim Il-sung, and posthumously on the late leader Kim Jong-il.
Q4: Are these signs of change and reform?
A4:
Not yet. From the Disney-themed performance to women's short skirts to the appearance of the mystery woman to the fall of Ri, this series of recent developments has hinted at signs of change and spurred speculation about where North Korea is heading. Some say that these have to be understood in the context of a regime trying to bring military hardliners under control. Others argue that this is part of Kim's power consolidation process and that the young leader is trying to differentiate himself from his grandfather and father by displaying a different leadership style. They argue that North Korea's newly found taste for Western culture seems to be an orchestrated effort to boost Kim's public image while veiling his young age. Certainly, all of these glimpses of change are unprecedented given North Korea's reclusive and insulated nature. Yet, it is premature to conclude from these small changes that the country is on the path heading toward real political and economic reform.
Q5: What do we think is the real story?
A5:
First, contrary to popular speculation, the power transition in North Korea is not yet complete. The sacking of the single most important military figure in Kim's inner circle indicates that there is still a great deal of churn inside the system that is not visible to us.Second, Ri's departure seems to be the result of some fundamental differences between the military on the one hand and the party and Kim family on the other. This could be over money, but it could also be over the rash of promotions of civilians to four-star generals ahead of the military itself.Third, the sacking comes on the heels of the failed missile test in April and the bizarre scenes of Kim playing with children despite the country's dire straits (the analogy of fiddling while Rome is burning comes to mind)—clearly, all is not business as usual in Pyongyang.And fourth, Ri's sacking may reflect irreconcilable differences between the military and the party/family over the direction of the country. As a rule, the military is less beholden to perpetuation of the cult of personality leadership relative to the party and the family. In no small part, this stems from the military's large role in the explosion of business activities with China since 2008. Previously, the military was the most organized social institution in North Korea and held a monopoly on the instruments of force. Today, it is all of this, and it is deeply invested in business transactions with the outside world (especially China). Are the military the "hardliners," or are they really the ones who want more serious management of the country's ills? It is impossible to say at this point. Beneath Ri almost certainly lay the mother of all patronage systems in North Korea. If all of these are purged along with Ri, there would be major repercussions in the military. But it may be a bit premature to write the military off as subservient to the party/family and completely emasculated with the sacking of Ri.
Victor Cha holds the Korea Chair at the Center for Strategic and International Studies (CSIS) in Washington, DC.
The Center For Strategic & International Studies (CSIS) short analysis series "Critical Questions" can be found below. Prepared by CSIS experts, Critical Questions are a quick and easy read designed to go to the heart of the matter on today's "of the moment" issues. For more information about Critical Questions or CSIS policy experts, please contact Andrew Schwartz, aschwartz@csis.org, (202) 775-3242 or Ryan Sickles, rsickles@csis.org, (202) 775-3140, and be sure to follow @CSIS on twitter.