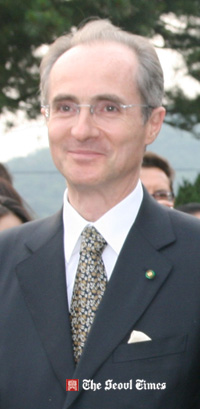 Italian Ambassador to South Korea Sergio Mercuri
The Office of S&T of the Italian Embassy in Seoul in cooperation with the Hanyang University of Seoul and the Chungbuk National University of Chungbuk, will hold the "Korea-Italy Symposium on Infinite Dimensional Analysis and Quantum Probability" to scientifically address the issue of new achievements and approaches related to the probability theory. It is noteworthy that, despite the appearances, the mathematical development of the chances evaluation presents relevant links with everyday life as playing a crucial role, not only in physics, but also in economics, decision theory, psychology, gambling, security, medicine, etc.
In particular the Symposium will draw the attention on the evolution of the theory of probability after the discovery of quantum mechanics.
Over the past 20 years, as a matter of fact, the theory of probability has experienced a radical change, as a follow-up of the introduction of the quantum theory, and such a development has been achieved through a close and continuous interaction with the concrete problems posed by physics, and reflections on the fundamental problems have been joined with the flowering of many new ideas and techniques, allowing the creation of new mathematical models for the satisfactory resolution of previously intractable problems.The Korea-Italy Symposium would represent a contribution to the growing sensitivity to Math and its applications. Korean and Italian Scientists will jointly discuss the important issue of quantum probability from the point of view of experts of this multidisciplinary matter, offering a snapshot of Korean and Italian perceptions about new scientific and industrial trends and strengthening of on-going bilateral/international cooperation. The Symposium will take place at Hanyang University in Seoul, Natural Science Building, on July 30th, h.13:45-19:00.For more detailed information, contact the Office of S&T of Italian Embassy (Dr. Antonino Tata, ph. 02-7500-200, sciencekor@yahoo.it) or Hanyang University (Prof. Jaseong Heo, ph. 02-2220-0906, hjs@hanyang.ac.kr).