Business
"A Falling Euro Means Serious Reflation"
"Devaluation Is Already on the Cards," Writes Expert
By Clem Chambers
Senior Market Correspondent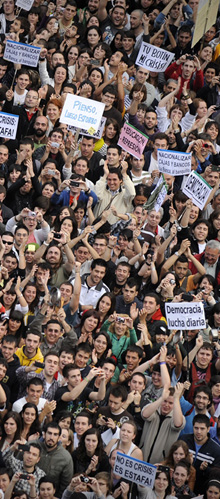 Spanish people stage a strong protest against government as its economic crisis deepens and its joblessness wrosens.
Spain is in meltdown mode. Yield on 10-year borrowing costs soared above 7.5 percent in the last week, a full half percent over the 7 percent 'line in the sand' that in the past has triggered full scale bail-out moves.The Yen/Sterling rate is back around 1.20. I see this as a clear signal that markets are running for cover.The French interest rate is falling hard. Money is fleeing from Spain and Italy to anywhere credible in the Euro area.It is Spain's regions – broke and begging Madrid for money - now spoiling the picture even further. How many fiscal skeletons are hidden in their closets?Spain's sovereign numbers look alright on the surface but the nation is loosely federal - its regions have broad scope for getting themselves into trouble. Empty new roads right across the country are concrete proof of a recent history of runaway state spending. Autonomy is not a two-way street in Spain, local freedom is not matched by the same degree of fiscal responsibility. It can't be, the centre authority must carry the can for the regions, a lesson the EU is now learning the hard way.The fear is that Spain and its regions' debt situation is a can of worms in the process of being torn open, after which Spain could look more like Greece than Italy.This rolling narrative has been the theme of the Euro crisis all along. Thing look bad and then look worse. Every development exposes another layer of debt.In a way, this is not surprising. Every country or business, however big, looks like a house of cards if you pick away at the fabric hard enough. All it takes is a loss of confidence and assets suddenly evaporate as they are written off, written down, discounted or dismissed. Meanwhile, liabilities, unlike assets, never evaporate. It is this asymmetry that causes the crashes.Loss of confidence is the poison that has spread through Europe one country at a time. Not even Germany is safe from this kind of loss of faith. What can turn the tide?Ultimately, economics will end the crisis. It will either be economics inflicted by the market or economics administered by government.The simple fact of the euro crisis is, the euro remains too strong.It must fall, and now we are seeing this begin to happen. A falling euro means serious reflation and devaluation is already on the cards – a real, economic 'bazooka' in the wings. Reflation will reset the single currency to levels where Europe is again competitive. A reflationary move by Europe beyond the closed circuit of providing bank- to –sovereign- to- bank liquidity will save Europe from depression, bind it closer together and readjust it. There's no question this readjustment will leave it poorer - but at least it will enable it to grow again.The adjustment could be undertaken by facilitating private sector bonds, effectively letting big companies print their own money. This is a drastic move but one almost certain to drive growth and reflation. This is the nearest thing to throwing money out of Ben Bernanke's helicopters. It's a strategy which has been mooted on and off since 2008.Private sector bonds are just the sort of solution central banks want to avoid as it is one that is likely to set off high inflation. Something else might be in the works. If and when the private bond mechanism is put in place, it will be the last throw of the dice.Meanwhile, if there is no near -term fix for Spain, Italy will likely slip off the precipice soon after. Then it will be France's turn before the floodgates to the death ray of global markets are opened for the rest of the world. Most likely, we will shortly see yet another 'stop- gap' to keep Spain from entering the zombie states of Portugal and Greece. And the gut wrenching volatility of world markets will go on.

Related Articles
4 Trillion Needed to Fix Europe Crisis
Solutions to Europe's On-going Debt Crisis
If Japan Can Survive for Generation on 200% ...
Finger of "Euro Doom" Is Now Pointing at Spain
Yawning Trade Imbalances Are Driving the ...
Money Flows Like Water
Policy, Money Flow Are Driving the Market
Resetting the Debt Mountian
Three Questions Facing Capitalism
New Year Will Bring More Volatility in Market
Markets Remain Volatile as Europe Seesaws ...
If Germany Is to Avoid Financial Collapse, ...
World's Economy on Course for a Crash
With Italy Now Teetering on Cliff Edge, ...
Last Week's Episode of Saga That Is Euro ...
As Euro Crisis Rises to Finale, Economic and ...
EU Must Follow UK's Lead for Credit Crisis
Political Inertia Edging Europe to Economic ...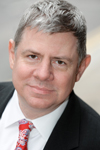 Clem Chambers serves as Senior Market Correspondent for The Seoul Times. He has been writing investment columns for a number of international media including Wired Magazine, the Daily Mail, the Daily Telegraph, the Daily Express, the Scotsman, and Forbes. He can be reached at aliceh@advfn.com His website is advfn.com