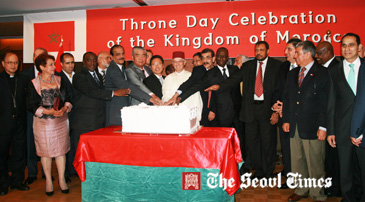 Moroccan Ambassador to South Korea Mohammed Chraibi in white robe in the center cuts the cake with other foreign ambassadors in a ceremony held to celebrate its "Throne Day" at Lotte Hotel in downtown Seoul on July 30, 2012.
Moroccan Ambassador to South Korea Mohammed Chraibi and his wife, Mrs. Amal Lahlou, hosted a reception at the Lotte Hotel in downtown Seoul on July 30, 2012 to celebrate its national day, "Throne Day." The reception was also meant to celebrate 50 years of Morocco's diplomatic relations with South Korea."Throne Day" is the day of accession of King Mohamed VI to the throne in 1999. The day has been celebrated usually on July 30 every year since then.A number of foreign ambassadors and other distinguished guests were invited to the dinner reception held at 7:15 on the day.Ambassador Chraibi delivered a welcoming speech which was followed by a congratulatory address by Mr. Lee Sam-Gor, vice minister of South Korea's Ministry of Public Administration and Security at the dinner.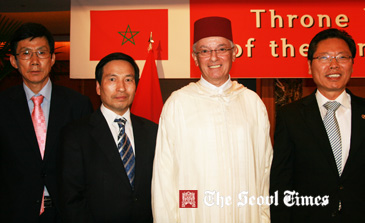 Moroccan Ambassador to South Korea Mohammed Chraibi (2nd from right) poses with Vice Minister Lee Sam-Gor (right) of South Korea's Ministry of Public Administration and Security, and with Dr. Lee Ku-Yeon of Body-Eu. At left is Managing Director Yoon Sung-Bang of The Seoul Times.
In the welcoming speech the Moroccan envoy expressed his deep appreciation to the invitees for joining him in the celebration of Morocco's National Day."Over the past 10 years Morocco has come far in achieving democracy and openness," Ambassador Chraibi said in the speech.The Moroccan envoy also expressed his gratitude to South Korea for providing economic support to Morocco over the past 50 years.In particular he recognized the efforts of the Korean International Cooperation Agency (KOICA) for their support and cooperation in the course of Morocco's economic development.Around the end of his speech the Moroccan envoy expressed his wish to forge everlasting friendship and partnership with South Korea in the future. In his congratulatory speech Vice Minister Lee congratulated Morocco for having successfully achieved social, political, and economic reforms for democracy over the years.He recognized the significant progress the two nations have made in promoting cooperation in the political, economic, and cultural fields since the establishment of diplomatic ties in 1962.He went on to say that Morocco and South Korea are similar in pursuing economic growth, particularly through the development of human resources and information communication technology, as well as green growth. He wrapped up his speech saying "I am confident that the sharing of experiences and practices will not only contribute to the reconstruction of the nation, but also to the deepening of the bilateral friendship."The year 2012 marks a significant milestone in the development of bilateral relations between Morocco and South Korea as they celebrate 50 years of diplomatic establishment.Back in 2001, the Business Council was established to promote economic development between the two nations.Later in 2010, Morocco and South Korea adopted a triennial work program to further enhance partnership and bilateral trade by taking advantage of the common agendas between the two economies. Many Korean companies are currently involved in the construction of power plants in Morocco and will also be participating in infrastructure building projects such as the construction of road, port and high speed railways.It is noteworthy that in the recent years, major South Korean corporations such as LG, Samsung and Daewoo Engineering have also played an active role in Morocco's economy through foreign investments, exportation of electronic products and implementation of information technology and security training programs. Morocco is a country located in North Western Africa and has a population of over 32 million, occupying an area of about 446,550km². Morocco distinguishes itself from other countries with its diverse Arab, Berber, European and African influences.It possesses about 70 percent of the world's phosphorus reserves and serves as the largest exporter in that industry. However, in recent years, Morocco has emerged as an exporter of manufactured and agricultural products, and its popularity as a tourism destination is growing.
For details or inquiries call Ms. Marie-Claire Hong of the Moroccan Embassy in Seoul at 793-6249 or leave her an Email at claire99@empas.com