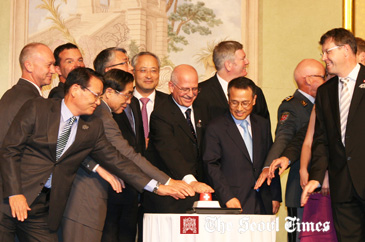 Swiss Ambassador to South Korea Thomas Kupfer (7th from left) poses with other ambassadors during his national day reception held at Grand Hilton Hotel in Seoul on August 1, 2012.
The Swiss Ambassador to South Korea Thomas Kupfer and his wife, Mrs. Fiorella Kupfer Montefiori, hosted a reception at Grand Hilton Hotel in Seoul on August, 2012 for the celebration of its national day.Many foreign ambassadors and other distinguished guests attended the dinner reception held at 7 p.m. on the day.The national holiday of Switzerland, set on August 1, is an official national holiday since 1994, although the day had been suggested for the celebration of the foundation of the Swiss Confederacy as early as 1889.The reception commenced with scores of members of the "Incheon Alpenrose Children's Choir" in traditional Swiss costume singing the national anthems of South Korea and Switzerland.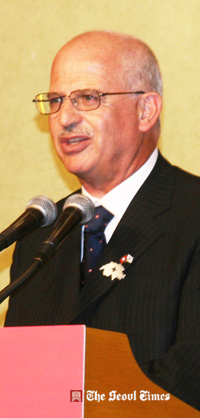 Swiss Ambassador to South Korea Thomas Kupfer

Swiss Ambassador Thomas Kupfer subsequently delivered his welcoming speech which was followed by a congratulatory speech by Deputy Foreign Minister Kim Kyou-Hyun of South Korea's Ministry of Foreign Affairs and Trade (MOFAT).Launched at the reception after the speeches was the digital version of the book "50 Years Switzerland-Korea," which commemorates and documents the progress of bilateral relations between the two nations since 1962.In the welcoming speech Ambassador Kupfer expressed his sincere appreciation to his guests for celebrating this special occasion with him.He emphasized that Switzerland and South Korea have established friendly and strong ties over the past half century which would not have been made possible without the support of the South Korean government. The Swiss envoy further said that both nations had cooperated closely in the fields of politics, education, economics, science, and technology.He said that the Alpine country had moved from "A high nation to a Hi-Tech nation."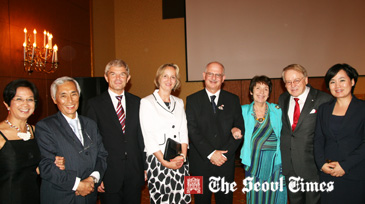 Swiss Ambassador to South Korea Thomas Kupfer (4th from right) poses with other dignitary participants at his national day reception held at Grand Hilton Hotel in Seoul.
He commended South Korea for its achievements over the years, saying "What Korea has achieved is a positive, solid, and consistent transformation."He added that he has enjoyed Korea during the past four years as the Swiss ambassador to Seoul.The Swiss national day event was the last official event hosted by Ambassador Kupfer. He will soon leave South Korea for a new ambassadorial post in Singapore. The current Swiss Ambassador to Singapore Jorg Al will replace him for next term in Seoul.He wrapped up his speech, saying "I wish Korea all the best in the future, and hope for a growing partnership and profound friendship between the two nations in future."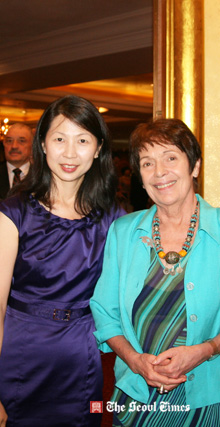 Mrs. Fiorella Kupfer Montefiori, wife of Swiss Ambassador to South Korea Thomas Kupfer poses with wife of Singapore Ambassador Peter Tan Hai Chuan (陈海泉).
In his congratulatory speech Deputy Foreign Minister Kim congratulated Switzerland and complimented Switzerland on its achievements and stable and prosperous economy."It is important for Switzerland and South Korea to maintain friendly cooperation and exchanges in such areas as in high level security, science, technology, and tourism," he added.He went on to commend the Swiss participation in the Neutral Nations Supervisory Commission to promote world peace and stability. He ended his speech by showing his gratitude to Ambassador Kupfer for his contributions and outstanding service to South Korea during his term."I extend my best wishes to Ambassador Kupfer and wish him all the best in his future endeavours," he said.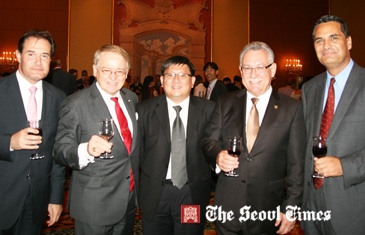 General Manager Bernhard Brender (2nd from left) the Grand Hilton Seoul poses with foreign ambassadors at his hotel.
Switzerland has been participating in "Expo 2012" held in Yeosu, South Korea's South Jeolla Province.
Swiss art and culture including its design and innovation have been introduced to the expo.
South Korea is a major Swiss trading partner. Seoul has also attracted substantial Swiss investment over the years. Both Switzerland and South Korea are also trading members of the European Free Trade Area (EFTA).Both countries cooperate closely in the field of science and research. They are actively involved in the importation and exportation of machinery, chemicals, and agricultural products.In recent years Switzerland has also become a popular holiday destination for many Koreans.Switzerland or the Swiss Confederation is a federal republic consisting of 26 cantons. Located in Western Europe, it spans an area of about 41,285 sq. kms and has a population of about 8 million people. This picturesque Alpine nation is one of the world's most affluent countries and has a blend of German, French and Italian cultures. Switzerland has been recognized internationally for adopting the policy of armed neutrality. Due mainly to its neutrality it has not been involved in warfare since 1815.Switzerland's historical link to the Korean Peninsula dates back to the end of the Korean War (1950-53), when Switzerland was nominated as a member of the Neutral Nations Supervisory Commission (NNSC) to mediate relations between North and South Korea, which are still technically at war.
For details or inquiries contact the Swiss Embassy in Seoul at 739-9511.
Share on Facebook