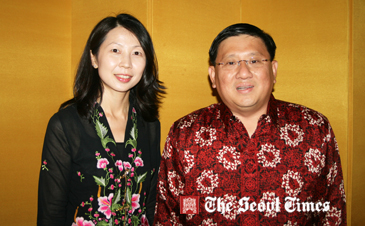 Singaporean Ambassador to Seoul Peter Tan Hai Chuan and his spouse Mrs. Sim Siew Eng pose for The Seoul Times at their reception held at Grand Hyatt Hotel in Seoul on August 14, 2012.
Singaporean Ambassador to Seoul Peter Tan Hai Chuan and his spouse Mrs. Sim Siew Eng hosted a reception at the Grand Hyatt Seoul Hotel on August 14, 2012 in celebration of Singapore's 47th National Day. The National Day of Singapore is celebrated on August 9 every year in commemoration of Singapore's independence from Malaysia since 1965.A number of foreign ambassadors and many other local and international guests attended the dinner reception held at 6:30 p.m. on the day.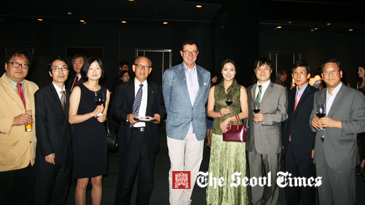 Chairman Chang Man-Key (4th from left) of Korea Human Development Institute (KHDI) poses with CEO Lee Charm (center) of the Korea Tourism Oganization (KTO). To Lee's right is Director Cho Seung-Hee of Global Image Care (GIC) and to her right is GIC President Lee Jung-Su. At second from left is Director Ki Woo-Tak of Seoul National University Hospital Healthcare System Gangnam Center and to his right is his spouse Mrs. Ki. At far right Director Kang Hyun-Seop of Gangnamgu Office's Public Health Center. To his left is Director Yoon Sung-Ban of The Seoul Times.
The reception commenced with the showing of a video montage introducing distinct characteristics of Singapore followed by Ambassador Tan's opening speech and congratulatory speech by Minister Hong Suk-Woo of South Korea's Ministry of Knowledge Economy. In the welcoming speech, Ambassador Tan expressed his gratitude to Minister Hong and his guests for gracing the event to join in the celebration with him."Singapore's bilateral relations with the Republic of Korea have been excellent, anchored by many high-level visits from both sides," the Singaporean envoy said.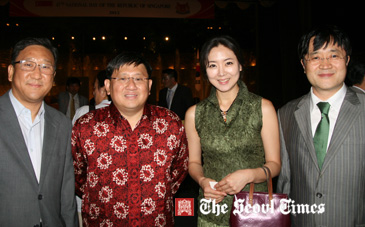 Singaporean Ambassador Peter Tan Hai Chuan (2nd from left) poses with Director Cho Seung-Hee (to his right) of Global Image Care (GIC), GIC President Lee Jung-Su (right), and with Director Kang Hyun-Seop of Gangnamgu Office's Public Health Center.
"The influence of Korean culture is highly evident in Singapore with Korean pop culture, drama and food finding their way into our everyday life," he said. "Increasingly, Korean has also emerged as a popular third language among young Singaporeans"Ambassador Tan displayed his knowledge and understanding in the Korean culture stating that Singapore and Korea will be each other's "일파만파" (il-pa-man-pa), a phrase used by Koreans during golf playing.The literal meaning of the phrase is that as a player receives a par for a hole, the other members in the flight will also receive a par, according to the envoy.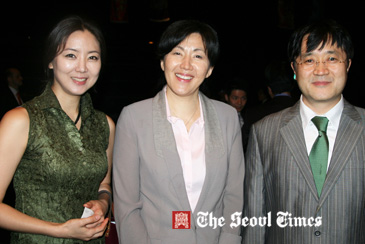 Director Cho Seung-Hee (left) of Global Image Care (GIC) and GIC President Lee Jung-Su (right) pose with President Sohn Jie-Ae of Arirang TV.
"Singapore and South Korea alike will be each other's partner to strive for a win-win outcome in their diplomatic relations," he went on.The Singapore envoy ended his speech congratulating South Korea for successfully hosting the 2nd Nuclear Security Summit and the Yeosu Exposition earlier this year.He then proposed three toasts, first to the president of South Korea Mr. Lee Myung-Bak, second to the continued friendly ties and third to the prosperity of both nations.In the congratulatory speech, Minister Hong commended Singapore for having made remarkable strides since gaining independence in 1965.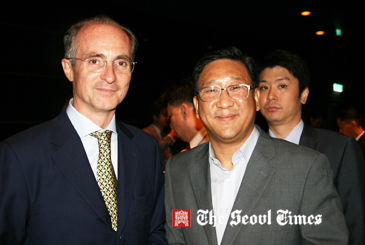 Italian Ambassador to Seoul Sergio Mercuri (left) poses with Director Kang Hyun-Seop of Gangnamgu Office's Public Health Center at Singapore National Day reception held at Hyatt Hotel.
"Singapore has gained worldwide recognition in many aspects such as having a transparent government, excellent human capital, and strong political stability," Minister Hong said. "Both South Korea and Singapore have enjoyed excellent bilateral relations since the establishment of diplomatic ties in 1975," the Korean government official added. "Singapore has been South Korea's biggest investor and trading partner with bilateral trade volume up to 29.7 billion in 2011," he elaborated."Korea's expertise in plant construction, equipment and manufacturing together with Singapore's excellence in financing and engineering will be a good platform for bilateral cooperation to grow closer in the future," he added.The Korean minister wrapped up his speech toasting to the prosperity of Singapore and South Korea and other countries and also to universal peace and friendship. Singapore has been said to be one of the "Four Tigers" of rising Asian states along with South Korea, Taiwan and Hong Kong. Both South Korea and Singapore have been notable for their highly developed and advanced economies in Asia. While Singapore emerges as one of the world-leading international financial centres, South Korea establishes itself as one of the world leaders in manufacturing information technology. Bilateral cooperation between the two nations included trade and investment promotion, information and communications technology, maritime transport and science and technology. There are currently more than 1,000 Korean companies in Singapore. They include CJ Group, Samsung Electronics, LG Electronics, SK Group, Daewoo International, Hanjin Shipping, Sunwoo Entertainment, and the Ssangyong Engineering Construction.Approximately 23,000 Koreans are currently residing in Singapore and the figure is rising steadily over the years.Singapore is a South East Asian city-state off the southern tip of the Malay Peninsula. It has the third highest per capita income in the world and has a population of slightly over 5 million people. Renowned worldwide for its cleanliness, Singapore is better known as the "green city" to many. A multi-cultural and multi-racial country, it has a diverse population consisting of the Chinese, Malays, Indians, and Europeans. The Lion City is highly urbanized and has established itself as the world's fourth leading financial centre and its port one of the five busiest ports in the world.
For details or inquiries please contact the Singaporean Embassy in Seoul at 774-2464~7.