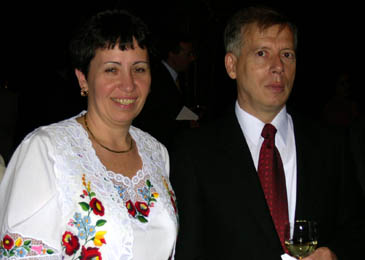 Amb. Istvan Torz of Hungary and his wife at reception
Amb. Istvan Torz of Hungary hosted a reception on Oct. 22, 2004 at the Grand Hyatt-Seoul in Hannam-dong, Seoul to mark the 48th anniversary of the Hungarian Revolution, which occurred on Oct. 23, 1956.About 200 guests were present at the standing buffet party which started at 6:30 p.m. at the hotel's Regency Room and lasted late into the evening.Scores of foreign ambassadors in Seoul participated in the reception. Some of the envoys included Amb. Tomas Smetanka of Czech Republic, Amb. Conor Murphy of Ireland, Amb. Tadeusz Chomicki of Poland, and Amb. Volodymyr Furkalo Ukraine, and Malaysian Amb. Dato' M. Santhananaban.Other high-profile guests were Executive Director Kim Yun-Jin of Samsung SDA, Prof. Choi Woon-Sang of Yonsei University.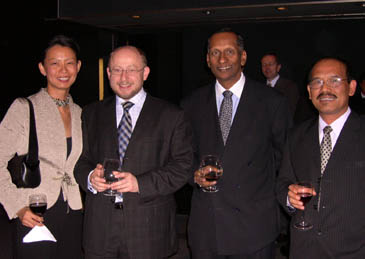 Amb. Istvan Torz emphasized bilateral relations Hungary has developed for the last 15 years at the reception. He said that the two countries has made huge progress in political and economic exchanges.The Hungarian National Day is observed because of the Hungarian Revolution that occurred on Oct. 23, 1956 against the Soviet Union's influence and control in Hungary, a land locked country in Central Europe. The Hungarian Revolution is also known as the Hungarian Uprising.The revolt was brutally suppressed by Soviet troops. Thousands were killed, many more were wounded, and nearly a quarter million left the country as refugees. The revolution was a watershed event for Communist sympathizers in Western countries: as many who formerly supported the Soviet Union now criticized it.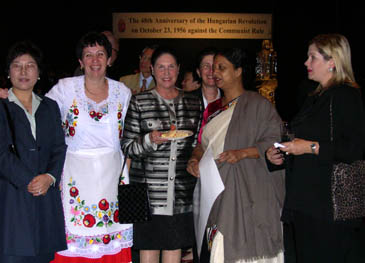 Amb. Istvan Torz is one of the experts on Korean affairs. He served at the Hungarian Embassy in Pyongyang, North Korea in early 1980s and authored a book titled "Democratic People's Republic of Korea" in 1987. He received a doctor's degree from Eotvos Lorand University of Sciences with his thesis on "Northern Policy."
Related Photos of Hungary's National Day