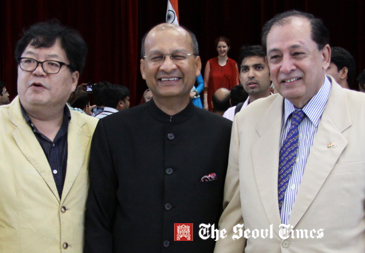 Indian Ambassador Shri Vishnu Prakash (center) poses with President M.S.R. Shah of Ashoka Indian Restaurant. At left is Mr. Joseph Joh, publisher of The Seoul Times.
In celebration of the 65th Anniversary of India's Independence Day, Indian Ambassador to Seoul Shri Vishnu Prakash hosted a full day bazaar at the Indian Cultural Centre in Hannam-dong, Yongsan-Gu, Seoul on August 15, 2012. The bazaar commenced with the unfurling of India's national flag, followed by singing of the national anthem. Ambassador Prakash subsequently delivered India's President Shri Pranab Mukherjee's message dedicated to all indian citizens.Hundreds of distinguished guests and Indians residing in South Korea attended the bazaar and even participated in Bollywood dance and yoga workshops held at the centre as part of India's Independence Day event.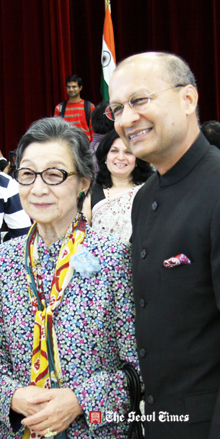 Indian Ambassador Shri Vishnu Prakash (right) in event held at the Indian Cultural Centre in Seoul's Hannam-dong on August 15, 2012 to mark the 65th anniversary of the Indian Independence Day.
The India's Independence Day is celebrated every year since August 15, 1947 in commemoration of India's independence from British rule to become a sovereign nation. In the opening speech, Ambassador Prakash expressed his heartfelt thanks to his guests for joining him in the celebration of this special occasion. "It is a great privilege to address, for the first time, my fellow Indians on the 65th anniversary of our independence," the Indian envoy said. Ambassador Prakash took office as the Indian ambassador to Seoul in January 2012."Between 1990 and 1947 India's economic growth was an annual average of percent," he said. "We have posted an average growth rate of more than 8 percent over the last seven years" "India is a nation that is becoming younger both in age and spirit; this is an opportunity as well as a challenge," the indian envoy added. "The young thirst for knowledge that will lift their skills; and for opportunity that will put India on the fast track to the first world" The Indian envoy wrapped up his speech expressing gratitude to Mahatma Gandhiji, the architect of India's independence. "I am happy that Korea and Indian share the same independence day," the Indian diplomat shared his joy with The Seoul Times. "I would like to take this opportunity to wish Korea success in its future endeavours"Since the formal establishment of diplomatic ties between India and South Korea in 1973, several trade agreements have been reached. Prime Minister Manmohan Singh paid an official visit to Seoul early this March 2012 to forge bilateral strategic partnership through the Nuclear Security Summits and also negotiated on the agreement to simplify visa procedures between the two nations. South Korea is currently the fifth largest source of investment in India. Both nations cooperated closely in the exchange of expertise in the information technology sectors. Korean companies such as LG and Samsung have also established manufacturing and service facilities in India. A number of South Korean construction companies are also involved in infrastructural building plans in India such as the National Highways Development Project. Investments made by major Korean conglomerates such as Samsung, Hyundai Motors, and LG in India amounted to about US$2.3 billion in 2011. Other Indian companies established in South Korea are Novelis Incoporated and United Phosphorus Limited. By 2011 Indian investments in South Korea exceeded US$1 billion. Recent efforts to strengthen relationships between the two nations included the establishment of Indian Cultural Centre in April 2011 and the inauguration of the Festival of India on June 30, 2011. There are about 8,000 indians residing in South Korea at present. Many of them work for prestigious conglomerates like Samsung and LG and others work as research scholars in reputable institutions. There are also approximately 2,500 South Koreans pursuing their studies in India. Located in South Asia the world's seventh-largest country has a population of over 1.2 billion people. The Indian-subcontinent has been renowned for its long cultural wealth and long history. Four of the world's major religions — Hinduism, Buddhism, Jainism, and Sikhism — also originated from India. The Indian economy is the world's 11th largest by nominal GDP and third largest by purchasing power parity (PPP). A multi-lingual and multi-ethnic society, India emerges as one of the fastest-growing major economies in the world.
For details or inquiries please contact the Indian Embassy in Seoul at 798-4257.