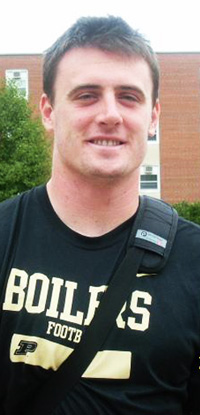 Kyle Adams of Chicago Bears
Kyle Adams joined the Chicago Bears in 2011. They are the first NFL team to draft the talented rookie from Purdue University. On August 12, 2012, The Seoul Times Chicago Correspondent Kristy M visited the Bears Training Camp in Bourbonnias, IL and interviewed the 24 year-old football player.His kindness and honesty were very apparent during our interview. Adams professed his belief in Christianity and ardently expressed his desire to use his NFL fame to glorify God. Some may even compare the respectable young man to fellow Christian New York Jets player Tim Tebow.What makes Adams different from Tebow? Read our interview below to found out:
Q1: What made you decide to join the Bears?
A1:
I was a free agent after the draft and they came in contact with me. I thought it would be the best situation for me coming out of college.
Q2: Is training a year-round process or only at Bears Training Camp?
A2:
It's definitely a year-round process. I don't have many days off. I might take a little time off after the season. But, after that you have to start lifting and running and getting ready for the next one.
Q3: Describe a typical game day for the Bears (home or away games):
A3:
Home game, it kind of depends on when we play, then you get up and have some meetings. If it's a morning game, we get up and pretty much go to the stadium and get ready and play. If not, we have some meetings, some time to kind of relax and we play whenever it is. If it's an away game, it's the same scenario just in a different city.
Q4: How has being a Bear changed your life?
A4:
Well...for me.. I'm a Christian. So, it gives me a platform to share my faith so its really neat. Then, in many other ways its changed my life... its kind of a noticeable job so alot of people respect it and that's really neat. Just playing a game for a living is always fun.
Q5: What are your hopes for this season?
A5:
As a player or a team? As a player to make the team and to contribute and as a team we want to win the Superbowl.
Q6: Who are your biggest fans?
A6:
Well, probably my parents. For like as a team, people from Chicago love the Bears. They are great fans.
Q7: When you're training for the season, what music do you usually listen to? Do you have a go-to song?
A7:
I like "Strong Tower" by Kutless. I usually listen to Christian music. It keeps me relaxed and ready to go.Visit the following website for more information about Kyle Adams and my coverage of the Chicago Bears at their 2012 Training Camp.http://btscelebs.wordpress.comFollow Kristy M on Twitter @ShellyM86