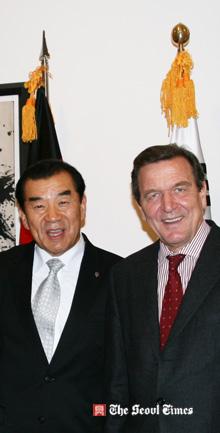 Dr. Lee Ki-Su with former German Chancellor Gerhard Schroeder
Dr. Lee Ki-Su, president of Supreme Court's Sentencing Commission of Korea, delivered a speech at a breakfast forum in Seoul under the theme of "Standards of Sentencing Trusted by People" on August 30, 2012.The former Korea University president revealed the strict standards of sentencing for those convicted of election crimes at the forum to be hoted by Chairman Chang Man-Key of the Korea Human Development Institute (KHDI).The forum was held at Emerald Room on the second floor of Lotte Hotel in Seoul's Sogong-dong at 7 a.m. on the day for a two-hour run.
With presidential election only three and a half months away Dr. Lee talked about various forms of possible election crimes and the standards of sentencing newly revised by his commission.In particular Dr. Lee discusses the effectiveness of standards of sentencing and on how his commission will bolster them.
Who Is Dr. Lee Ki-Su?
Currently, Lee serves as president of Supreme Court's Sentencing Commission of Korea.
Lee is also the president of "Dr. Syngman Rhee Memorial Society." Dr. Syngman Rhee (李承晩: 1875-1965) was a prominent leader of independence movement against Japan and was the founding
president of South Korea.Lee was the president of Korea University for three years until the end of February of 2011.Lee served as a visiting chair professor at the Goerge Washington University for a year.In addition to his success in the field of education, President Lee has been very active with social activities. Lee Ki-Su served as the president of a German Alumni Association in South Korea "ADeKo" since its inception in May, 2008.Lee has also served as chairman of the Association of the Korean Law Professors.Recently, Lee was elected as the 4th chairman of the Korea-Japan Law Association in its board of directors meeting.On the world stage the Constitutional scholar has been quite well-known. Lee was widely recognized for his contributions to enhancing the bilateral relations between South Korea and the countries including Germany and Russia.On Sept. 24, 2010 the German-educated scholar was conferred the highest order from the German government.On behalf of the German government then German ambassador to Seoul, Dr. Hans-Ulrich Seidt awarded Lee "Grosses Verdienstkreuz des Verdienstordens: The Commander's Cross of the Order of Merit of the Federal Republic of Germany" in a ceremony held at German envoy's residence in Seoul's Seongbuk-dong.Lee was also recognized by another European power: Russia.On Jan. 31, 2011 Lee was awarded the "Pushkin Medal," a Russian state medal named after the great Russian poet, for his contribution to the development of the bilateral ties between Moscow and Seoul. On Sept. 27, 2010, Lee was awarded the honorary doctor's degree in law from Saint-Petersburg State University for his contribution to the academic exchanges between Korea University and the Russian university.Early in 2011 Lee was appointed as professor emeritus, which stands for "long and distinguished service," of the Moscow State University by its President (Rector) Viktor Sadovnichiy at the university's anniversary ceremony.Lee Ki-Su was born in Hadong, South Gyeongsang Province in 1945. After graduating from DongAh High School in Busan, he went to Korea University (KU) where he majored in law.Upon graduation, Lee went on to pursue his graduate degree in law at Eberhard Karls Universität Tübingen (University of Tuebingen) in Germany.In 1983, he earned his doctor's degree in commercial law from the German university.Lee became a faculty member at Law Department of his alma mater in 1987. In 1998, he became the dean of the Korea University's Law College.