The Clash of Civilizations & the Remaking of World Order
Author: Samuel P. Huntington
Publisher: Simon and Schuster
Price: 21,830
"World politics is being reconfigured along cultural and civilizational lines. In this world the most pervasive, important and dangerous conflicts will not be between social classes, rich and poor or other economically defined groups, but between peoples belonging to different cultural entities." In this very readable, thought provoking book Samuel P. Huntington, Harvard Professor and Chairman of the Harvard Academy of International and Area Studies, writes about a "clash of civilizations" that he feels will dominate the future of global politics. Although first written in1996, his study can still help broaden our understanding of international affairs in an insightful and provocative way.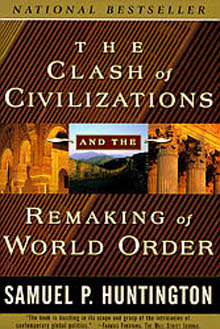 His basic tenet is that after the Cold War era, which was a conflict essentially based on ideology, relationships between countries are increasingly being shaped by cultural and civilizational factors. He argues that the Western civilization became the most prominent not by having superior morals, values or ideas, be they economic, religious or ideological, but rather by its ability to conquer other civilizations with military might. In direct reaction to this 'arrogant' western approach we see the determination of non-western civilizations to proliferate and to push right back. Huntington illustrates this argument with examples from seven main civilizations: Japanese, Islamic, Western, Latin American, Hindu, Sinic (Chinese); Japanese; and African. However, in this study he concerns himself mainly with the future relationships between the Western, Asian and Islamic cultures. In fact he predicts that the two major confrontational areas within the next century will include the Western civilization versus the Islamic, and assertiveness of the Sinic (Chinese) Civilization, probably again against the Western model. He argues that war between two civilizations can evolve to become an overwhelmingly international conflict as other countries come to support and aid their own civilization. "In the coming era," says Huntington, "the avoidance of major civilizational wars requires core states to refrain from intervening in conflicts in other civilizations." Good advice if heeded.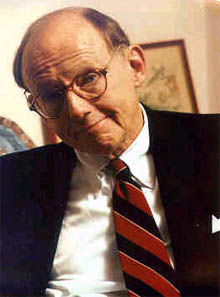 Samuel P. Huntington
Huntington makes a convincing argument, however there are a series of questions to be raised about his arguments. Are civilizations truly as cooperative within each other as he makes out...? As we have seen recently with the current Iraqi War, America and Europe, synonymous with Western civilization, have not been altogether co-operative about going to war. Secondly, is it really impossible for countries to have allies across the civilizational divide...? And finally, if people and countries are going to align civilizationally how can multi-cultural societies exist...? In fact, in his final chapter Huntington himself discusses the inherent problems with his argument. Taking the West as his case study (America in particular) he suggests that problems like social inequality, drug use, crime, a decrease in 'work ethic' and the rising 'indulgence culture can lead rather to the breaking of civilizations rather than a rally-cry for them. This thought provoking and topical book is written in a clear and illustrative style without too much academic terminology. It offers an excellent insight into global societies and how global politics can operate today. The above book is available at
Kyobo Bookstore
— Foreign Books Department, Gwanghwamun Subway station on Line 5.