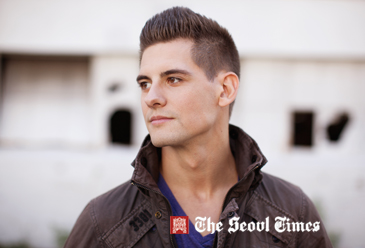 Adam Cappa: The Inspirational Rock Star
Adam Cappa made his debut in the Contemporary Christian Music industry in March 2012. The Christian rock singer was discovered by veteran artist Jeremy Camp and signed to BEC Recordings. Since his debut with the album titled "The Rescue", the artist with his smooth righteous vocals has toured the globe. Cappa has visited North America, as well as, Costa Rica and the like. This month, I had the opportunity to interview the man behind the religious rock. Cappa answered a total of five questions about his childhood dream job, road to the music industry and what role he thinks Christian music has in today's world.
Q1: Who inspired you to become a recording artist?
A1:
I've always been inspired by Jon Foreman, Chris Tomlin, David Crowder, Dave Barnes and Matt Wertz from the very start. I would love to work with any of them, any day! Three Men really inspire me right now. My father, my best friend Greg Boyce, whom I worked on staff with at Fountain City Wesleyan Church, and Jeremy Camp, who all pour into me daily.
Q2: Did you always want to sing?
A2:
No. I always thought that I would be a police officer like my Dad, who is now a Sheriff. Throughout High School, I was really involved in Young Life. During my sophomore year, I met the Lord at camp. I really looked up to a couple of guys involved as well, who happened to play guitar. So, for my sixteenth birthday, I bought a guitar. I began playing at youth group every Wednesday night, learning as I watched them play. Before I knew it I was involved with a youth group leading worship, and soon a permanent fixture on staff for the next five years. Songs began to pour from my heart, and singing became a part of what I did.
Q3: Famed CCM artist Jeremy Camp discovered you, describe how you were discovered and what was it like working on an album with him?
A3:
One of my best friends, whom I met through Young Life, happened to be friends with Jeremy Camp. December of 2007, I got a call from my buddy and Jeremy. Jeremy invited me up to his home in Indiana to record a demo. This is where we began our friendship. I would go to shows from time to time to see him or visit him at his home. Over the next few years, the Lord continued to cultivate my passion for ministry and my friendship with Jeremy. In 2009, I graduated from college and the Lord gave me a vision for ministry on the road. I sold my car, bought a van, and hit the road, playing churches and teen camps all over the country.A year later an opportunity to open for Jeremy came about. I sent Jeremy a text asking if it was cool, and he said "absolutely!" That night as I walked off stage, Jeremy grabbed me and said "Listen, I love your heart and what your doing. I've been praying about investing in someone and feel like you're the guy. My dad even said something to me about you, and that I need to do something with you, and my dad never says that stuff. He said we have the same heart. So I want to get you on the road with me and do a record and just help you out. What do you think? We should pray about it." And pray we did. About three months later, we reconnected and felt the Lord saying go. We started writing an album together with Andy Dodd and Jeremy began pouring into my life. Once we had a few tunes together Jeremy took them over to BEC and asked them to have a listen as he shared his heart behind investing in my life. BEC grabbed a hold of Jeremy's vision and asked me to be apart of the BEC family.
Q4: Do you think Christian music is making a positive impact on today's youth?
A4:
Yes, definitely. I think that Christian music has provided an alternative for today's youth who are easily swayed or influenced by other music that contains messages promoting choices that lead to death. That is not to say that there aren't good messages and great people in regular music who are providing positive music as well. Christian music certainly has an awesome influence in providing encouragement for today's youth to remain righteous, loving, and worshipful in a culture that often ignores the truth.
Q5: Former CCM artists Joy Williams (Civil Wars) and Katy Hudson (Katy Perry) have successfully crossed over into the mainstream market, do you desire to break into mainstream music as well?
A5:
I am currently focused on being open to whatever the Lord has planned for my life. It's not so much about what market I'm in, but rather who can be encouraged and relate to my music. I think that there are a lot of positive songs on The Rescue that can provide a message of hope to all types of people, not just Christians.Visit the following websites to learn more about Adam Cappa and his inspirational music: http://btscelebs.wordpress.com/http://adamcappa.com/Follow Kristy M on Twitter @ShellyM86