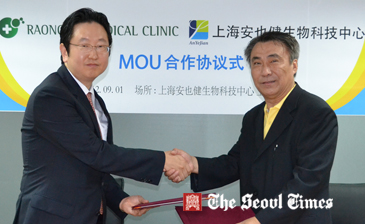 Dr. Kim Deog-Ki of "Raoncell Medical Clinic" signs MOU with Mr. Wesley Wei of "Shanghai AYJ Bio Research Center" in a ceremony held at the center in Shanghai on Sept. 2, 2012.
South Korea's main stem cell clinic "Raoncell Medical Clinic" signed a memorandum of understanding (MOU) with "Shanghai AYJ Bio Research Center" on Sept. 1, 2012 in a ceremony held at the research center on the day.The MOU is directed at facilitating the exchange of information and technology between the two corporations. The Korean medical clinic also plans to introduce stem cell products and technologies to the Shanghai medical market through the agreement.For the MOU signing, a team of officials of Raoncell Medical Clinic visited Shanghai on Sept. 1-2, 2012.Distinguished guests as well as medical doctors and specialists from Renji Hospital graced the opening ceremony and expressed their heartfelt congratulations to the collaboration.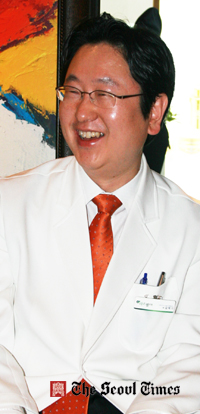 Dr. Kim Deog-Ki of "Raoncell Medical Clinic" meets with journalists at his clinic in Seoul.

"China has emerged as one of the most influential countries in the world in recent years,"Dr. Kim Deog-Ki, director of Raoncell Medical Clinic said. "The collaboration was signed in hope that there could be further exchanges not only between the two corporations, but also between South Korea and China for the benefits of patients" "However, issues regarding the transportation of stem cell products and cord blood between China and Korea will still need to be further discussed and looked into," Dr. Kim added. Other than establishing the joint collaboration, Raoncell medical team also took the opportunity to understand the role stem cell treatments play in the current medical field in Shanghai during the trip. The Raoncell team visited the Shanghai Stem Cell Technology Co. Ltd which works closely with Shanghai Cord Blood Bank in preserving and supplying cord blood to hospitals around China for the treatment of illnesses. The Shanghai Stem Cell Technology Co. Ltd was established in 2004 and up to date, it has successfully carried out over 300 stemcell transplant procedures on patients. "There is scope for exploration with Raoncell for further collaboration in the future," Ms. Lu Yao, the assistant director of Shanghai Stem Cell Technology Co. Ltd said. "The Shanghai Stem Cell Technology Co. Ltd looks forward to future cooperation to send cord blood over to Korea to ease the treatment of patients if the need arises" The trip was wrapped up with a visit to the stem cell research laboratory at Renji Hospital. Founded in 1844, Renji Hospital has been engaging actively in international activities with foreign medical institutions in the form of academic exchange and professional cooperation. Shanghai has been one of the most popular destinations in Asia when it comes to medical tourism as foreigners seek for better medical treatment options. Offering a wide range of support systems for foreign medical tourists, the city has also improved its rules and regulations to expedite medical procedures for foreigners. As one of the main stem cell medical clinics in Seoul, the Raoncell Medical Clinic has established its foothold in both stem cell research and medical treatment. The clinic has also improvised on its technologies to appeal to healthy individuals of the public through providence of aesthetic services such as in the form of spa or cosmetic products using advanced stem cells technologies."I hope to establish Raoncell not just as a medical clinic but as a main stem cell hospital in Seoul in the near future," Dr. Kim said with regards to his vision for Raoncell Medical Clinic. "I will also be working towards establishing a rehabilitative centre beside our hospital so that international patients will be able to fully recuperate at the centre after their surgery procedures before returning to their own country" Other than extending their medical services to Shanghai, Raoncell has had also cooperated with Unaskin, a therapeutic clinic based in Moscow, Russia, specializing in dermatology and skin care treatments."Patients from Russia come to Raoncell for medical treatments from time to time," Dr. Kim explained. The use of stem cells inmedical treatments has gained much importance in the recent years. Stem cell treatments have proved to be one of the most promising medical approaches in the present medical field, creating medical miracles as it regenerates permanent lesions such as brain damage, heart illnesses, and spinal cord injuries. Stem cell therapies have also shown to be effective in anti-aging andlooks enhancement. Together with a team of specialists led by Dr. Kim, the Raoncell Medical Clinic has been playing an active role in medical tourism, pledging to serve Koreans and the foreign community better with its advanced medical technologies in stem cell treatments. The Raoncell Medical Clinic was established in 2009, specializing in the treatment of diseases using stem cell therapy. Approved by the Korea Food and Drug Administration (KFDA), stem cell products for myocardial infarction and cartilage defect are currently used for the treatment of diseases and functional improvement in Raoncell. In South Korea itself, Raoncell Medical Clinic has partnered with clinics specializing in the field of orthopedic treatment, plastic surgery, dentistry, dermatology and rehabilitative medicine. Renowned hospitals such as Severance Wonju Christian Hospital and Severance Hospital located in Seoul also work closely with Raoncell Medical Clinic in the cardiological field and Asan Medical Centre, in the treatment of spinal cord injuries respectively.
For details or inquiries contact Ms Katya Kang at +82-2-3442-1980.