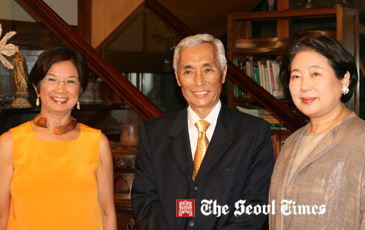 Ambassador of Brazil to Seoul Edmundo Fujita (center) and his spouse, Mrs. Maria Ligaya Fujita (left) pose with Chairwoman Hyun Jung-Eun of Hyundai Business Group at the envoy's residence in Seoul's Seongbuk-dong on Sept. 7, 2012 on the occasion of Brazil's 190th Independence Day reception.
In celebration of Brazil's 190th Independence Day Ambassador of Brazil to Seoul Edmundo Fujita and his spouse, Mrs. Maria Ligaya Fujita hosted a dinner reception at the envoy's residence in Seoul's Seonglbuk-dong on Sept. 7, 2012.
The Independence Day of Brazil, commonly known as "Sete de Setembro" celebrates Brazil's declaration of independence from Portugal on Sept. 7, 1822.
Distinguished guests and foreign envoys graced the reception at the residence's garden elegantly adorned with traditional lanterns and enjoyed an evening of homemade delicacies.
In the welcoming speech, Ambassador Fujita thanked his guests for joining in the celebration with him on this special evening.
"Brazil has had no wars for more than 140 years," the Brazilian envoy explained about Brazil's approach towards resolving conflicts. "Brazil is like a universal motherland that receives with open arms all peoples from all continents and develops peaceful and friendly relations with all nations"
"We have the largest population of African origin outside the African Continent, one of the largest Arab, Italian and Japanese communities outside their countries of origin, and sizeable other European, Asian and Latin American peoples," Ambassador Fujita said.
"One could say that our culture, as reflected in our arts, sports, culinary, openness to different contents and our creativity is like a universal bibimbab, where each ingredient has its nutritious individuality," he added. "But when mixed all together, it becomes a delicious food for all seasons"
The Brazilian envoy went on to say that South Korea is a part of Brazil's future.He said that currently the Korean community is an integral part of the Brazilian society and are actively contributing to the enrichment of our economy, culture, science and technology and other fields as full Brazilians."It is remarkable that Brazil and South Korea have established strong bilateral relationships for the past 53 years," Ambassador Fujita told The Seoul Times. "There will be many exchange programs between the two nations for both students and researchers and these people will play an important role in maintaining relationships between the two nations in the future"
In the congratulatory speech, Vice Minister Kim Sung-Hwan of the South Korean's Ministry of Foreign Affairs and Trade expressed his congratulations to the Brazilian envoy.
"Brazil, the world's 6th largest economy, has cooperated with the South Koreans in politics, trade, investments, as well as cultural exchanges," Kim said. "In 2011, trade exchanges exceeded more than 18 billion US dollars."
"I believe the economies of both nations will continue to strengthen and 2013 is an important year as it marks the 50th anniversary of Korean emigration to Brazil," he added.
He ended his speech wishing for the prosperity of Brazil and long-lasting friendship between the two nations.
Earlier this year in May, foreign ministers of South Korea and Brazil met to discuss on further collaboration in the economic, political and scientific sectors to boost trade, scientific technology, agriculture and climate change cooperation. Both nations also agreed to increase diplomatic cooperation in African and Southeast Asia.
Brazil has been South Korea's top trade partner and investment destination in the Latin America and bilateral relations have been established since 1959. South Korea is also Brazil's second largest investor in Asia.
There are currently approximately 50,000 Korean immigrants in Brazil the number of Korean companies set up in the Latin American country is more than 150. Meanwhile POSCO, Samsung, LG, SK and other Korean companies invested about US$4.8 billion in Brazil in 2011.
The two nations have recently came to an agreement and will be working closely on the newly launched Korea National Diplomatic Academy (KNDA), and Rio Branco, Brazil's diplomat training institute. These programs aimed to nurture individuals to be proficient in regional and global issues and gain expertise in non-traditional diplomatic affairs.
There are approximately 500 families of Brazilians consisting mainly of Korean Brazilian returnees and expatriates (mostly footballers) from Brazil residing in South Korea at present.
Brazil, officially known as the Federative Republic of Brazil, is the largest country in South America and the world's fifth largest country in terms of geographical area and population. It has a population of over 192 million. The capital of Brazil is currently Brasilia. Previous capitals were Salvador (1549-1763) and Rio de Janeiro (1763-1960).
Brazil is the world's leading exporter of sugar, coffee, beef and orange juice. Other major exports include aircraft, vehicles, iron ore, steel, textiles and footwear.
For details or inquiries please contact the Brazil Embassy in Seoul at 738-4970.