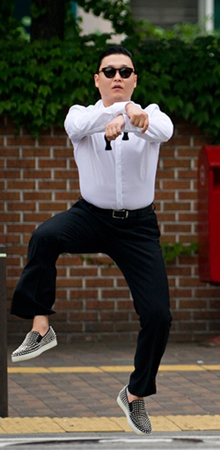 PSY — Gangnam Style
On Friday, Sept. 21, 2012, 37 extremely fortunate Democracy Prep High School Scholars will finally hear the news they have been excitedly awaiting to receive for months: "Your application has been accepted to visit South Korea in November!" A trip to South Korea, the latest addition to the international destination list that Democracy Prep Scholars have the opportunity to visit, has been in the works for months. Democracy Prep scholars in grades 9-12 have been eager to discover whether or not their application passed the test. "Over 100 scholars applied to join us on this trip," explains Superintendent Seth Andrew, "and tomorrow will be an fantastic celebration where we reveal which scholars have been selected to go."Tomorrow's celebration will take place during Democracy Prep Charter High School's weekly Town Hall meeting in the school's auditorium at 222 West 134th Street (134th and Adam Clayton Powell). The names of the lucky attendees will be announced at 8:45 AM. While visiting South Korea, Democracy Prep scholars, 82% of whom live below the poverty line, will spend over a week immersing themselves in a culture that is not totally unfamiliar. As Lisa Friscia, Democracy Prep High School's principal, explains, "Democracy Prep was founded on some of the most important values in Korean culture: hard work = success and universal respect." Democracy Prep Scholars also take Korean Language as a core subject beginning in the 9th grade. Additionally, Democracy Prep offers elective classes featuring Korean literature, Taekwondo, and Korean Mask Dancing. "The trip to South Korea is an exciting opportunity for our scholars to bring the Korean elements of their education full circle," explains Jung Jin Lee, Democracy Prep's Korean Department Chair. The trip to Korea will include tours of the Korean government system, a school visit, and plenty of popular tourist destinations. "This trip will likely change the lives of our scholars," claims Ms. Lee. "When they return from Korea, they will view their world in a totally different way and that is very exciting."
ABOUT DEMOCRACY PREP
Democracy Prep Public Schools is a public charter school network of seven schools, serving 2,000 students in grades K-12. DPPS has been the highest performing Charter Management Organization in New York City for the past four years and in 2010 Democracy Prep Charter Middle School was named the #1 middle school in the entire City of New York. Democracy Prep's mission is to educate responsible citizen-scholars for success in the college of their choice and a life of active citizenship. The motto of Democracy Prep captures the vision: "Work Hard. Go to College. Change the World!" Principal Friscia, Ms. Lee, and Democracy Prep Scholars will be available for comment.Contact:
Steve Cunning
External Affairs Manager
Democracy Prep Public Schools
C| 646.477.2695 F| 212.876.9926
Work Hard. Go to College. Change the World!
To learn more about our schools visit www.DemocracyPrep.org