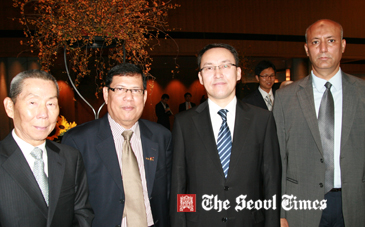 Malaysian Ambassador Dato Ramlan Ibrahim (2nd from left) poses with Kazakhstan Ambassador Darkhan Berdaliyev (to hi right) and two other local businesspeople at Shilla Hotel.
In celebration of Saudi Arabia's 82nd Independence Day and 50th anniversary of bilateral relations with South Korea, Ambassador of Saudi Arabia to Seoul Ahmad Y. Al Barrak hosted a lunch reception at Shilla Seoul Hotel on Sept. 24, 2012.Saudi Arabia commemorates the unification of the Kingdom of Nejd and Hejaz on Sept. 23 since 1932. Distinguished guests and foreign ambassadors graced the event and extended their congratulations to the Saudi Arabian ambassador. Diplomatic relations between Saudi Arabia and South Korea have been established since 1962.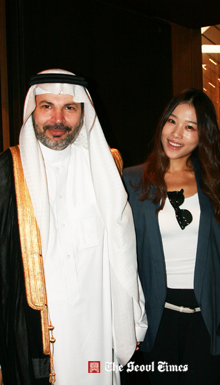 Ambassador of Saudi Arabia to Seoul Ahmad Y. Al Barrak (left) poses with S. Korean singer Yuri (Ms. Jung Yuri).
In the 1970s and 1980s, Korean construction workers have contributed significantly to the development of infrastructure of the Kingdom ranging from the construction of the King Khaled International Airport Terminal to the building of major highways. Earlier this year in Feb. 2012, South Korea and Saudi Arabia have agreed to further expand bilateral cooperation beyond construction to the field of welfare, nuclear fuel, renewable energy, and defense. Saudi Arabia is currently South Korea's largest oil supplier and is South Korea's fourth largest trading partner with a total trade volume of over 30 billion US dollars in 2011.As a member of the Friends of Yemen group, South Korea also supports Yemen for its stability and unification, helping Saudi Arabia with development projects and provides Syria with humanitarian aid. The two nations shared common perspectives and closely co-operate on global issues such as security, climate change, trade and anti-terrorism in the international arena. Saudi Arabia, officially known as the Kingdom of Saudi Arabia is the largest Arab state in Western Asia and has a population of approximately 27 million. Renowned as a country of Islam and oil, Saudi Arabia has the world's sixth largest natural gas reserves and plays a leading role for supplying oil to the rest of the world. Oil accounts for more than 95% of its exports.