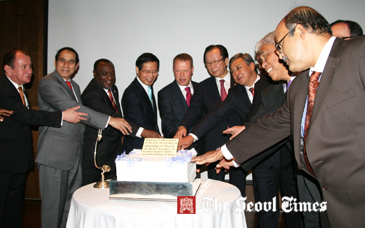 Ambassador of Ukraine to Seoul Vasyl Marmazov (5th from left) cuts the cake with other ambassadors at the dinner reception.
In celebration of Ukraine's 21st independence day and the 20th anniversary of bilateral relations with South Korea, Ambassador of Ukraine to Seoul Vasyl Marmazov hosted a dinner reception at Shilla Seoul Hotel on Sept. 20, 2012. August 24, 1991 marked the day of Ukraine's independence from the Soviet Union after the two World Wars and much political turmoil. Distinguished guests and foreign ambassadors attended the reception and extended their congratulations to the Ukraine ambassador. In the opening speech, the Ukrainian envoy thanked his guests for joining him in the celebration of this special occasion.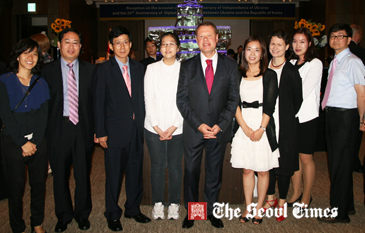 Ambassador of Ukraine to Seoul Vasyl Marmazov (center) poses for The Seoul Times. At far right is Prof. Kim Ho-Hyun of Semyung University. At second from left is CEO & President Sohn Woo-Taek of Haechun Corporation and at second from right is Ms. Kang Min-Young of Samsung Card.
"Ukraine has developed mutually beneficial and effective partnership with South Korea since gaining independence in 1991," the Ukraine ambassador said. "Both nations have expanded cooperation in the economic and finance, cultural, education sectors, and are also close partners in humanitarian efforts" Ambassador Marmazoc went on saying that South Korea is Ukraine's third largest trading partner and has been one of Ukraine's leading investors. Bilateral trade amounted to approximately USD1.7 billion in 2011. "There are currently 30,000 Koreans living in Ukraine and universities of both Ukraine and Korea have facilitated many student and academic exchanges," he added.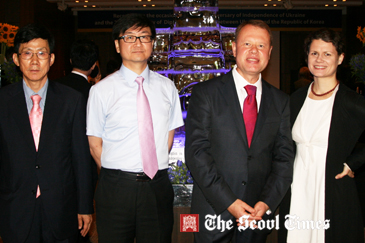 Ambassador Vasyl Marmazov (2nd from rifht) poses with Prof. Kim Ho-Hyun of Semyung University (2nd from left).
South Korean Minister of Foreign Affairs and Trade, Mr. Kim Sung-Hwan subsequently took the stage and commended that bilateral relations between the two nations are young yet vibrant and dynamic. "I am confident that the relationships between the two nations will be even brighter in the future as we see a growth in infrastructure as well as promotion in tourism and transportation," the Korean envoy added. The South Korea's Hyundai Corporation and South Ukrainian Railroad Network have cooperated closely in the establishment of high-speed transportation in Ukraine since 2010. As Ukraine hosted the EURO championship in July this year, Ukraine has recently launched another fast-speed railway connecting the four main cities of this international event, Kyiv, Donetsk, Lviv, and Kharkiv respectively. This high-speed train allowed passengers to get to EURO 2012 host cities much faster; with total travelling time reduced by as much as two hours. Recently in August 2012, both nations exchanged top-level visits and discussed on future cooperation in the science, rocket, space, transport and aviation industries. In addition, Ukraine would also be adopting Korean e-government practices. Occupying an area of approximately 600,000 square kilometers, Ukraine is the second largest country in the European continent, after the Russian Federation. With a population of about 46 million, the majority are ethnic Ukrainians, with sizable minorities of Russians, Belarusians and Romanians. Ukrainian is the official language of Ukraine even though Russian is also widely spoken. The dominant religion in Ukraine is Eastern Orthodox Christianity which heavily influenced the Ukrainian architecture, literature and music.
For details or inquiries please contact the Ukraine Embassy in Seoul at 790-5696.