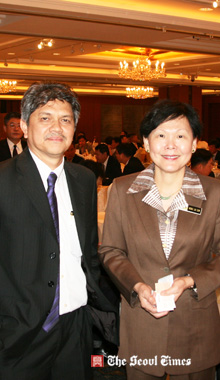 Trade Commissioner A. Rashid Mohd Zain of Matrade (Seoul) poses with Matrade CEO, Dr. Wong Lai Sum.
Established in March 1993, the Malaysia External Trade Development Corporation (MATRADE), has been the national export promotion agency for developing and promoting Malaysia's enterprises to the world.The highlight of the year will be the annual
International Trade Exhibition (INTRADE 2012)
held at Kuala Lumpur Exhibition Centre in Malaysia from
Nov. 27 to Nov. 29, 2012
. INTRADE serves as an international platform for enhanced networking, business matching, exchange of ideas and inspiration amongst trade community of all countries. Exhibitors at INTRADE (Malaysia) will have the opportunity to meet trade buyers over the world, strengthen networking and explore business opportunities.This year, INTRADE themed "Energizing Export Growth" has been designed to offer wide opportunities for importers and exporters to build new contracts and expand sourcing options.INTRADE 2012 will be focusing on four well-developed and growing sectors which offer high quality, export ready products and services. The event will serve as an effective platform for Korean buyers to source for Malaysia's wide range of high quality products and services. The targeted sectors for this year's exhibition are a)
automotive
(automotive, parts and components); b)
electrical & electronics and information & communication technology
(parts and components); c)
manufacturing supports
and d)
lifestyle
(furniture, footwear, fashion accessories and textiles, gifts, souvenirs and jewellery). In conjunction with INTRADE 2012, MATRADE also invites Korean companies to meet Malaysian manufacturers and exporters for one-on-one business meetings at MATRADE on Nov. 28, 2012.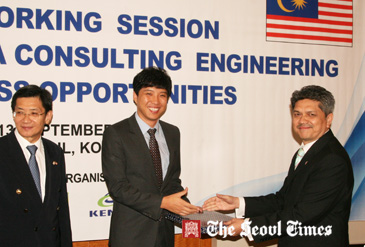 Trade Commissioner A. Rashid Mohd Zain (right) of Matrade Seoul offers a plaque of appreciation to a Korean businessman.
Foreign buyers attending the business meetings are entitled to complimentary accommodation (up to 5 days 4 nights stay, from Nov. 26 to Nov. 30, 2012) and airport and hotel transfers. Buyers are advised to arrive in Kuala Lumpur by Nov. 26, 2012.
Interested companies can contact the Matrade Seoul office and submit the registration form with clear indication on the products and services of interest before
Oct. 8, 2012
. Matrade Seoul will also assist Korean buyers in meeting with other relevant existing Malaysian companies. Buyers are encouraged to follow up their meetings with the Malaysian companies by conducting factory visits after the business meetings session.As the leading trade fair in the ASEAN region, INTRADE is a one-stop sourcing centre to introduce products and services to the Asia Pacific region. It also serves as the perfect platform to enhance the utilisation of Free Trade Agreements with partner countries. INTRADE 2011 welcomed a total of 8,972 trade visitors; 433 exhibitors from 15 countries; 432 trade buyers from 53 countries; and 735 delegates at the KL International Trade Forum.INTRADE 2012 will be expecting over 300 trade buyers from 30 countries and approximately 9000 trade visitors through the three-day exhibition. 14 Korean companies attended the INTRADE exhibition held in 2011, and Korean companies are strongly encouraged to participate in the event this year.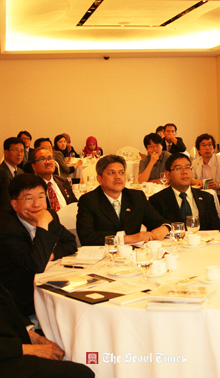 Trade Commissioner A. Rashid Mohd Zain (center in front row)of Matrade (Seoul) at a recent conference in Seoul
The different programmes offered by INTRADE 2012 included four main components namely the Trade Exhibition; Incoming Buying Mission (IBM); KL International Trade Forum (KLITF); and FTA@INTRADE.While the trade exhibition consists of three days of intense trading exclusively with domestic and international industry professionals, the IBM is a business matching program establishing one-on-one business meetings for Malaysian exhibitors and companies with international buyers. In addition, the KLITF serves as platform for business leaders to share their insights in global business opportunities and prospects, establishing collaborations between companies towards gaining a competitive edge in the global market. Last but not least, the FTA@INTRADE is designed to increase export between FTA partner countries, capitalising on existing FTA networks for market expansion, and also increase FTA utilisation amongst partners.Matrade has been responsible for formulating and implementing strategies for exports marketing as well as promotion of trade activities. Trade Commissioner A. Rashid Mohd Zain of Matrade (Seoul) has taken successful strides in enhancing trade between Malaysia and the South Korea since his inauguration in 2010. In recent years, Malaysia has emerged as one of the most important trade and investment partners of Korea among Asian member countries. South Korea is the sixth largest export destination for Malaysian products while Malaysia is South Korea's third largest trading partner among ASEAN countries. Bilateral trade volume reached to a record of about US$16.7 billion (RM50.93billion) in 2011.Since the start of 2012, active efforts have been put into promoting and enhancing trade exchanges almost every month between Malaysia and South Korea. Earlier this year in April, 408 foreign companies and 54 other countries including South Korea participated in the Incoming Buying Mission (IBM) collaborated with the Malaysia International Halal Showcase 2012 (MIHAS 2012) held in Malaysia. A total of US$110,636,773 worth of sales was generated during the five day's business meetings.In June this year, Matrade had set up promotion booths at the Exhibition on Environmental Technology and Green Energy (ENVEX) held at Seoul's COEX Convention and Exhibition Center. Matrade further participated in the Korea Furniture & Interior Design Exhibition (KOFURN) held at Korea International Exhibition Center (KINTEX) and Seoul Gift Show held at COEX in August and September respectively.Recently in the month of September, the FIDIC World Consulting Engineers Conference which lasted over a week from Sept. 8- Sept. 14, 2012 saw the participation of major Korean engineering corporations. The objectives of the conference were mainly to assess the market and explore investment potential and opportunity. The conference also provided an opportunity for Korean companies to source for products, services and technology for exportation. Over the week, the conference successfully managed to strengthen networking with existing companies.In October, MATRADE Seoul will be participating in the International Materials & Components Industry Show (IMAC 2012) at KINTEX in Ilsan.In the upcoming month of November, three Malaysian companies will be participating in the ASEAN Food & Beverage Exhibition held in Korea. The exhibition serves as a good opportunity to further promote trade between ASEAN countries and Korea. Koreans will also get the chance to get further acquainted with Malaysian business players and exporters of food through this event.In addition, the Federation of Malaysian Manufacturers (FMM) will also be organizing a Trade and Investment Mission to Seoul from Nov. 11 to Nov. 15, 2012. Through individual business matching meetings, networking sessions with relevant chambers, visits to factories, and industrial parks, the mission hopes to enhance and promote business opportunities and partnerships between Malaysia and South Korea. Korean companies interested in setting up business or investing in Malaysia can also visit the newly created Korean language portal of the official Matrade website at http://www.matrade.gov.my/ko/. For further details on INTRADE 2012, interested parties can log on to www.intrademalaysia.my and to participate in the event or one-on-one business meetings, contact MATRADE Seoul at 02-739-6813/14 or email to tcseoul@kita.net.