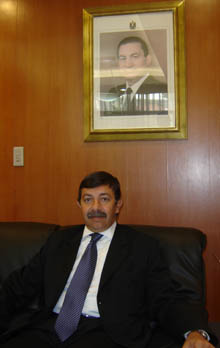 Amb. Amr Helmy of Egypt poses for a camera in his office prior to his interview with Joseph Joh, managing editor of The Seoul Times Oct. 27, 2004. Photo by Kim Sun-Young
Egypt will host a large-scale international conference on Iraq in the Red Sea Resort of Sharm EL-Sheikh on Nov. 22-23, 2004, Egyptian Embassy in Seoul announced Oct. 27, 2004. The embassy said that this conference will be attended by foreign ministers of the G8, EU, China, the neighboring countries of Iraq, as well as representatives of the United Nations, the Arab League and the Organization of the Islamic Conference.Amb. Amr Helmy of Egypt to Seoul told The Seoul Times that the Red Sea conference will be the largest and most important global conference on Iraq since the outbreak of Iraqi War March 20, 2003.Amb. Helmy said that Egypt`s conference aims at mobilizing international support for the peaceful process in Iraq and helping Iraqis to maintain control over their own country, as well as preparing for the general elections which will be held before the end of January 2005.Regarding the agenda of the conference, Amb. Helmy said that it will discuss how to implement Security Council Resolution 1546 which seeks to help Iraqi people in controlling their country`s affairs as a step towards holding elections, economic recovery and improving security situation in frontier areas.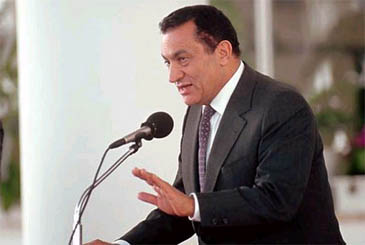 Egyptian President Hosni Mubarak
As part of the ongoing preparations, President Hosni Mubarak has visited Italy, France, and Jordan in the past few weeks and also met US Assistant Secretary of State William Burns in Cairo who confirmed the participation of the Secretary of State Colin Powell in the conference.In order to render the conference successful, Egypt proposed nine points to be embodied in its final declaration, including the affirmation of the sovereignty and integrity of Iraq, the central role of the United Nations, denouncing violence and calling all political parties in Iraq to work for the stability of their country.The results of this conference as well as dealing with the situation in Iraq will be a major topic to be discussed during the visit of the Egyptian Assistant Foreign Minister Ezzat Saad to Seoul in early December this year.