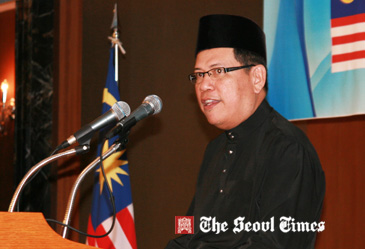 Malaysian Ambassador to Seoul Dato' Ramlan Ibrahim giving a welcoming speech at the dinner reception at Lotte Hotel in Seoul.
Malaysian Ambassador to Seoul Dato' Ramlan Ibrahim and his spouse, Mdm. Datin Hafipah Mohd. Shah hosted a dinner reception at the Lotte Hotel in Seoul on Sept. 10, 2012 for the celebration of its 55th National Day.The National Day of Malaysia, also known as Hari Merdeka (Independence Day) commemorates the independence of the Federation of Malaya from the British colonial rule in 1957, and is celebrated on Aug. 31 every year. Distinguished guests and foreign ambassadors graced the reception and joined in the celebration with the Malaysian envoy at 6:30 p.m. on the day.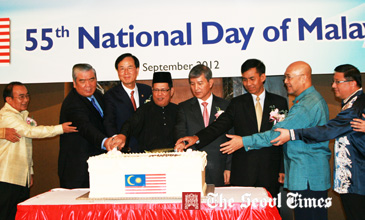 Malaysian Ambassador to Seoul Dato' Ramlan Ibrahim (4th from left) at the cake-cutting ceremony with other ambassadors.
The reception commenced with the welcoming speech by Ambassador Ramlan and congratulatory speech by Commissioner of Defense Acquisition Program Administration, Mr. Noh Dae-Lee, followed by traditional Malay dance performances. In the welcoming speech, the Malaysian Ambassador expressed his gratitude to the forefathers of Malaysia who made it possible for Malaysians to be free and rejoice on this day. "Our diplomatic relations established with the Republic of Korea in 1960 have gained so much traction over the past 50 years," the Malaysian envoy said. He further elaborated that Korea has achieved triple eights for Malaysia as Malaysia's 8th largest trading partner, 8th largest export destination and 8th largest source of imports in 2011.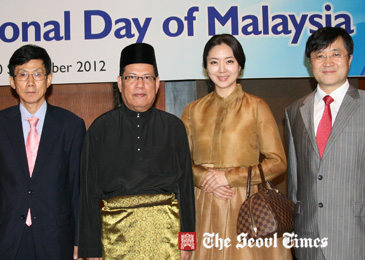 Malaysian Ambassador Dato' Ramlan Ibrahim (2nd from left) poses with Dr. Lee Jung-Soo (at far right) of BOM Plastic Surgery.
"Korea's rags-to-riches story has inspired many developing countries," Ambassador Ramlan added. "In early 1980s, Malaysia saw the need to look at Korea and its development model and has continued to send our students to leading Korean institutions since then"The Malaysian envoy ended his speech making a toast for the good health and prosperity of the president of South Korea, South Koreans, and to the friendship and excellent cooperation between Malaysia and South Korea.In the congratulatory speech, Commissioner Noh expressed his honor to be able to represent the Republic of Korea and the South Koreans in extending their best wishes to all Malaysians on this day. "Malaysia has played an important role in connecting the West to the East, given its strategic location," the Korean envoy said. "Malaysia has been an important trading partner of South Korea and influences of Hallyu has also been spread to Malaysia recently," he added. "The two nations have also cooperated closely as Malaysia adopts Korea's economy model for the last 30 years"Commissioner Noh wrapped up his speech toasting for good health for all and everlasting prosperity for the two nations. Since the establishment of diplomatic ties between Malaysia and South Korea in 1960, the two nations have been developing meaningful and substantial cooperative relations. Malaysia has emerged as one of the most important trade and investment partners of Korea among Asian member countries. South Korea is the sixth largest export destination for Malaysian products and Malaysia is in turn South Korea's third largest trading partner among ASEAN countries. 2011 saw a substantial increase of 2,400 per cent increase in investments amounting to $1.7 billion US dollars in 10 projects. Presently economic cooperation between the two nations has evolved into more complex and value-added areas such as financial, tourism and high-tech industry collaboration. Malaysia, an important partner in terms of natural resources and energy cooperation, approximately one-fourth of Korea's annual consumption of liquefied natural gas is being imported from Malaysia. Bilateral trade volume reached to a record of about US$16.7 billion in 2011.
Green technology cooperation between the two nations includes investments of Korean private companies investing in Malaysia on renewable energy production using biomass and establishments of eco-friendly business using bio-technology. It is noteworthy that Malaysia's iconic landmarks, the Penang Great Bridge and one side of the Petronas Twin Towers were built by Hyundai Construction Company and Samsung engineering respectively. South Korea and Malaysia have been working together to establish a mutually beneficial and future-oriented strategic partnership. Moving beyond mere bilateral cooperation, both nations are also making concerted efforts in dealing with global issues in various aspects such as the environment, human rights and counter-terrorism. Malaysia has been a land of opportunity and has attracted foreign investments with its established infrastructure, wide availability of raw materials and active government support.Also known as the center of gravity in Southeast Asia, Malaysia has yielded influence as a leading political and economic nation in the region. It consists of thirteen states and three federal territories and occupies a land area of about 329, 847 square kilometers. A multi-ethnic and multi-cultural country, it has a population of approximately 30 million with the Malays forming the majority group followed by the Chinese and Indians.
For details or inquiries please contact the Malaysian Embassy in Seoul at 795-9203.