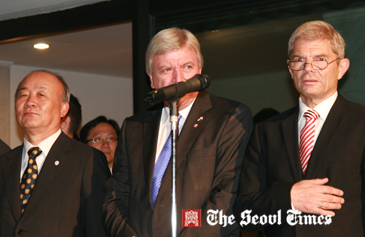 German Ambassador to Seoul Rolf Mafael (right) poses with Minister-President Volker Bouffier (center) of the German state of Hessen, and with S. Korean Unification Minister Yu Woo-Ik.
German Ambassador to South Korea Rolf Mafael and his spouse Mrs. Christina Mafael hosted a reception at his residence in Seoul's Seongbuk-dong on Oct. 9, 2012 on the occasion of its national day, the Day of German Unity. The German public holiday commemorates the anniversary of German reunification in 1990.A number of both international and local guests nearly from all walks of life were invited to the dinner reception held by the German ambassadorial couple. They included scores of top foreign envoys serving in SeoulIn particular, former German President Christian Wulff, Minister-President Volker Bouffier of the German state of Hessen and his wife, Dr. Helge Braun, vice minister of German Federal Ministry of Education took part in the event. Mr. Bouffier led 20-member German delegation to his visit to Seoul.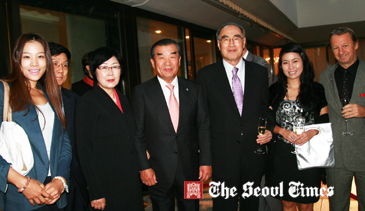 Ex-Prime Minister Lee Hong-Koo (3rd from right) poses with President Lee Ki-Su of Supreme Court's Sentencing Commission of Korea. At far right is Counsellor Raoul Imbach of the Swiss Embassy in Seoul.
Representing South Korean government, Unification Minister Yu Woo-Ik delivered a congratulatory speech in front of the large gathering.Among the local Korean guests were former Prime Minister Lee Hong-Koo, former Korea University Lee Ki-Su, and soccer legend Cha Bum Kun, who was known to Germans as "Tscha Bum."A variety of food items including wine and food from the German state of Hessen were served for the guests.
South Korea-German Relations
It was in 1883 that the official diplomatic relations were established between Germany and Korea. On Nov. 26, 1883 an agreement was signed by the two nations on trade, friendship, and maritime navigation.But, it was only after the Korean War (1950-53) that the two countries started developing close and deep relations, according the envoy.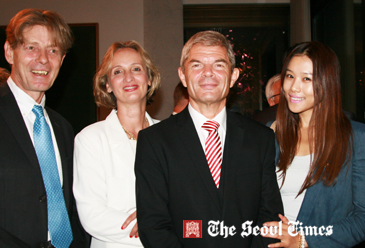 German Ambassador to South Korea Rolf Mafael (2nd from right) and his spouse Mrs. Christina Mafael(2nd from left) pose with S. Korean singer Yuri at his residence. At left is 1st Counsellor Thomas Schroder of the German Embassy in Seoul.
Korea was one of the world's poorest nations in 1950s but in the year 2008 it became world's 13th largest economy. Behind Korea's rapid economic development of 1960s and 1970s was the assistance from Germany.In 2003 legislatures both nations adopted a resolution in commemoration of the 120th anniversary of the bilateral ties. It was on this occasion that the active diplomatic negotiations were made between the two nations.In April 2005 President Roh Moo-Hyun made a state visit to Germany. And in February 2010 German President Horst Köhle visited South Korea.In August 2008 President Norbert Lammert of Bundestag or legislature of Germany came to Seoul at the invitation of his Korean counterpart. In the same month of the following year South Korean Prime Minister Han Seung-Soo went to Germany.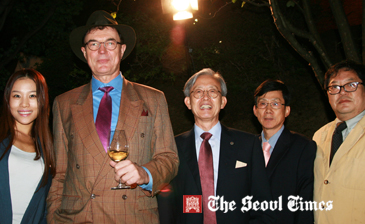 CEO Lee Charm (2nd from left) of the Korea Tourism Oganization (KTO) poses with Ex-President Kim Yoon-Soo (center) of Chonnam National University (CNU), Director Yoon Sung-Bang of The Seoul Times, and with Managing Editor Joseph Joh of The Seoul Times. At left is S. Korean singer Yuri.
In November 2010 German Chancellor Angela Merkel visited Seoul to attend G20 summit. She met with South Korean President Lee Myung-Bak for a brief summit.The German envoy also made a comment on the close economic ties. He considered South Korea one of the most important economic partners to Germany.To Germany South Korea is the third largest market in Asia. To South Korea Germany is the most important trade partner in Europe. The bilateral trade reached 20 billion US dollars in 2009. Germany's investment in South Korea amount to 9 billion US dollars. In South Korea some 200 German companies are operating. Well over 80,000 employees are working for the German companies in South Korea.On the cultural front the two nations are maintaining strong ties. Some 5,000 South Koreans are studying in Germany and many of them are offered some kinds of scholarships from DAAD and other German academic institutions.Some 60 German scholars are teaching in South Korea now. Korean community in Germany is the largest Korean community in the entire Europe. Some 30,000 Koreans in Germany are mostly the ones who went to Germany as coal miners and nurses, according to the German envoy.
For details or inquiries contact the German Embassy in Seoul at 748-4114 or leave Mr. Phil-Young Doe, press officer, at pr-100@seou.auswaertiges-amt.de