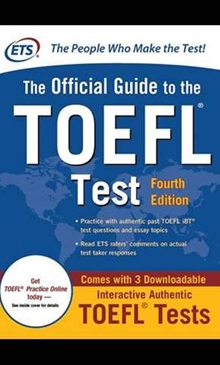 4th Edition of Official Guide to TOEFL® Test
Princeton, N.J.(October 31, 2012) — Educational Testing Service, the creator of the TOEFL® test, has released the fourth edition of The Official Guide to the TOEFL® Test, available now through the ETS store and Amazon.com. The newly released edition of the best-selling guide contains three authentic, full-length tests, offering students the opportunity to become familiar with the test format and types of questions on the test.The fourth edition also provides hundreds of sample questions, practical tips for each of the four sections—Reading, Writing, Speaking and Listening— and an overview of the scoring rubrics, including sample responses and feedback from ETS raters. The 653-page resource also contains the "Writer's Handbook," a section focused on providing specific instruction on how to master the essay section of the test.Available in eBook format as well as paperback/CD, and now compatible with both PC and Mac® systems, students have more options and flexibility in preparing for the most widely accepted English-language assessment worldwide."We want students to be prepared and do their very best on the TOEFL test," commented Pamela Treves, Director of the TOEFL Brand. "As the creator of the TOEFL test, ETS is uniquely suited to walk students through the assessment, as well as share sample test questions that have appeared on past TOEFL tests. Being familiar with the test format and types of questions presented on test day will strengthen confidence levels for test takers. This guide is a great first step in preparing for student success."The latest edition of The Official Guide is available globally in English. A Korean version will be available in 2013. The Official Guide to the TOEFL® Test is yet another resource from ETS to prepare for the TOEFL test. ETS also offers TOEFL® Practice Online, an authentic TOEFL iBT® test that simulates the testing experience and provides same-day feedback on student performance.More information regarding the TOEFL test, including free study resources and test prep materials, is available on the TOEFL Go Anywhere website, available in Korean at www.TOEFLGoAnywhere.org/kr.
About the TOEFL Test
For nearly 50 years, the TOEFL test has been the most widely accepted English-language assessment in the world. The test measures an individual's ability to use and understand English and evaluates how well an individual is able to integrate listening, reading, speaking and writing skills. Students can take the TOEFL test in half a day, eliminating the need for a second day of testing and additional travel and lodging expenses.The TOEFL test is recognized by more than 8,500 institutions in more than 130 countries including Australia, the United Kingdom, Canada and the United States. Globally, the TOEFL test is available at more than 4,500 testing sites in more than 165 countries. To date, more than 27 million students around the world have taken the TOEFL test.
About ETS
At ETS, we advance quality and equity in education for people worldwide by creating assessments based on rigorous research. ETS serves individuals, educational institutions and government agencies by providing customized solutions for teacher certification, English language learning, and elementary, secondary and post-secondary education, as well as conducting education research, analysis and policy studies. Founded as a nonprofit in 1947, ETS develops, administers and scores more than 50 million tests annually — including the TOEFL® and TOEIC® tests, the GRE® tests and The Praxis Series™ assessments — in more than 180 countries, at over 9,000 locations worldwide. www.ets.org