America
US Presidential Election: Is America Better Off with Another Four Years of Obama?
By Kenneth Quillinan
Kyungpook Nat'l Univ. Professor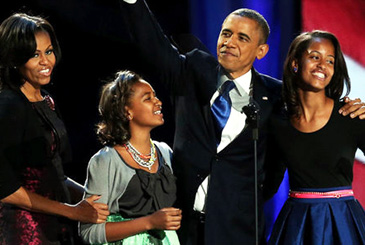 U.S. President Barack Obama enjoys election victory with wife, First Lady Michelle Obama and his two daughters — Sasha and Malia — before he makes his victory speech on election night at McCormick Place in Chicago, Illinois on Nov. 6, 2012.
As the majority of Americans celebrate the re-election of Obama long into the night, the question must be asked as to why? What dramatic changes have occurred in his last four year reign for his followers to be so optimistic about the future of the US and its citizens. Since he took over in 2008, more Americans — 7.9 percent — are unemployed.The country is even deeper in debt, now totalling a frightening US$16 trillion. Obama's foreign policy has left America, if anything, weaker. After his initial promise for dramatic transformations, it is clear to state that he has come up short and is very lucky to have another opportunity to prove himself as a capable leader.What dragged Romney down was, first of all, a ferocious ad campaign attacking him as a rapacious venture capitalist from a privileged white rich background. He was not a man who could understand voters' concerns. He was also attacked for having a "female issue," made worse when one Republican Senate candidate claimed women in a "legitimate rape" did not conceive, while another, on the other hairy hand, opined that a pregnancy in a rape was "God's will."More critically, America's minorities could assert their own identities simply by voting for America's first black president. And vote for him they did, in big numbers. Black support for Obama is even more overwhelming — about 96 percent, according to exit polls yesterday. This hurdle will only get higher for Republicans. Although whites still make up two thirds of the US population, minority groups this year for the first time produced more babies.Unemployment among African Americans is more than 14 percent, twice that of whites. One in ten Latinos is unemployed, and average earnings are even lower than they are for blacks. This makes welfarism even harder to wind back for any president who needs to win an election. And that was the other problem Romney identified in the secret video which so hurt him."There are 47 percent ... who are dependent upon government, who believe that they are victims, who believe the government has a responsibility to care for them, who believe that they are entitled to health care, to food, to housing, to you-name-it," Romney said."They will vote for this president no matter what. These are people who pay no income tax ... I'll never convince them they should take personal responsibility."Nearly half of all Americans live in households receiving a government entitlement. The future for the world's most powerful nation seems to hold a lot of false optimism judging on the previous four years of Obama's reign, lets hope this is not the case.

Related Articles
N. Korea Prison Camp Escapee Reveals Reality
The Arirang Mass Games, Rungrado May Day Arena ...
North Korea -- A Unique Place to Visit
Korea Welcomes Michael Jackson: The Immortal ...
KPGA and European Tour Host "Korean Qualifiers"
"I Am Delighted to Be a Part of What Promises ...
Humankind and Nature: Both Very Destructive ...
"I Have Heard Nothing But Great Things about ...
"If I Do Not Win a Tournament in 2013, It Will ...
Sports Documentary Expert, Philip Riccobono, ...
Winter Special Olympics, South Korea, 2013
Interview with Matt McKay: Busan IPark and ...
2012 in Review: War & Peace across the Globe
Maria Sharapova All Set for Her Return to Korea
S. Korean Star Golfer Talks about His Life
Disc Golf's Allure and Popularity in the Land ...
Lance Armstrong: A disgrace to cycling, sport, ...
Korean Formula One Grand Prix: Interview with ...
Dokdo -- Small Island That Has Become a Huge ...
"Too Lenient or the Perfect Role Model for ...
Watch Out ... Apparently Foreigners in Korea ...
"Tyson Gay All Set to Make Impression"
German Athlete Betty Heidler to Visit S. Korea
Ignorance Shown towards Suicide in Korea
Usain Bolt Ready for London Olympics
Darren Clarke Looks Forward to Trip to S. Korea
Mo Farah, Great Britain's World Champion
One of S. Korea's Gold Medal Prospects Is ...
Fast Changing Nature of South Korean Culture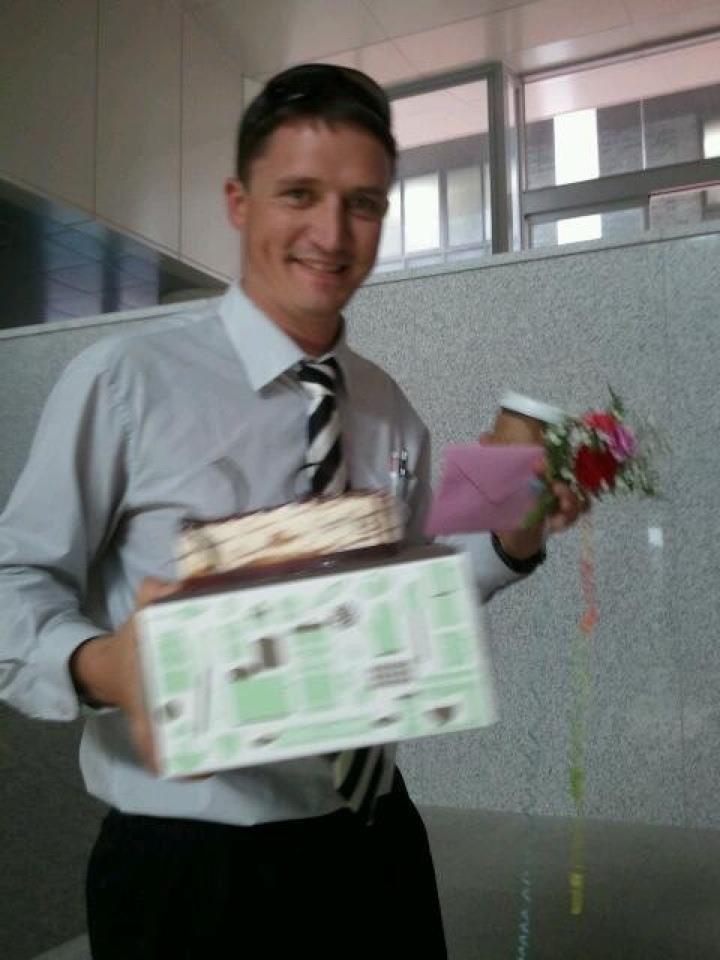 Kenneth Quillinan, who serves as a contributing writer for The Seoul Times, is a visiting professor of English and Academic Writing at Kyungpook National University in Daegu. He also contributes his articles to Yonhap News, Daegu Newspaper, Daegu Compass Magazine, and others. His Email is kennethquillinanknu@gmail.com