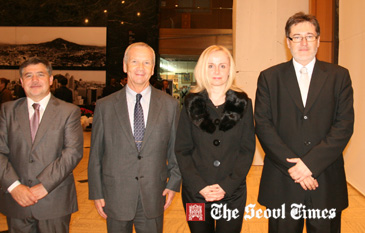 Czech Republic Ambassador to Korea Jaroslav Olsa Jr. (right) poses with his ambassadorial staff during reception held in Seoul on Oct. 26, 2012 on the occasion of its 2012 Independence Day.
Czech Republic Ambassador to Korea Jaroslav Olsa Jr. hosted a reception at the Seoul Museum of History building in downtown Seoul Oct. 26, 2012 on the occasion of its national day – Independence Day.A number of guests including top foreign envoys serving in Seoul were invited to the reception.In the welcoming speech the Czech envoy emphasized the growing bilateral ties including the recent trade increase.The official diplomatic relations between Czech Republic and South Korea were established on March 22, 1990.South Korea opened its embassy in Czech Republic's capital of Prague in June 13, 1990.One year later, the Czech Republic opened its embassy in Seoul, South Korea.The Czech Republic also maintains diplomatic ties with North Korea. It opened its embassy in North Korea's capital of Pyongyang in June 2004.A host of top government officials and other dignitaries visited each other's country following the formal diplomatic ties.Among the luminaries were foreign ministers, speakers of the parliaments, and event presidents of each nation.In March 1995 South Korean President Kim Young-Sam made a state visit to the Central European country.Earlier in April 1992 President Vaclav Havel of then-Czechoslovakia visited Seoul. A year later on Jan. 1, 1993 Czechoslovakia peacefully split into the Czech Republic and Slovakia.In October 1994 then-Prime Minister of Czech Republic Vaclav Klaus visited South Korea at the invitation of the South Korean government.In June of 2003 South Korean Prime Minister Goh Kun visited the Czech Republic.In April of 2009 another Premier Han Seung-Soo also visited the Central European nation.In October of 2011 Chairman Milan Stech of the Senate of the Czech Republic came to Seoul.Trade between the two countries increased by leaps and bounds over the last years.South Korea exported to Czech Republic 1,370 million US dollars' worth of goods from January till October of 2011, which is 48.2 percent increase compared with the corresponding period of 2010.South Korea recorded 966 million US dollars in trade surplus.South Korean imports from Czech Republic also increased 52 percent, amounting to 404 million US dollars.Over the issue of inter-Korean relations on international stage Czech Republic supports South Korea's peace policy on the Korean Peninsula. According to South Korea's Ministry of Foreign Affairs and Trade (MOFAT), there are 1,100 Koreans living in the Czech Republic.
Independence Day in Czech Republic
The Czech Republic celebrates its independence day as a national holiday. The country president's speech is televised and is followed with the awarding of medals to Czechs who have done great deeds.Every year on October 28, a few thousand of the Czech Republic's leading citizens are invited to the Independence Day ceremony at Prague Castle. The great halls of the castles are opened to the guests who partake in food, drink, and schmoozing.Country wide celebrations take place to mark that day in 1918 when Czech emerged from the shadows of the Austro-Hungarian Empire to become a republic.
Who Is Ambassador Jaroslav Olsa Jr.?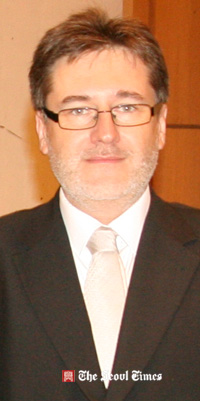 Czech Republic Ambassador to Korea Jaroslav Olsa Jr.
Ambassador Olsa Jr. is a big fan of Korean literature. The 47-year-old Czech envoy visits book stores and libraries in his efforts to gain access to Korean literature and to promote Czech literature among the local Koreans.His interest in Korean literature has led him to collect approximately 30 Korean poems and novels published in the Czech language. His familiarity with Korean literature is quite impressive.Ambassadpr Olša Jr. was devoted to Asian literature well before he was posted to Seoul in 2008. "I always longed for Asia, because of my father's influence. His father Jaroslav Olša the First worked as Czech ambassador to Indonesia." His father was expelled from university after he resisted the Soviet invasion of the Czech Republic in the wake of the Prague Spring of 1968.He was restored after the democratization of Czech Republic and served as ambassador to Indonesia from 1993 to 1998. Amb. Jaroslav Olša Jr. majored in Arabic, Asian and African studies at Charles University in Prague. He also studied Arabic language at Bourghiba Institute of Living Languages in Tunis, capital of Tunisia. Additionally, he majored in international relations and comparative European studies at the University of Amsterdam.Before joining the diplomatic service in 1992, he worked as editor in chief of Ikarie science fiction monthly in Prague. He has translated or authored numerous novels and science fiction novels and published anthologies from 25 countries. While serving as ambassador he translated and published novels of several African countries, including Zimbabwe, Zambia and Malawi. He also authored books on the arts and histories of these nations.Ambassador Olsa Jr. was awarded the "2011 Palmer Prize for Diplomats" for his contribution to the advancement of democracy in Zimbabwe at the 6th Ministerial Conference of the Community of Democracies held on July 1 in Vilnius, Lithuania.
For details or inquiries please contact Ms. Lee Hee-Sook of the Embassy of the Czech Republic at 725 6765-6 for Extension No. 105 or leave Email at seoul@embassy.mzv.cz