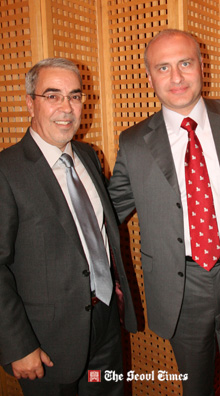 Algerian Ambassador to Seoul Hocine Sahraoui (left) poses for The Seoul Times with Georgean Ambassador Nikoloz Apkhazava while receiving him and other guests.
Algerian Ambassador to Seoul Hocine Sahraoui hosted a reception at Seoul's Lotte Hotel on Nov. 2, 2012 on the occasion of the 58th anniversary of the Algerian Revolution Day.Numerous both local Korean and international guests were invited to the dinner reception. Among the guests were scores of top foreign envoys serving in Seoul and their spouses.Algerians celebrate Nov. 1 as Revolution Day, which commemorates the first successfully coordinated attacks by the National Liberation Front against French forces in Algeria.Algeria has another national day — Independence Day, which falls on July 5, the day Algeria actually gained its independence from its former colonial ruler of France in 1962.Both occasions were celebrated by Algerians both home and abroad. Most of Algerian families prepare Algerian traditional dishes.Events and seminars are organized in its capital of Algiers and music concerts featuring Algerian artists are common on these joyous national holidays.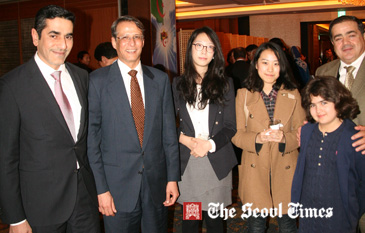 UAE Ambassador Abdulla Khalfan Al Romaithi (left) poses with Kuwait Ambassador Muteb Al Mutoteh (2nd from left), and with Ms. Kim Ji-Yoon 3rd from left), Ms. Yoon Bit-Na 3rd from righy), both of Sookmyung Women's University's English Language and Literature Department. At right is Ambassador of Iraq Mustafa M. Taufik and his little daughter.

Many Algerians visit beach areas and enjoy playing or watching soccer games, the most popular sport in the second largest country on African continent.Algeria used to take a pro-North Korean stance on the international diplomatic stage during much of the Cold War era.The North African country received military support from North Korea in its battle for independence from France during the 1950s and early 1960s.But with the opening of the former Soviet Union to the West Algeria began to pay attention to democratization and economic reforms.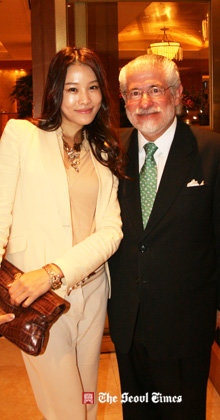 Ambassador of Chile Hernan Brantes-Glavic (right) poses with South Korean singer Jung Yuri at Lotte Hotel.
In its course Algeria became interested in the economic development model of South Korea. On the occasion of South Korea's hosting of the 1988 Seoul Olympics Algeria and South Korean came to know each other better.In 1990 both countries agreed to establish diplomatic relations. Embassies were opened in each country's capital.The bilateral relations between South Korea and Algeria started to develop by leaps and bounds.In particular, Algeria focused on the economic cooperation with South Korea.In 1998 Algeria withdrew its embassy from the capital of North Korea and vice versa.In December 2003 Algerian President Abdelaziz Bouteflika visited Seoul.Three years later, South Korean President Roh Moo-Hyun made a state visit to Algeria, at which point the bilateral ties between the two nations were finally promoted to the level of "strategic partners."
For details or inquiries call the Embassy of Algeria in Seoul at 794-5034/5.