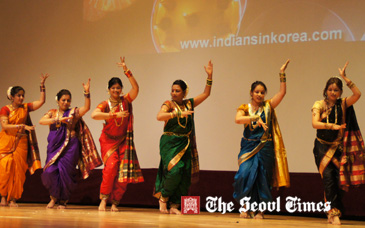 Indian dancers in Diwali celebration in Seoul
The Indians In Korea (IIK) celebrated the festival of lights Diwali on a grand scale in the auditorium of Balcanto Art Center "The University of Suwon" on Nov.11, 2012. It was both a modern and traditional celebration and entertainment for families, students, and community members. IIK Diwali Dhamaka showcased the significance and meaning of Diwali to an audience of more than 500, which included a colorful mix of guests from both the Indian community in Korea and the wider Korean and foreign community. The program began with lighting a traditional lamp by Chief Guest, Deputy Chief of Mission (DCM), Embassy of India, Seoul, Mr. Jeeva Sagar along with his wife Mrs. Srilata Sagar and Dean of Academic Affairs Prof. Park Moon Su of "The University of Suwon." Addressing the gathering, Mr. Jeeva Sagar recognized hard work of IIK board members, volunteers to make this event successful.He also briefly spoke about the history of Diwali and the significance of celebrating the festival of Diwali. He said: "The origin of Diwali lies in varied legends and mythologies of the ancient Indian scriptures, mostly the Puranas.

Indians celebrates Diwali in Seoul on Nov. 11, 2012.
However, all of them have a common message they all depict the triumph of the good over the evil. India is a land of festivals. Diwali, the festival of lights, is celebrated with fervor and gaiety. The festival is celebrated by the young and the old, the rich and the poor, throughout the country to dispel darkness and light up their lives."He said that the festival symbolized unity in diversity as everybody in India celebrates Diwali in its own special way. While Diwali was popularly known as the "festival of lights," the most significant spiritual meaning was "the awareness of the inner light." Diwali is the celebration of this inner light, in particular the knowing of which outshines all darkness of all obstacles and dispels all ignorance, awakening the individual to one's true nature, not as the body, but as the unchanging, infinite, immanent and transcendent reality," he added.The evening's MC's, introduced us to what would be a lively blend of cute Indian kids with fancy dresses. Angel's Kindergarten, the only school in South Korea showed lot of dedication to bring these cute kids on stage with different attires symbolizing different iconic figures. It was amazing to see the Indian dance performance by Korean dancers from Indian Cultural Center (ICC), Embassy of India, Seoul.The stage was set alight with blazing Bharatnatyam based kids dance (Apalam Chapalam), Bollywood numbers like Barso Re Megha and Aika Dajiba, Kids Panjabi bhagara, Fusion dance by kids (Pappa, Can I Dance?), Dandiya-garba dance, Marathi Lavani dance with elegance and finally by Magic of Arabia. Another highlight was the hilarious comic-inspired raffle lucky draw show – the MC stole the show with his impeccable comic timing, and used members of the audience to help him unveil his bag of tricks! The formalities were concluded with a raffle draw where winner would enjoy the Air India's free ticket to India which was limelight at the end. As the night went on, DJs lead the audience in an interactive Bollywood dance item, opening the floor up for the guests, audiences to dance in true festive fashion to DJ Dimple's latest assortment of Bollywood chartbusters. The evening was captured through the artistic eye of IIK Photographers team. At the end guests enjoyed delicious Indian cuisine of Chakraa Indian Restaurant's celebrated menu on offer. Served in a classic style, each and every dish – from the Aalu-wada, Paneer Butter Masala to the famous Gulab Jamun and laddu for dessert – was prepared with flawless attention to presentation and detail. A thoroughly enjoyable evening, IIK's crew left no stone unturned to provide guests with a lavish and delectable feast for all the senses – in essence, wholesome entertainment in true Indian style!! IIK Diwali Dhamaka 2012 was supported by around 10 sponsors and major support provided by Indian Overseas Bank, Air India and Chakraa Indian Restaurant. www.indiansinkorea.com