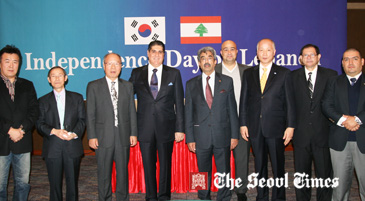 Lebanese Ambassador to Seoul Jad El-Hassan (4th from left) poses with other envoys and guests at Lotte Hotel.
Lebanese Ambassador to Seoul Jad El-Hassan hosted a luncheon reception at Lotte Hotel in downtown Seoul on Nov. 22, 2012 on the occasion of its national day.Its national day "the Lebanese Independence Day," falls on November 22 and is celebrated each year after Lebanon was liberated from the French Mandate on Nov. 22, 1943.The dinner reception attracted numerous high-profile both local and international guests from Seoul's diplomatic community, business circle, and art and media sectors.Among the guests were scores of top foreign envoys and their spouses serving in Seoul.
The official diplomatic relations between Lebanon and South Korea was established on Feb. 12, 1981.Lebanon established diplomatic ties with North Korea in the same year.Lebanon used to maintain a policy of equidistant diplomacy with both North and South Korea, but soon it began to put more importance on the South for economic reasons.Both Lebanon and South Korea have the official embassy in each other's capital.But, the North Korean Embassy in Syria is charge of its relations with Lebanon. The Lebanese ambassador to Beijing takes care of its bilateral affairs with North Korea.Lebanese ties with North Korea are nominal in actuality with the trade relations almost nonexistent.Unlike North Korea, the bilateral exchanges between Lebanon and South Korea have been on the steady increase.From 1971 to 1976 South Korea donated a fund of 21,600 US dollars to Lebanon for the relief of refugees in the Middle Eastern country.The bilateral trade volume hovered below 100 million US dollars prior to 2008.But in 2008 the volume was doubled to 200 million US dollars.It was decreased in the following year due mainly to the global economic crises.However, the bilateral trade increased again in recent years, reaching 250 million US dollars. The major South Korean export items include passenger cars, tires, batteries, galvanized steel, synthetic resin, heavy construction equipment, auto parts, and trucks.Meanwhile, Lebanon exports to South Korea copper, aluminum, precious metals and ornaments, and accessories.
Details or inquiries can be made by call 794-6482 for the Lebanon Embassy in Seoul.