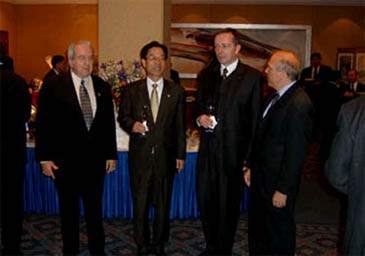 Amb. Tomas Smetanka of Czech (second from right) poses with Amb. Alfredo Francisco Ungo of El Salvador (left) and other dignitaries at his reception held at Millennium Seoul Hilton Oct. 28, 2004.
Amb. Tomas Smetanka of Czech hosted a reception at Millennium Seoul Hilton in Namdaemunno 5-ga, Seoul to mark the anniversary of its National Day (Czech Founding Day of 1918) Oct. 28, 2004.Present at the reception were some 200 guests from all walks of life, both Korean or international . The standing buffet party, which started at 6:30 p.m. in Hilton's Gukwha Room on the first basement, continued into the evening.Particularly, scores of top foreign envoys to Seoul participated in the reception despite their busy schedule.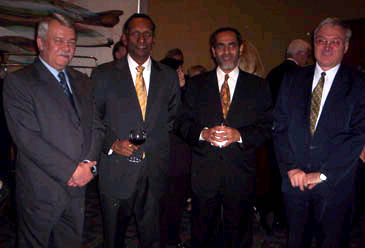 Amb. Volodymyr Furkalo Ph.D. of Ukrain (left) with Amb. Dato' M. Santhananaban of Malaysia (second from left) and other VIPs
They included Amb. Amr M.K. Helmy of Egypt, Amb. Sydney Bafana Kubheka of South Africa, Amb. Volodymyr Furkalo Ph.D. of Ukraine, Amb. Rene Francisco Umana (Chinchilla) of Honduras, Amb. Alfredo Francisco Ungo of El Salvador, Amb. Dato' M. Santhananaban of Malaysia, Amb. Aladin Gonzales Villacorte of Philippines, Amb. Enrique Panes of Spain, Amb. Jaafar Alj Hakim of Morocco, Amb. Zaid Al-Sherida of Kuwait, Amb. Uzi Manor of Israel, Amb. Alexander Savov of Bulgaria, Amb. Babiker Ali Khalifa of Sudan, Amb. Moosa Hamdan Al Taee of Oman, Amb. Mauel Arturo Tellez Miralda of Guatemala, and Amb. Federico Alberto Gonzalez Franco of Paraguay.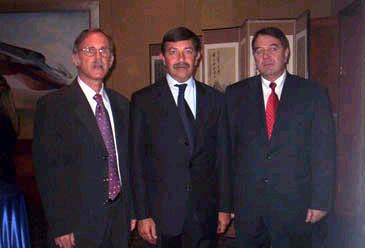 Amb. Amr M.K. Helmy of Egypt (center) poses with other dignitaries.
El Salvador Amb. Alfredo Francisco Ungo serves as the dean of the Diplomatic Corps in Seoul.Many of the wives of top envoys including Egyptian and South African ambassadors also attended the autumnal diplomatic reception.Other high-profile guests included the highest and most powerful military officer staying on the Korean Peninsula: Gen. Leon J. Laporte, who serves as commander of United Nations Command and ROK/US Combined Forces Command. Gen Laporte is also commander of US Forces Korea. Gen. Laporte brought his wife to the reception.Senior politician Lee Man-Sup, the former National Assembly speaker, was also present along with ohter Korean VIP guests.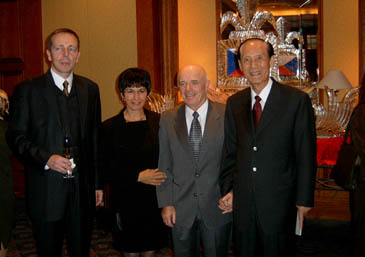 Amb. Tomas Smetanka of Czech (left) poses with US Gen. Gen. Leon J. Laporte (second from right), his wife Mrs. Laporte, and Lee Man-Sup, the former National Assembly speaker at the reception.
Czech National Day (Czech Founding Day of 1918)
Czech people celebrate their National Day on the 28th of October which is the anniversary of the declaration of the Czechoslovak Republic in 1918 in the aftermath of WW I. Its National Day or Czech Founding Day is meaningful to Czechs for their national independence. During Communist era (1948-1989) it became a symbol of the lost civil liberties and a reminder of the free and democratic country for most Czechs.
Profile of Czech Amb. Tomas Smetanka
The journalist-turned Czech Amb. Tomas Smetanka to Seoul graduated in 1978 from Charles University in Prague. He studied and taught at its Department of Oriental and Arab Studies. In 1983 he undertook further studies at Cairo University. In 1990 he participated in the Times Mirror Fellowship Program for Central European Journalists at the Times Mirror Center in Washington D.C.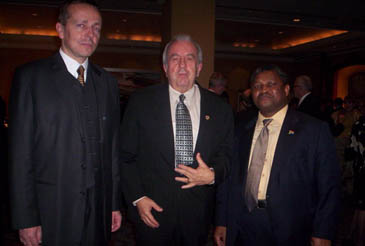 Amb. Tomas Smetanka of Czech (left) poses with Amb. Sydney Bafana Kubheka of South Africa (right), and Amb. Alfredo Francisco Ungo of El Salvador.
Upon graduating from college in 1983 he became a tutor of Arabic at the Faculty of Education of Charles University. Two years later he moved to Tripoli, Libya to work as an interpreter at a construction company. From 1985 to 1989 he taught Arabic and English at the Foreign Language School in Prague. In 1990 he started his journalistic career as the foreign-desk editor of Lidove Noviny newspaper, where he rose to editor in chief three years later. In 1993 he moved to Respekt weekly. Based on his experience as a journalist and educator he joined the Foreign Ministry in 1993. Two years later, he became director of the Middle East and North African Department.In 1996 he was chosen as ambassador to the Kingdom of Jordan for a five-year service. Between 2001 and 2004 he served as ambassador to China and North Korea. Amb. Smetanka and his wife Irena have three children.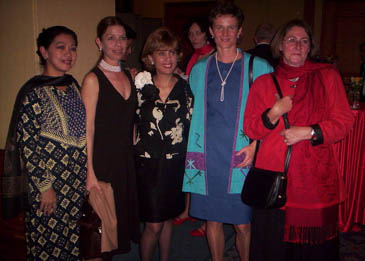 Mrs. Smetanka (second from right) poses with Mrs. Helmy (third from left), Mrs. Kubheka (left), and other wives of ambassadors.
Country Profile: Czech Republic
Part of Czechoslovakia until the "velvet divorce" in January 1993, the Czech Republic has a rich cultural heritage represented by classical composers such as Dvorak and writers like Kafka.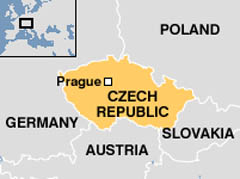 Nowadays tourists flock to savour Czech architectural treasures which include some of the finest Baroque, Art Nouveau and Cubist buildings on the continent.
OVERVIEW
An era ended in February 2003 when Vaclav Havel's term as president came to an end. The dissident playwright had spearheaded the velvet revolution in 1989 and was the first president of post-Communist Czechoslovakia. His presidency was interrupted for only a few months at the time of the separation of the Czech Republic and Slovakia. Mr Havel saw the ghost of former Soviet military influence exorcized in 1999 when the republic was granted full membership of Nato. He left office having led it to the threshold of the EU. His old rival and successor as president, Vaclav Klaus, oversaw the country's accession to the union. The formal invitation to join the EU came despite criticism of policies towards the Roma, or Gypsies, who number up to about 300,000 and who suffer disproportionately high levels of poverty, illiteracy, and unemployment The Czech Republic has not steered clear of controversy in international relations since independence. The firing up of the Temelin nuclear power plant sparked a major row with Austria in 2000 while the republic's refusal to revoke the post-war Benes decrees which sanctioned the expulsion of over two and a half million ethnic Germans and Hungarians has strained relations with neighbours.
FACTS
Population: 10.2 million (UN, 2004)

Capital: Prague

Major language: Czech

Major religion: Christianity

Life expectancy: 72 years (men), 79 years (women) (UN)

Monetary unit: 1 koruna (Kc) = 100 halers

Main exports: Manufactured goods, machinery, cars and transport equipment, beer

GNI per capita: US $6,740 (World Bank, 2003)

Internet domain: .cz

International dialling code: +420LEADERSPresident: Vaclav Klaus Vaclav Klaus of the conservative Civic Democratic Party succeeded Vaclav Havel, with whom he had many clashes in previous years, in the largely ceremonial role of president in February 2003.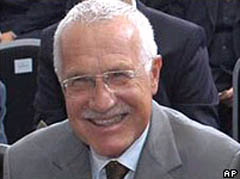 President Vaclav Klaus

He was finance minister in the first government of the post-Communist era and prime minister between 1992 and 1997 before financial scandals contributed to the fall of his government. Although he has a reputation as a eurosceptic, on taking office as president he said that integration into the European Union would be a top political priority. Prime minister: Stanislav Gross Stanislav Gross, a deputy premier under former Prime Minister Vladimir Spidla, was named as prime minister by President Vaclav Klaus in July 2004.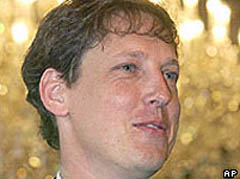 Stanislav Gross — a youthful premier

Mr Gross, who succeeded Mr Spidla as leader of the Social Democrats, reached agreement with two other party leaders on the make-up of a new coalition. The new government was approved by parliament in a vote of confidence in August 2004. Mr Gross, who was 34 when he was nominated, is the country's youngest-ever prime minister. He rose quickly through the ranks of the party, and became an MP at the age of 22. His predecessor resigned on 1 July 2004 following disastrous results for his Social Democratic Party in the European elections. He also stood down as party leader. Mr Spidla had led a coalition government with the centrist Christian Democrats and Freedom Union for two years. The coalition had only the slimmest of majorities in parliament and had often looked fragile. Mr Spidla had pressed ahead with unpopular fiscal reforms designed to prepare the country for membership of the eurozone.
Foreign minister: Cyril Svoboda

Finance minister: Bohuslav Sobotka

Defence minister: Karel Kuehnl MEDIAPrivate media in the Czech Republic mushroomed in the 1990s, and private radio and TV stations provide stiff competition for public broadcasters. Public TV broadcaster Ceska Televize (CT) operates two channels, and Czech public radio, Cesky Rozhlas (CRo), operates three national networks as well as local services. Two major private television channels broadcast nationally, and there are more than 70 private radio stations on the air across the country. Though press freedom is protected by a charter of basic rights, the media are not always considered editorially independent. An angry dispute over the control of Czech public television at the end of 2000 showed that efforts to rid state media of political interference were ongoing. The press

Lidove Noviny — Prague-based national daily, former dissident publication

Mlada Fronta Dnes — Prague-based national daily

Pravo — Prague-based national daily

The Prague Post — English-language

The Prague Tribune — English-language; business and lifestyle Television

Czech TV — public broadcaster; operates mainstream channel CT1 and cultural channel CT2

TV Nova — commercial

Prima — commercialRadio

Czech Radio — public broadcaster; operates national and regional networks

Radio Prague — Czech Radio's external service; programmes in a number of languages including English

Frekvence 1 — private, national

Radio Impuls — private, national News agency