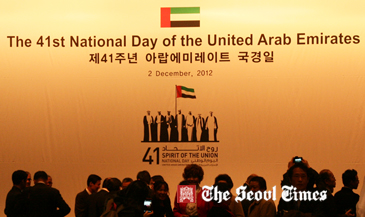 41st UAE National Day is being celebrated in Seoul
UAE Ambassador to Seoul Abdulla Khalfan Al Romaithi hosted a grand reception at Shilla Hotel in Seoul on the occasion of the 41st National Day of UAE on Dec. 3, 2012.Hundreds of guests nearly from all walks of life took part in the dinner reception. They included scores of top foreign envoys operating in Seoul, Korean government officials, top politicians, prominent businessmen, artists, journalists, and other high-profile opinion leaders.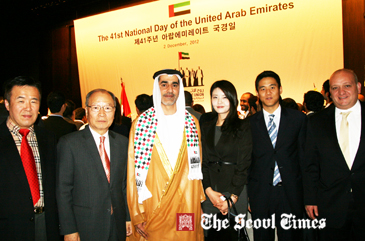 UAE Ambassador to Seoul Abdulla Khalfan Al Romaithi (3rd from left) poses with Ambassador of Jordan Omar Nahar (right) and other local guests at the reception held at Shilla Hotel in Seoul on Dec. 3, 2012 to mark its 41st National Day.

Among the dignitaries were South Korean Health Minister Rim Che-Min, Chairman Chang Man-Key of the Korea Human Development Institute (KHDI), Chairman Kim Yoon-Kyu of Acheon Global Corporation, and Prof. Kim Joong-Kwan of Dongguk University. Prof. Kim serves as president of Korean Association of Middle East Studies.The bilateral ties between the UAE and South Korea has developed by leaps and bounds since they established full diplomatic relations in June, 1980.On the strength of the growing bilateral economic cooperation UAE formed a strategic partnership with South Korea.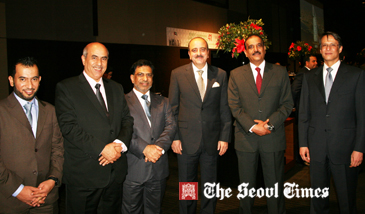 Ambassador of Kuwait Muteb Al Mutoteh (right) poses with other ambassador at the reception held at Shilla Hotel in Seoul on Dec. 3, 2012 to celebrate the 41st National Day of UAE.
In recent years a number of high-ranking government officials and politicians exchanged visits between UAE and South Korea.The late South Korean President Roh Moo-Hyun and current President Lee Myung-Bak visited UAE. In particular President Lee visited the affluent Middle Eastern nation several times mainly for economic cooperation.
In May, 2010 crown prince of Abu Dhabi, Sheikh Mohammed bin Zayed Al Nahyan visited South Korea at the invitation of President Lee. He is the deputy supreme commander of the UAE Armed Forces.The crown prince's visit to Seoul was to commemorate the 30th anniversary of the diplomatic establishment between the two countries.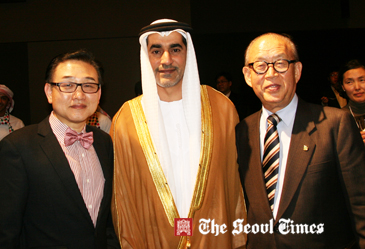 UAE Ambassador to Seoul Abdulla Khalfan Al Romaithi (center) poses with Chairman Chang Man-Key (right) of the Korea Human Development Institute (KHDI) and with President Kim Joong-Kwan of Korean Association of Middle East Studies.
About two years ago the two countries launched "Korea-UAE Business Council" to further strengthen already brisk business ties.The launching ceremony of the business council held at a Seoul hotel on May 27, 2010, was joined by Crown Prince of Abu Dhabi, Gen. Sheikh Mohammed bin Zayed bin Sultan Al Nahyan, and by South Korean Prime Minister Chung Un-Chan.Scores of major South Korean and UAE businesses are the founding members of the council: They include Hyundai Motors, SK, LG, GS, Doosan, STX from Korea and Mubadala Development Company (Mubadala), a leading business development and investment company based in Abu Dhabi, Advanced Technology Investment Company (ATIC), and state-run Etihad Airways.
President Kim Joong-Kwan (right) of Korean Association of Middle East Studies poses with Chairman Kim Yoon-Kyu (center) of Acheon Global Corporation at UAE reception held at Shilla Hotel in Seoul on Dec. 3, 2012. At left is Acheon President Yook Jae-Hee.
The business council was formed in the wake of South Korea's winning earlier this year of 20-billion-US-Dollar deal to export nuclear power plant to UAE.The South Korean Embassy was built in Abu Dhabi in 1980. About seven years later, the UAE opened its own embassy in Seoul.Since the establishment of diplomatic ties, the two countries have been developing bilateral relations in the spheres of economics, politics, and cultural exchange.In particular trade between South Korea and the UAE has grown sharply over the past five years.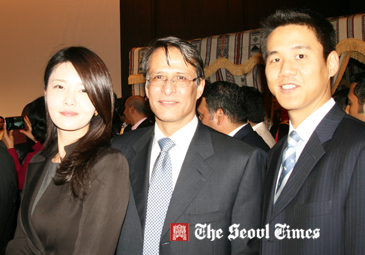 Ambassador of Kuwait Muteb Al Mutoteh (center) poses with Account Manager Iris Sun Paik (left) of Macoll Communication Consulting and with Attorney at Law Eric Seung-Jay Kim of Macoll.
The bilateral trade volume amounted to 24.9 billion US dollars in 2008, great leap from 9.8 billion dollars in 2004.From South Korea UAE imports such products as electronic goods, textiles, automobiles, and auto parts. UAE in return exports mainly crude oil to South Korea as it is South Korea's second largest oil supplier in the world, only next to Saudi Arabia.A host of South Korean companies are now operating in the UAE. They include POSCO, Daewoo Electronics, STX Construction Company, Doosan Heavy Industries & Construction Company, and Samsung C&T Corporation."UAE and South Korea has already establihed a strategic partnership," said Prof. Kim "But South Korea's advance into the market of UAE nuclear power plants would bolster the already strong economic ties even futher."
About UAE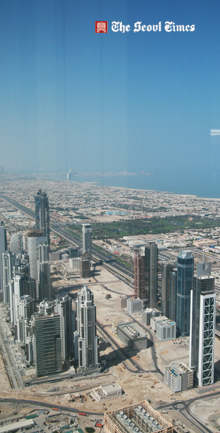 Dubai: the City Of Gold — A number of high-rise buildings are being constructed in Dubai, UAE as of April of 2012. Once a small fishing village Dubai is now a global city and a business and cultural hub of the Middle East. Based on oil industry Dubai has today emerged as a cosmopolitan metropolis.
The United Arab Emirates (UAE) is a federation of seven emirates situated in the southeast of the Arabian Peninsula in Southwest Asia on the Arabian Gulf, bordering Oman and Saudi Arabia. The UAE consists of seven states, termed emirates, which are Abu Dhabi, Dubai, Sharjah, Ajman, Umm al-Quwain, Ras al-Khaimah and Fujairah. The capital and second largest city of the United Arab Emirates is Abu Dhabi. It is also the country's center of political, industrial, and cultural activities.Before 1971, the UAE was known as the Trucial States or Trucial Oman, in reference to a 19th-century truce between the United Kingdom and several Arab Sheikhs. The name Pirate Coast was also used in reference to the area's emirates in the 18th to early 20th century.The political system of the United Arab Emirates, based on the 1971 Constitution, comprises several intricately connected governing bodies. Islam is the official religion and Arabic is the official language.The United Arab Emirates has the world's sixth largest oil reserves and possesses one of the most developed economies in the Middle East. It is currently the thirty-sixth largest economy at market exchange rates, and has a high per-capita gross domestic product, with a nominal per-capita GDP of $54,607 as per the IMF.The country is 14th largest in purchasing power per-capita and has a relatively high Human Development Index for the Asian continent, ranking 31st globally. The United Arab Emirates is classified as a high income developing economy by the IMF.The United Arab Emirates is a founding member of the Cooperation Council for the Arab States of the Gulf, and a member state of the Arab League. It is also a member of the United Nations, Organisation of the Islamic Conference, the OPEC, and the World Trade Organization.
For details or inquiries contact the Embassy of the United Arab Emirates in Seoul at 790-3235.