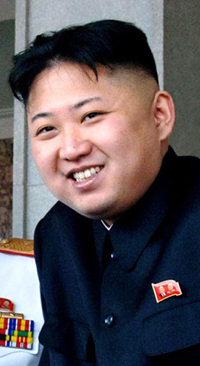 North Korean leader Kim Jong-Un
WASHINGTON DC, Dec. 4, 2012 – The Center for Strategic & International Studies (CSIS) Freeman Chair in China Studies has written a new report: "Reordering Chinese Priorities on the Korean Peninsula". A brief summary and link to download the full report appear below. The following is a summary of the report prepared by the author below:
The accession to power of a new leader in North Korea has not increased the prospects for denuclearization. Hints that Kim Jong-un might experiment with agricultural and economic reforms are not accompanied by any suggestion that he is considering abandoning the country's nuclear weapons program.On the contrary, all signs point to North Korea's staunch determination to advance the nuclear program while undertaking efforts to compel the international community to recognize it as a nuclear weapons state. Given the growing urgency of the threat posed by North Korea's nuclear weapons development, it is essential to consider new ways to persuade Pyongyang to freeze, reverse, and eventually eliminate its nuclear capabilities.
In the past decade, the United States has tried to work closely with China to achieve denuclearization of North Korea. Successive U.S. administrations have concluded that China holds significant political and economic leverage over North Korea and have sought to persuade Beijing to use its leverage to compel Pyongyang to abandon its nuclear programs.To date, the United States has had very little success. While China has occasionally used its clout to bring North Korea to the negotiating table and to discourage Pyongyang from engaging in provocations that could escalate to conflict on the Korean Peninsula, Beijing has continued to prioritize stability over denuclearization and has thus remained unwilling to put substantial pressure on the North.
For the next Obama administration, China will remain a key factor in any U.S. policy aimed at eliminating North Korea's nuclear weapons. The relationship between China and North Korea is complex and must be fully understood to maximize the possibility of securing Chinese cooperation. In addition, the convergence and divergence in U.S. and Chinese interests on the peninsula must be properly parsed.
Please find a link to the full report below:
http://cs.is/KoreanPeninsula
The Center for Strategic and International Studies (CSIS) is a private, tax-exempt institution focusing on international public policy issues. Its research is nonpartisan and nonproprietary. CSIS does not take specific policy positions; accordingly, all views, positions, and conclusions expressed in these publications should be understood to be solely those of the authors.