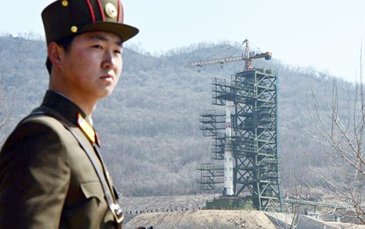 A N. Korean soldier watches over rocket aluncher.
On Dec. 1, 2012 North Korea announced that it will launch a Unha-3 rocket between December 10 and December 22. This is the country's second rocket launch in 2012 following its failed launch eight months ago on April 12. North Korea's state news agency claimed the planned launch is an effort to put a Kwangmyongsong-3 satellite into orbit, exercising its right for peaceful activity in space.However, the country's rocket launch using ballistic missile technology is widely believed to be a long-range missile test in disguise. North Korea is banned from testing any ballistic missile technology by UN Security Council Resolutions 1718 and 1874 and is currently under UN sanctions for its previous tests. Secretary of State Hillary Rodham Clintonexpressed deep concern at a recent meeting of the NATO-Russia Council and called on countries to put pressure on North Korea to suspend its planned launch. Secretary General Ban Ki-moon of the United Nations and representatives of other countries like China, Russia, Japan, and South Korea have all expressed opposition and urged North Korea to comply with its UN Security Council obligations and call off its launch plan.
Q1: How often has North Korea undertaken these launches?
A1:
North Korea has a long history of developing and testing ballistic missile technology. Its four most recent ballistic missile tests include two Taepodong missile tests in 1998 and 2006 and Unha-2 and Unha-3 rocket launches in 2009 and 2012. The April 2012 test was a failure. The 2009 test was more successful with successful separation of the first and second stages of the missile.
Q2: What if this test is successful?
A2:
The successful launching of a satellite into orbit would suggest that North Korea has overcome a major hurdle in its efforts to demonstrate long-range ballistic missile capability. While there would still be some other remaining technological thresholds to cross, this would constitute a major advance on the North's part to mate a long-range intercontinental ballistic missile (ICBM) capability with a growing nuclear weapons program. A successful test would raise as a topline national security issue for the Obama administration the specter of a direct North Korean threat to the U.S. homeland. This would (or should) thrust the North Korea issue to the top of the security agenda, along with Syria. Thus far, the president has not made a direct statement warning the North Koreans against a missile test, as he has done, for example, with regard to Syria's possible preparations for chemical weapons warfare.
Q3: Is there anything different about this test?
A3:
Unlike the April test, the North Koreans have not invited foreign journalists to view the launch, and they have not yet announced the launch to their domestic audience. This suggests that they might seek to cover up another failure or that they will declare it a success, regardless of the outcome.
Q4: Why doesn't the international community simply accept that this is a satellite launch and not a military missile test?
A4:
The North Koreans are basically disguising a military program as a civilian one. Should the satellite launch be successful, military application of the technology would almost certainly follow. The civilian space program would later follow after the military program. This was the path taken by both China and the Soviet Union in developing their missile force, which Pyongyang appears to be following.
Q5: Why now?
A5:
No one ever knows for sure why the North Koreans do what they do. There are several possible theories. First, the timing of the launch coincides with the one-year anniversary of Kim Jong-il's death. Second, Pyongyang may seek to test the resolve of new political leaders in China and South Korea. Third, the new leadership in Pyongyang may feel the need to demonstrate a successful test after the well-publicized failure of the April launch. The young leader does not have the credentials of either his father or grandfather and therefore may be held up to a performance metric in both the party and the military. The latter in particular has seen a number of high-level purges under Kim Jong-un. A fourth theory may be the simplest one: North Korea is determined to develop ICBMs, and they need to test their technology to see if it works, regardless of the political timing.
Q6: What does the road ahead look like?
A6:
Some analysts believe a test is likely earlier in the December 10–22 window because the weather conditions appear ideal. This will likely be followed by U.S.- and South Korea–led efforts to condemn North Korea in the UN Security Council and lead perhaps to another resolution that seeks additional sanctions against entities involved in North Korean weapons development and proliferation. Our research at CSIS finds that since 1992, North Korea has done some sort of provocation (cruise/ballistic missile tests or other provocations) within an average 18 weeks of every South Korean presidential election. This suggests: (1) in the unlikely event that they do not test before the South Korean elections (December 19), they will almost certainly do so after the elections; and (2) even if they do test before the South Korean elections, we cannot rule out the possibility of more provocations in the weeks immediately following the election.Read online: http://cs.is/NKoreaCQ
Victor Cha holds the Korea Chair at the Center for Strategic and International Studies (CSIS) in Washington, D.C. Ellen Kim is assistant director and fellow with the CSIS Korea Chair.
Critical Questions is produced by the Center for Strategic and International Studies (CSIS), a private, tax-exempt institution focusing on international public policy issues. Its research is nonpartisan and nonproprietary. CSIS does not take specific policy positions. Accordingly, all views, positions, and conclusions expressed in this publication should be understood to be solely those of the author(s).For more information about Critical Questions or CSIS policy experts, please contact Andrew Schwartz, aschwartz@csis.org, (202) 775-3242 or Ryan Sickles, rsickles@csis.org, (202) 775-3140, and be sure to follow @CSIS on twitter.