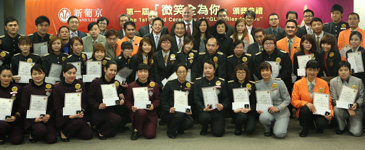 Grand Lisboa holds "GL Smiles for You" award ceremony.
Macau SAR PR China — Grand Lisboa held the 1st Award Ceremony of "GL Smiles for You" today, fifty frontline customer services staff were officially recognized for their outstanding performance with more votes from visitors and departments. "GL Smiles for You" campaign is running from 1st August 2012, the theme is "Sincere Smile, Warm Greetings and Good Attitude".
The ceremony was held at 4pm today. Mr. Frank McFadden, SJM's President of Joint Ventures and Business Developments, Mr. Lindsay Stewart, Vice President of Electronic Gaming, Mr. Chan Weng Kit, Head of Casino Security and Mr. Francis Law, Human Resources Manager attended the ceremony and presented to each of the winners a certificate, a specially designed pin with 18K gold and MOP2,000 New Yaohan cash coupon.
Mr. Francis Law represented the company to give the speech on the event. "We are glad to congratulate these winners personally. Grand Lisboa keeps providing the best service to our customers. We expect to recognize our staff for their excellent working performance with sincere smile, warm greetings and good attitude through launching "GL Smiles for You". At the same time, we sincerely thank our visitors to participate and vote which provide us a lot of valuable comments."
The list of winners - Lei In, Fan Zhen Zhen, Chan Vai Tong, Ip Weng Chi, Lam Na, Iong Mun Hou, Ian Pou Peng, Lei Wai Cheng, Lou Ka Kei, Cheong Si Chon, Chan Nei Nei, Ieong Choi San, Mui Mei Kim, Lam Soi, Leung Wan Si, Choi Ieng I, Leong Sut Man, Wong Ka Chon, Leong Wai U, Liu Jia Min; Liao Li Ying, Ao Ieong Man Fai, Tang Man I, Zhao Yue Zhen, Lo Fong Ieng, Mak Weng San, Kou Sio Ian, Sou Sio Leng (Table Games); Chang Hon Keong, Chio Tin Chi (Electronic Gaming); Ho Chi In, Leong Lin Ang, Kam Cheok Wa, Im Lam Sang, Lam Peng Tat, Jusayan Gregorio II Zapanta, Pegew Gerry Kimayong, Welson Cugay (Casino Security); Daclan Madelyn Alzate, Mendoza Jenny Espiritu, Cristie Espiritu Mendoza, Stela Marice Bersola, Chim Tat Weng, Mak Sao Kun, Wong Sut Kuan (Casino F&B); Shih Tsung Tsung, Lao Sio Chan (Casino Treasury); Choi Chi Wai, Cheong Iek Neng, Chong Swee Yen (Marketing).
For media enquiries:
Wenda Wong
Tel: (853) 8982 5560/ Email: wendawong@macausjm.com