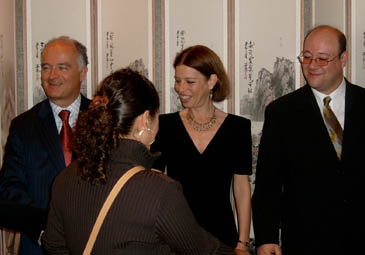 Amb. Selim Kuneralp (left) and his wife (center) greet guests.
It was a big celebration for descendents of Ottoman Empire and their friends at a major hotel in the metropolitan city of Seoul held on the last Friday of October of 2004 on the occasion of its biggest national holiday: Republic Day.Amb. Selim Kuneralp and his wife, their personal friends, staff of Turkey Embassy, pro-Turkey personalities both Korean and foreigners, as well as diplomatic personnel in Seoul, all enjoyed hobnobbing with each other at the reception Amb. Kuneralp threw at Millennium Seoul Hilton Oct. 29, 2004.The standing buffet party, which started at 6:30 p.m. at Hilton's Grand Ballroom and lasted into the evening, was hosted by Amb. Kuneralp in commemoration of the 81st anniversary of the proclamation of the Republic of Turkey back in 1923.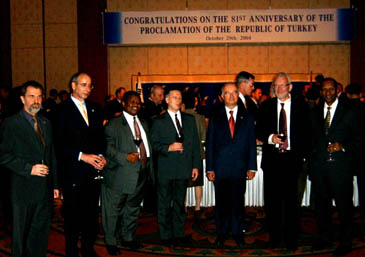 Amb. Selim Kuneralp (third from right) poses with other VIPs.
In Turkey Many cities and towns hold parades on the day which is also celebrated in all Turkish communities elsewhere in the world.Here for Seoul celebration almost 300 guests from nearly all walks of life, both Korean and foreigners, attended the reception held on the first basement floor of the hotel.On the guest list were a number of dignitaries — a host of top foreign envoys in Seoul, Korean politicians, foreign businesspeople, military attaches shouldered with each other to congratulate on the Turkey's most important national holiday.Ambassadors included Amb. Amr M.K. Helmy of Egypt, Amb. Sydney Bafana Kubheka of South Africa, Amb. Alfredo Francisco Ungo of El Salvador, Amb. Dato' M. Santhananaban of Malaysia, Amb. Enrique Panes of Spain, Amb. Zaid Al-Sherida of Kuwait, Amb. Moosa Hamdan Al Taee of Oman, Amb. Hungary of Istvan Torzsa, Amb. Tomas Smetanka of Czech, Amb. Warwick Morris of United Kingdom, Amb. Conor Murphy of Ireland, Amb. Volodymyr Furkalo Ph.D. of Ukraine and Amb. Jaafar Alj Hakim of Morocco.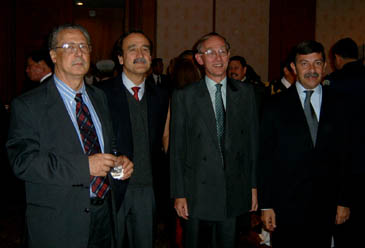 Amb. Amr M.K. Helmy of Egypt (left) poses with Amb. Warwick Morris of United Kingdom (second from right), and Amb. Enrique Panes of Spain (second from left).
Many of the wives of top envoys including Egyptian and South African ambassadors also attended the autumnal diplomatic reception.VIPs from the business circle included President Frans Hampsink of The European Union's Chamber of Commerce in Korea, Peter KH Oh, representative of Netherlands Board of Tourism & Conventions, and Mr. Lee Chi-Myeung of Suwon City's International Trade Division.Among a group of military attaches and other top brass hats were Maj. Gen. Thomas P. Kane of USAF (United States Air Force), serving in South Korea, and Col. Nguyen Huu Tiu, defence attache of Embassy of The Socialist Republic of Vietnam in Seoul.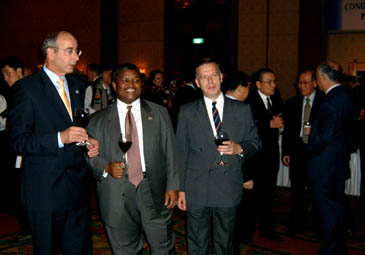 Amb. Sydney Bafana Kubheka of South Africa (center) poses with other ambassadors.
Turkey was the first country in the world to recognize Republic of Korea as a state in 1949. Thousands of its soldiers shed their blood for Korean people during Korean War (1950-53) to which the 16 nations sent their troops.During the war unlike other nations 15,000 young Turks volunteered to fight for South Korea, making Turkey the one which sent the fourth largest troops among the participating UN nations only after US, UK, and Canada.Turkey opened its embassy in Seoul in 1957, becoming the ninth country to do so in Seoul. As shown in 2002 World Cup Soccer Games held in Seoul, Korean people show close affection toward Turkey, dubbing it as their "brother country."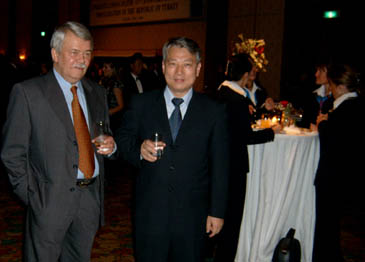 Amb. Volodymyr Furkalo Ph.D. of Ukraine (left) poses with Mr. Lee Chi-Myeung of Suwon City's International Trade Division.
Amb. Selim Kuneralp has been actively serving his role of top envoy to Seoul since he started his Korean mission Jan. 15, 2003
Brief History of Turkey
Anatolia (Asia Minor) had been a cradle to a wide variety of civilizations and kingdoms in antiquity. The Seljuk Turks were the first Turkic power to arrive in the 11th century as conquerors (earlier Turkic peoples such as the Pechenegs had become allies and subordinates of the Byzantine Empire), who proceeded to gradually conquer the existing Byzantine Empire.Their Turkic successors, the Ottoman Empire, completed this in the 15th century with the fall of Constantinople, after which the empire expanded across the eastern Mediterranean. Rising nationalism in the 19th century and the First World War caused the embattled empire to crumble in the aftermath of the war.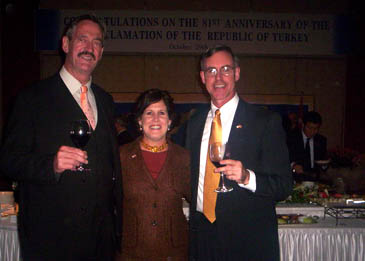 President Frans Hampsink of The European Union's Chamber of Commerce in Korea (left) poses with Maj. Gen. Thomas P. Kane of USAF (United States Air Force).
The Republic of Turkey was created in 1923 by Mustafa Kemal Ataturk, who reformed Turkey into a modern, secular, and Western-oriented republic. Fears of a shift from the secular and Western-oriented makeup of the country have led to several military coups over the years, the last of which was in 1980.Democratic rule has since returned. Turkey became a member of NATO in 1952, and is seeking membership of the European Union. Issues such as the Turkish involvement in Cyprus and the increasing appeal of political Islam continue to fuel public debate in Turkey and influence its international relations.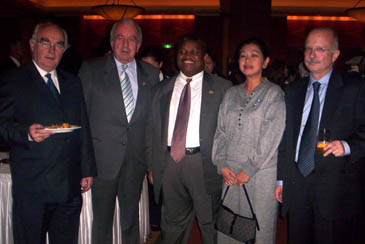 Amb. Sydney Bafana Kubheka of South Africa (center) poses with his wife (second from right), Amb. Alfredo Francisco Ungo of El Salvador (second from left), and Amb. Conor Murphy of Ireland (left).
Country Profile: Turkey
Once the centre of the Ottoman Empire, the modern republic was established in the 1920s by nationalist leader Kemal Ataturk.Straddling the continents of Europe and Asia, Turkey's strategic location has given it major influence in the region — and control over the entrance to the Black Sea.
OVERVIEW
After years of mounting difficulties which brought the country close to economic collapse, a tough recovery programme was agreed with the IMF in 2002. Since then, Turkey has seen impressive progress. Economic growth has averaged over 5% and inflation has fallen dramatically. However, the country's huge foreign debt remains a major burden. Turkey's powerful military — which has traditionally seen itself as the guardian of the secular system — has a long history of involvement in the country's politics. It was behind the removal of the first Islamist government in 1997. More recently, as Ankara has set its sights on European Union membership, the influence of the military has been restricted.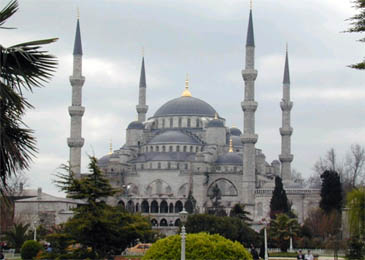 Blue Mosque Istanbul
It became an official EU candidate country in 1999 but was told that there would have to be progress on human rights and economic reform. The country has since abolished the death penalty and introduced tougher measures against torture and other reforms to the penal code. It has brought in significant civil and other rights reforms, including in the areas of women's rights and Kurdish culture, language education and broadcasting. In October 2004 the European Commission recommended opening talks on admission but did not suggest a date. It will be for the December summit of EU leaders to decide whether the reforms have been sufficient for talks to go ahead. Even if they do, negotiations are likely to take years. The east and southeast of Turkey saw years of civil war in the 1980s and 1990s between Turkish forces and those of the secessionist Kurdistan Workers' Party (PKK) in which over 30,000 people died. The PKK announced in 1999 that it intended to switch to peaceful campaigning, although the Turkish authorities dismissed the move as a sham. The organization has since changed its name to the Congress for Freedom and Democracy in Kurdistan (Kadek) and subsequently to Kongra-Gel.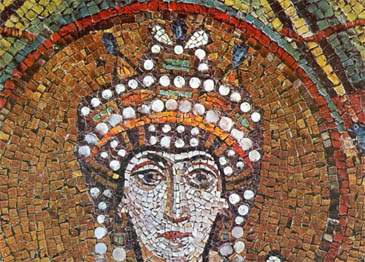 The Empress of Theodora. Details from mosaic
Kurdish secessionists have threatened more than once, most recently in early summer 2004, to end their cease-fire following what they called annihilation operations against their fighters by the Turkish authorities. They also continue to demand greater political and cultural rights for the Kurdish community.
FACTS
Population: 72.3 million (UN, 2004)

Capital: Ankara

Area: 779,452 sq km (300,948 sq miles)

Major language: Turkish

Major religion: Islam

Life expectancy: 68 years (men), 73 years (women) (UN)

Monetary unit: Turkish lira

Main exports: Fruit and vegetables, textiles and clothing, iron and steel

GNI per capita: US $2,790 (World Bank, 2003)

Internet domain: .tr

International dialling code: +90LEADERSPresident: Ahmet Necdet Sezer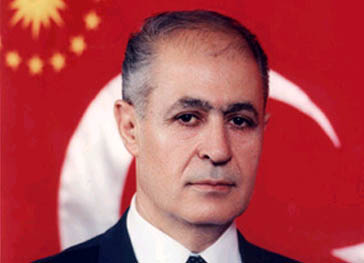 When Ahmet Necdet Sezer was sworn in in May 2000 he became the first president in modern Turkish history who was neither an active politician nor a military commander.Mr Sezer, previously the chief justice of the constitutional court, is regarded as a secularist, a factor in his favour in the eyes of Turkey's powerful military. The veteran civil servant caused a stir in 1999 when he made a speech criticizing Turkey's constitution — introduced after a military coup in 1980 — as restricting democratic rights and freedoms. Some observers see his support for greater freedom of expression as a potential positive in Turkey's bid to convince the EU that it is making efforts to improve its record in this area. Prime minister: Recep Tayyip Erdogan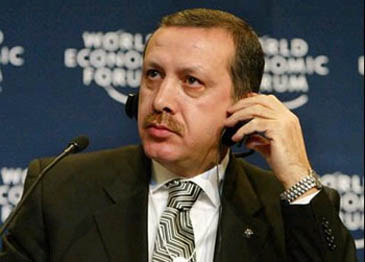 Mr Erdogan, leader of the Islamist-based Justice and Development Party (AK), became prime minister several months after his party's landslide election victory in November 2002.He had been barred from standing in those elections because of a previous criminal conviction for reading an Islamist poem at a political rally, an action deemed to amount to Islamist sedition and for which he served several months in jail. In Turkey the prime minister must also be a member of parliament. AK deputy leader Abdullah Gul took on the premiership in the months following the elections, but with Mr Erdogan playing a prominent role, particularly in foreign visits. Soon after the elections changes to the constitution paved the way for Mr Erdogan to run for parliament in a by-election. He was elected an MP in March 2003. Within days Mr Gul resigned, leaving the way clear for Mr Erdogan to become prime minister.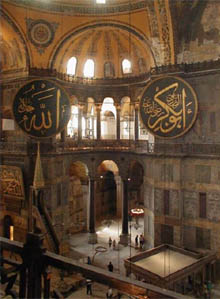 Hagia Sophia, Istanbul

For many poor Turks, he is something of a working class hero although critics are dismissive of what they see as his populism. From a poor background, he worked as a street seller to help pay for an education. He attended Koranic school before studying economics at university. As mayor of Istanbul in the mid 1990s he banned alcohol in official muncipal buildings and won popularity for improving services. In 1997 the military became alarmed over what it saw as a threat to Turkey's secularism. Erbakan's Welfare Party was banned and he was forced to resign. Although his new AK party has Islamist roots Mr Erdogan insists that it is committed to secularism, something which the military will watch closely. He has identified EU entry as a top priority and has promised reforms designed to bring Turkey more closely into line with entry requirements. Mr Erdogan has predicted that Turkey could join in 2012 if these reforms are carried through.
Foreign minister: Abdullah Gul

Interior minister: Abdulkadir Aksu

Finance minister: Kemal UnakitanMEDIATurkey's airwaves are lively, with some 300 private TV stations and more than 1,000 private radio stations competing with the services of the state broadcaster, TRT. For Turkish journalists, the subjects of the military, Kurds and political Islam are highly sensitive and can lead to arrest and criminal prosecution. Media watchdogs and rights groups report that journalists have been imprisoned, or attacked by police. It is also common for radio and TV stations to have their broadcasts suspended for airing sensitive material.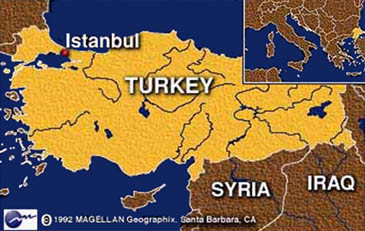 Kurdish-language broadcasts, banned for many years, were introduced by the state broadcaster in June 2004 as a part of reforms intended to meet EU criteria on minorities. Some overseas-based Kurdish TV channels broadcast via satellite.The press

Hurriyet — mass-circulation daily

Milliyet — mass-circulation daily

Cumhuriyet — left-wing daily

Turkish Daily News — English-language

Zaman — English-language web version of daily

Yeni Asir — daily

Sabah — daily Television

Turkish Radio and Television (TRT) — state broadcaster, operates four national networks

Star TV — private, the first station to break state TV's monopoly

Show TV — private, widely-watched network

Kanal D — private, widely-watched network

ATV — private

TGRT — private

NTV — private

CNN Turk — Turkish offshoot of well-known news channelRadio

Turkish Radio and Television (TRT) — state broadcaster, services include cultural/educational network TRT 1, popular music network TRT 3 and Turkish folk/classical music station TRT 4

Show Radyo — commercial

Capital Radio — commercial, pop music

Radyo Foreks — news stationThe above photos were taken by Ms. Kim Sun-Young and Kim Tae-Yeon.