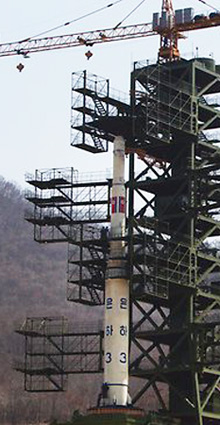 North Korea launched its planned long-range Unha-3 rocket on Dec. 12, 2012.
At 9:49 a.m. on Dec, 12, 2012 (Seoul time), North Korea launched its planned long-range Unha-3 rocket amid the heightened international condemnation. The controversial rocket launch came as a bit of a surprise to neighboring countries following North Korea's state media announcement on Monday (December 10) that it would extend the launch window by one week, until December 29, due to technical problems.
In less than two hours after the launch, North Korea's state media swiftly reported that the launch was a success, claiming that the country had successfully put a satellite into orbit. Although other countries have yet to confirm North Korea's claim, the U.S. military's North American Aerospace Defense Command announced that initial indications show the rocket appeared to have put an object into orbit. The three-stage rocket, fired from a Dongchang-ri launch site located in the western coastal region of the country, appeared to stay in its intended trajectory with the first stage of the rocket falling in the Yellow Sea near the Korean peninsula and the second stage in waters 186 miles east of the Philippines.
Q1: What does a successful launch mean?
A1:
DPRK has developed the ballistic missile launch technology to fly a missile possibly 4,000 to 6,000 kilometers.
DPRK could sell this technology to others, including Iran and Pakistan, who have been regular customers of North Korea's other missiles (Scud, Nodong, Musudan).
The North has crossed a major threshold in terms of mating an ICBM with a nuclear weapon. They still have other technological thresholds to cross (miniaturized warheads, reentry vehicle), but this was undeniably a major one.
The North can claim to have accomplished something the richer and more technologically advanced South Koreans could not yet do (putting a satellite in orbit on their own).
This successful launch probably helps the young leader Kim Jong-un with his domestic credibility after the failed test in April.
Q2: What is the U.S. response?
A2:
Thus far, the administration has made a brief White House statement condemning the launch. There has been no higher profile statement directly from the president either before or after the launch. The United States is not downplaying the test, but Washington is not giving it the priority of the president's personal attention like the strong statements last week to deter possible chemical weapons use by Syria.
There has been an unspoken tendency in the United States to discount these tests as yet another foolish attempt by the technologically backward and bizarre country. This is no longer acceptable. The apparent success of this test makes North Korea one of the only non-allied countries outside of China and the Soviet Union to develop long-range missile technology that could potentially reach the United States.
Washington will go back to the UN Security Council for sanctions as we have done after every North Korean missile test—the question is, will the United States do something else given the new strategic threat posed by the North, or will we wait for them to cross the next threshold to becoming a full-fledged nuclear threat to the U.S. homeland?
Q3: Will there be more actions by the North?
A3:
Probably. Our study at CSIS finds that the North Koreans have done a provocation within an average of 18 weeks after every South Korean election dating back to 1992 (South Korean presidential elections are December 19). The combination of this successful ballistic missile test, followed by a successful nuclear test would constitute an effort by the North to cement its position as a nuclear weapons capable state as new governments come into place in South Korea, Japan, and China.
Read online: http://cs.is/NKoreaLaunch
Critical Questions
is produced by the Center for Strategic and International Studies (CSIS), a private, tax-exempt institution focusing on international public policy issues. Its research is nonpartisan and nonproprietary. CSIS does not take specific policy positions. Accordingly, all views, positions, and conclusions expressed in this publication should be understood to be solely those of the author(s).