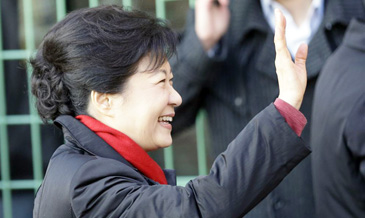 President-Elect Park Geun-Hye of South Korea
South Korea elected Park Geun-Hye of the ruling Saenuri Party as the 18th president of the country today. This was a historic election. First, she became the first female president in the country's history and the first female head of state in Northeast Asia. Second, she is the first Korean president-elect since democratization in 1987 to win the election with a majority of the votes (Park received 51.6 percent of the votes). Her father, Park Chung-Hee, was a former president of South Korea from 1963 to 1979. Park Geun-hye, as a teenager, served as First Lady after her mother, Yuk Young-soo, was killed in 1974 in a failed assassination attempt by a North Korean sympathizer. The race was extremely close, according to polling, such that analysts could not predict a winner in the last days of the campaign. Despite single-digit temperatures, voter turnout was 75.8 percent, the highest since the 1997 presidential election.
Q1: Was this a surprise outcome?
A1:
Yes, in a sense. While the race was considered to be a statistical tie in the days before the election, pundits believed that the dropping of the third presidential candidate on November 23 relieved the progressive camp of a potential split in their voting bloc, enough to push them over the edge. Park, toward the end of the campaign, also experienced some disarray in her camp's leadership circles. Moreover, given the unpopularity of the current Lee Myung-bak administration, many believed that some of this would tarnish another conservative candidate's presidency. Park ran a disciplined campaign, did not step out of her natural calm and collected demeanor, and prevailed by a small but decisive margin of 3.6 percentage points.
Q2: Why did it turn out this way?
A2:
There is a theory that South Korea has a silent majority of more conservative-leaning voters who swayed the election. But this is probably only part of the answer. The election was about whom the people believed had the best economic vision for the country. Park put forward a vision of "compassionate growth" that promised to reinvigorate 5 percent annual growth, but also a vision that leaves fewer people behind and that raises employment. One also has to imagine that North Korea's missile launch last week could have hurt the progressive camp's chances as they trumpeted a return to the proactive engagement policies of previous progressive presidencies.
Q3: What is the road ahead?
A3:
The focus will be on domestic economic issues. Park will be watched carefully as to whether she follows through on her economic platform, which focused on "economic democratization." Elements of this include improved economic regulation, tax cuts to aid businesses, and measures to increase employment. Chaebol reform will be a hot-button issue. Given the increasingly widening income polarization and the lopsided economic structure of the country that is controlled by family-controlled chaebol, her economy agenda will have to touch on enhancing transparent corporate governance and better opportunities for small and medium-sized businesses while at the same time promoting economic growth. This is a tough needle to thread, but Park arguably has more credibility on working with the chaebol on reform than her progressive opponents.
Q4: How controversial is the fact that Park is the daughter of the late Park Chung-hee?
A4:
There are some in Korea who, having suffered directly at the hands of Park Chung-hee's dictatorial regime, still hold highly negative views of President-elect Park. At the same time, there is no denying that Korea today is worlds apart from Korea in the 1960s and 1970s. Yes, President-elect Park is the daughter of the late dictator, but this has no bearing on how she will govern arguably the most vibrant and advanced industrial democracy in Asia today.
Q5: What about foreign policy?
A5:
President-elect Park has always been a strong supporter of the U.S.-ROK alliance and is well known and liked in Washington circles by both Democrats and Republicans. She will seek to consolidate relations and ensure policy coordination with Washington in the event of more North Korean provocations, which may be in the offing. Key issues on the bilateral agenda with Washington include implementation of KORUS (U.S.-Korea free trade agreement), completion of the OPCON transition, and revision of a bilateral civil nuclear agreement.
At the same time, Park will also look for ways to engage China and the North Koreans to move beyond the stasis in both relationships experienced under the outgoing president MB Lee.
Victor Cha holds the Korea Chair at the Center for Strategic and International Studies (CSIS) in Washington, D.C. Ellen Kim is assistant director of the Korea Chair at CSIS, where she is also a fellow.
The above story was contributed by Victor Cha and Ellen Kim.
Critical Questions
is produced by the Center for Strategic and International Studies (CSIS), a private, tax-exempt institution focusing on international public policy issues. Its research is nonpartisan and nonproprietary. CSIS does not take specific policy positions. Accordingly, all views, positions, and conclusions expressed in this publication should be understood to be solely those of the author(s).