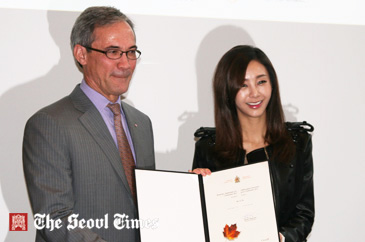 Canadian Ambassador to Seoul David Chatterson (left) poses for camera after he presents Korean-Canadian K-pop artist G.Na with a certificate of appreciation at the press conference held at the Canadian Embassy in Seoul on Jan. 14, 2013 on the occasion of the 50th anniversary of the Canada-S. Korea diplomatic ties.

The year 2013 is going to be full of cultural events to be hosted by Canadian Embassy in Seoul as the year marks the 50th anniversary of the diplomatic ties between Canada and South Korea.In a press conference held at the Canadian Embassy in Seoul's Jeong-dong area on Jan. 14, 2012, Canadian Ambassador to Seoul David Chatterson emphasized the importance of the long-standing and growing bilateral ties between the two nations."It is my pleasure and honour to celebrate 50 years of Canada-Korea diplomatic relations with such an exciting and diverse range of events, which will be held all year long," The Canadian envoy was quoted as saying. "I look forward to seeing our two nations use this opportunity to take our relationship to the next level by strengthening cooperation across the board; in trade, education, energy, global security and international aid and development"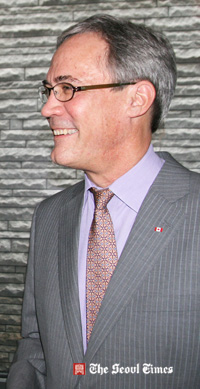 Canadian Ambassador to Seoul David Chatterson. The fluent speaker of Japanese served as Canadian ambassador to Saudi Arabia before he came to Seoul. The envoy spent 10 years in Tokyo.
During the conference Amb. Chatterson also announced a series of cultural events to be held in South Korea under the auspices of the Canadian Embassy. The conference was dubbed "Celebration 2013." He also appointed South Korea's six cultural and sports figures as the honorary ambassadors — Korean-Canadian K-pop artist G.Na, Canadian singer Shayne, actor Oh Zio and soccer star Lee Young-Pyo. Painter Kim Duk-Ki, and cartoonist Rhie Won-Bok.The Canadian ambassador presented each of them with a certificate of appreciation for their role as a partner for "Celebration 2013" program under which a variety of events will take place.The press conference was joined by a number of local media and the cultural celebrities. In honour of the anniversary, Prime Minister Stephen Harper has designated 2013 as the "Year of Korea in Canada" and his South Korean counterpart Kim Hwang-Sik reciprocated by declaring 2013 as the "Year of Canada in Korea" during his visit to Ottawa on December 4. Emphasizing the importance of Canada-Korea relations, Prime Minister Kim said that the two countries will continue to strengthen constructive cooperation moving forward.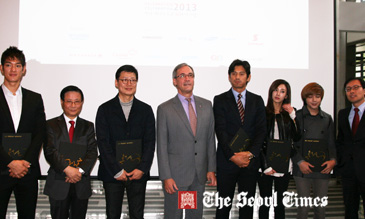 Canadian Ambassador to Seoul David Chatterson (4th from left) poses for camera with the honorary ambassadors he appointed during press conference held at the Canadian Embassy in Seoul on Jan. 14, 2013 on the occasion of the 50th anniversary of the establishment of Canada-S. Korea diplomatic ties.

The year 2013 also marks the 60th anniversary of the Korean War Armistice that ended the conflict in which 27,000 Canadian troops served and 516 lost their lives. Re-visit programs will bring Canadian veterans of the Korean War back to pay homage to their fallen comrades, and to see the vibrant democracy that would never have been, if not for their sacrifice.
Over the past 50 years Canada and Korea have enjoyed warm, friendly relations based on shared values, extensive people-to-people links and strong commercial ties. The growing mutual importance of our relationship is highlighted by the increased high-level contact between our governments. Our leaders have met numerous times in recent years, in Korea and at international meetings. 2012 saw a record number of ministerial visits from both sides, productive bilateral meetings and extensive cooperation on the world stage. Canada and Korea are moving towards concluding a free trade agreement, and have pledged closer cooperation on energy. 2013 holds promise for a bigger and better strategic partnership.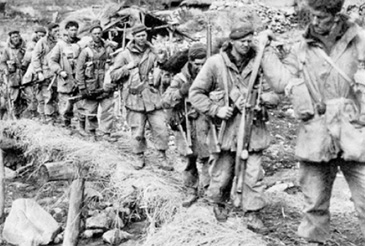 Canadian soldiers belonging to "Princess Patricia's Canadian Light Infantry" are marching toward Gapyeong in South Korea's Gyeonggi-do Province in April of 1951 to fight against the advancing Chinese forces during the Korean War (1950-53). A total of 26,971 Canadian soldiers were sent to South Korea during the Korean War. Among them 1,737 were killed or injured during the war.
Canada-South Korean Relations
Looking Back
Canada-Korea relations date back to 1888 when Canadian missionary James Scarth Gale of Toronto was first sent to Korea. Gale and his American colleague Horace Underwood arguably influenced the Korean language more than anyone else in modern history, having produced the first Korean-English dictionary - written before a Korean language dictionary existed! He also prepared the first Korean translation of the Christian Bible, and wrote the first substantial English-language history of Korea.
Dr. Oliver Avison was personal physician to King Gojong and founded the Severance Hospital in Seoul and the medical college which eventually became Yonsei University. Another Canadian, Dr. Francis Schofield from Guelph, Ontario, who taught at Severance Medical College, became a national hero in Korea for his brave participation in the 1919 Independence Movement against Japanese colonial rule. Dr. Schofield remains the only foreigner to be buried in the patriots' section of the Korean National Cemetery. Canada's official interaction with Korea began in 1947 when Canada participated in the United Nations Commission supervising free elections, with formal recognition of the Republic of Korea (ROK) following in 1949. Canada contributed 26,791 troops, the third largest contingent, to the UN Forces during the 1950-53 Korean War and suffered 516 fatalities. 378 of our war dead still rest in Korea at the United Nations Memorial Cemetery in Korea. Canada's continuing presence on the UN Armistice Commission and on UN Command is a reminder of our involvement and sacrifice in the Korean War. Korean immigration to Canada began to grow rapidly in the mid-1960s, reaching annual flows in the thousands by the mid-1970s. Korean immigrants to Canada were primarily from well-educated backgrounds, possessed skilled trades, were professionals or opened small businesses in Canada, making a positive contribution to the country. There are now over 200,000 people of Korean descent living in Canada.
There are also more than 22,000 Canadian citizens residing in Korea, engaged in various fields of business, including approximately 5,000 teachers working at public elementary, middle and high schools, as well as universities and private academies across Korea.
Diplomatic relations were established in 1963, and Canada opened its first Embassy in South Korea 10 years later. The 2007 opening of a new multi-million dollar chancery in Seoul was a physical manifestation of the growing importance that Canada places on its relationship with Korea. Today Canada and Korea are strong trading partners with $11 billion in bilateral trade annually. We are partners on the world stage, working cooperatively in the G20, the UN, APEC and in global peace operations, such as in Afghanistan. As open and free democracies, our shared values will guide our relations in the years to come.
Looking Forward
Canada has long enjoyed friendly relations with South Korea and the relationship continues to develop as South Korea becomes an important economic partner and a like-minded ally in multilateral fora. Two areas that present especially attractive opportunities for cooperation are education and energy.
Education
Canada remains a top destination for Korean students and parents looking for quality education abroad, and a popular choice due to the safety and high quality of life that Canada offers. Canada's reputation in education is rooted in its quality. We are known for excellence across the entire education sector and Canadian credentials are recognized and valued around the world. Our students are consistently ranked among the OECD's top five academic performers in reading, mathematics and science. Canada's universities are among the best in the world, also consistently earning top marks in global rankings. Canadians are known for their clean, unaccented English, making Canada a favoured language study destination. Canada is also a proudly bilingual nation, offering great opportunities for French study in regions across the country.Energy
Korea's export-oriented economy relies on imports for virtually all (96%) of its energy and raw material needs. Fluctuations in commodity prices and supply disruptions pose a serious threat to its long-term security and prosperity, and Canada is well placed to help. Canada is blessed with oil, gas, and minerals and is open for business. Canada ranks 5th in the world in total energy production, 3rd in crude oil reserves, 3rd in global gas production, 7th in coal exports, 2nd in uranium production and has a large renewable energy sector. The win-win potential of closer energy ties with Canada offers bright prospects for the future.
Key Events
Canada in Korea – High-level visits throughout year
Throughout the year, prominent Canadians will be visiting Korea to build Canada's profile here and help strengthen the Canada-Korea relationship. Visitors will include federal and provincial ministers, senior government officials, private sector CEOs, prominent thinkers and academics, and parliamentarians. Stay tuned to www.celebration2013.kr for updates on where you can see these prominent individuals.Launch Event
January 14 | Embassy of Canada | By Invitation
To kick off the year-long program of Celebration 2013 activities, the Embassy will host a launch event for the media to introduce celebrity goodwill ambassadors G.Na, Lee Young-Pyo, Shayne and Oh Zio and our partners and sponsors. Imjin River Hockey Game recreation February 3 | Seoul During the Korean War Canadian soldiers played a series of hockey games on the frozen Imjin River, near the front lines. These games will be recreated in tribute to the brave Canadian soldiers who served in Korea and for the love of our national sport.Canada and La Francophonie
March 20 | Embassy of Canada
The Embassy of Canada, in partnership with the Government of Quebec's Korea Office, will organize a special event to promote Canada's participation in La Francophonie and our linguistic duality. French-Canadian film Monsieur Lazhar will be premiered.Special program on Canadian cuisine (Delicious Planet on KBS 2 TV) May or June | KBS 2 TV In partnership with the Canadian Tourism Commission, KBS will broadcast a culinary tour of four Canadian provinces, showcasing the quality and diversity of food in Canada. Canada Day event with CanCham
June 29 | Embassy of Canada
In cooperation with the Canadian Chamber of Commerce in Korea, the Embassy will host a community event to celebrate Canada's 146th birthday. The Saturday event will involve family-oriented entertainment, activities with prizes and Canadian food. Come help us wave the flag at this fun outdoor event! Canada Day Reception
July 1 | Embassy of Canada | By Invitation
This event will be hosted by Ambassador Chatterson and promises an evening of Canadian food, drink and music!
Canada Day Across Korea
July | Ten sister cities in Korea
Staff from the Embassy will visit cities across Korea to participate in Canada-themed events and connect with a number of Canada's sister cities and sister-provinces across Korea. If your city has a sister city in Canada, watch out for Canadian events on July 1! Canada Festival with Seoul Metropolitan Government
July | New City Hall
In cooperation with the Seoul Metropolitan Government, the Canadian Embassy will reach out to the citizens of Seoul with a range of interactive activities, including the Banff Mountain Film Festival World Tour and a Canadian photo exhibition in partnership with Canadian Tourism Commission, all taking place at the new Seoul City Hall. Canadian Veterans' Revisit
July | Seoul and Busan
To commemorate the 60th anniversary of the signing of the Korean War Armistice Agreement (July 27), Canadian veterans and their family members will visit sites in Korea where they fought and pay respects to their fallen comrades at the United Nations Memorial Cemetery in Busan. Twenty-six thousand Canadians served during the Korean War and 516 gave their lives during the conflict.Canada Night at Cirque du Soleil
July | Jamsil Stadium| By Invitation
World-renowned circus arts troupe Cirque du Soleil will be returning to Seoul with Michael Jackson The Immortal. On Canada Night, the Canadian Embassy will reserve a special seating area for friends of Canada and our 2013 partners. National Film Board of Canada (NFB) Collection at Seoul International Cartoon & Animation Festival
July | Seoul Animation Centre and Myungdong CGV
The National Film Board of Canada (NFB) Collection at SICAF will feature screenings of Canadian animated films, workshops with Canadian directors and special exhibitions.
Canada Focus at EBS International Documentary Film Festival (EIDF)
August | Seoul History Museum and Yongsan CGV
Hosted by educational broadcaster EBS, a series of Canadian documentary films will be screened at the International Documentary Film Festival and later broadcast on TV. A press conference and discussion forum with film directors will also be held.Dr. Schofield Exhibition (TBC)
August | National Museum of Korean Contemporary History
Canadian teacher and missionary Francis Schofield is widely known as the 34th patriot of the March 1st (samil) Movement for his efforts in support of the 1919 Korean independence struggle. In honour of his contribution to Korea, a special commemorative exhibition of Dr. Schofield's personal belongings will be held at the National Museum of Korean Contemporary History. Colours of Canada Exhibition
September 5- November 29 | Sookmyung Women's University Museum
The Embassy of Canada will display works of art from its collection at Sookmyung Women's University in order to showcase Canadian contemporary arts to the Korea public. In addition, a solo exhibition by Korean-Canadian artist Jinny Yu entitled "Non-painting Painting" will be held in conjunction with the Embassy art display.Canadian Spotlight at the Busan International Film Festival
October | Busan
The Embassy of Canada will welcome a strong delegation of Canadian directors and producers for the annual Busan International Film Festival (BIFF). A special press conference will also be held with an acclaimed Canadian director who will offer personal insight on his featured work.Visit of Canadian University Presidents
Fall | Seoul
A delegation of Canadian university presidents will visit Korea to highlight the quality of post-secondary education in Canada and to identify partners for future collaboration.Canada Education Fair 2013
October | COEX
The Embassy of Canada will hold its annual Education Fair in October, showcasing the educational opportunities available in Canada and providing visitors with information on studying there.Canada Night with the Canadian Brass
December 10 | Seoul Arts Centre
As the final event in our year-long celebration, Celebration 2013 partners and sponsors will be invited to a Canadian Brass concert.
For more information, please contact the Embassy of Canada's Public Affairs section:
Jean Ko, Public Affairs Officer, (02)3783-6177, 010-3813-8292
Kyulah Cho, Media Liaison, (02)3783-6175, 010-3570-2103