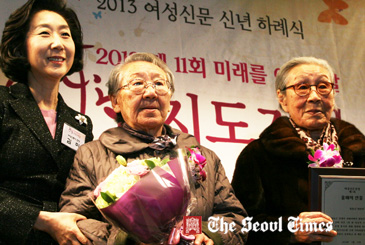 "Newspaper for Women" Chairwoman Kim Mee (left) comforts two ex-sex slaves Kim Bok-Dong (right)and Gil Won-Ok during award ceremony held at Kim Koo Museum & Library's main hall in Seoul's Hyochang-dong on Jan 18, 2013.
The 88-yead-old Kim Bok-Dong, and the 87-year-old Gil Won-Ok, both former sex slaves for Imperial Japanese soldiers during Pacific War (1941-45), were recognized for their pain and ordeal as the comfort woman (從軍慰安婦), by a local newspaper Chairwoman Kim Mee on Jan. 18, 2013.Representing 60 surviving comfort women registered with the South Korean government, the two former sex slaves were chosen as "Person of the Year: 2013" by "Newspaper for Women" in a ceremony held at 3 p.m. on the day at Kim Koo Museum & Library's main hall in Seoul's Hyochang-dong.Chairwoman Kim Mee, who is the granddaughter of a legendary independence leader Kim Koo, presented the ex-comfort women with a plaque of appreciation at the ceremony. Several other female leaders were commemorated by Chairwoman Kim Mee for their excellence of leadership in each field.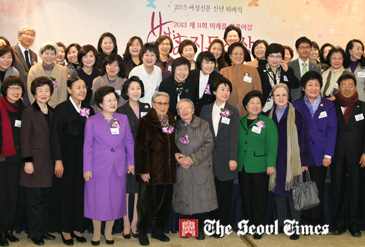 "Newspaper for Women" Chairwoman Kim Mee (5th from left in front row) poses with participants at award ceremony held at Kim Koo Museum & Library's main hall in Seoul's Hyochang-dong on Jan 18, 2013.
The award ceremony was joined by hundreds of mostly women leaders from each sector of South Korean society, Scores of women lawmakers from both ruling and opposition party were invited to the ceremony. Among them was Sanuri Party lawmaker Kim Eul-Dong, the granddaughter of the prominent general of the independence fighting, Kim Jua-Jin.The two ex-comfort women are among the 60 plus living ex-sex slaves for soldiers of the Imperial Japanese Army.As many as 200,000 Korean women were coerced or forced to serve as sex slaves for the Japanese soldiers during the Pacific War.
Japanese soldiers wait in line for thier turn in front of a "comfort station" in Japanese military in China during Pacific War.
The two women and other surviving ones have been staging a protest against Japanese government in front of the Japanese Embassy in Seoul since Jan. 8, 1992.They are clamouring for the official apology from the Japanese government, which still refuges to do so.During the award ceremony Gil wished that there be no more victims like her again in the future."I did not know Korea was liberated from Japanese colonial yoke at that time, I was able to come home only after eight years after the liberation," Gil lamented.
Comfort women are carried on truck during Pacific War (1941-45)
Gil said that she was taken by Japanese soldiers from Pyeongyang, North Korea all the way to Manchuria at the age of only 13."Back then I had no idea whatsoever about where I'm heading for what I will be doing," she said."Soon I was raped by numerous Japanese soldiers," she went on. "I was sick with venereal disease, but I still had to receive them""I had to comfort as many as 20 Japanese soldiers per day, otherwise I was beaten by them," she said.But deeper pain came after she was release free as sex slave in 1945 when Korea was liberated from Japan.
Comfort women during Pacific War (1941-45)
"I came to Korea through Incheon port, I was penniless, and I was not able to go back to my hometown of Pyeongyang out of humiliation," she continued.While most Koreans were jubilant about the newly found freedom, Gil had to conceal her past identity as sex slave. She had to give up marriage or normal life."I still cannot drink milk, because it reminds me of the sperm of Japanese soldiers," Gil added in pain.
Japanese Army Ran "Comfort Woman System"
Japanese Military Comfort Station in Shanghai — A Japanese Army's sex shop or "comfort station" called "Shanghai Army Recreational Center" in Shanghai, China. In each compartment (room) of this wooden facility is one comfort woman to receive one soldier, respectively. On the door is written name of the comfort woman. Other Japanese units used Chinese houses or tents for "comfort stations."
The Imperial Japanese Army first introduced "a system of military sexual slavery" or euphemistically "comfort woman system" for its soldiers in 1932.By 1938 the system was spanned out to the entire military, which conquered and ruled much of Asia during WWII. "The Rape of Nanjing" incident led to the heinous system. When Japanese soldiers raped Chinese women in Nanjing and anti-Japanese feeling heightened, the Japanese military decided to set up "comfort stations" or sex facilities within its military units as a way of relieving its soldiers of their pent up desire.
| | |
| --- | --- |
| | Comfort Woman in Burma in 1945 — An ethnic Chinese woman who was in one of the Imperial Japanese Army's "comfort battalions" is interviewed by an Allied officer in Rangoon, Burma on August 8, 1945. As many as 200,000 Asian women, mostly Koreans, were coerced or forced to serve as sex slaves for the soldiers of the Japanese Imperial Army during the WW II. |
In 1941 when the Pacific War broke out and the Japan's war front was expanded they needed more comfort women. With the help of the Japanese governor general in Seoul, Japanese military officers were on a hunt for comfort women in the entire area of the Korean Peninsula.The number of Korean victims was estimated at between 80,000 and 200,000. The Japanese government denied that they ran any such system until 1991 when a brave woman named Kim Hak-Soon came out and revealed the Japanese atrocities to the world. Japanese Governor General's Office in Seoul incinerated all related documents before the closing of WWII.
Comfort women during Pacific War (1941-45)
A 1994 report shows that there are still hundreds of former sex slaves alive. Most of them are women of Asian countries occupied by Japan before and during the Pacific War. Among them are 160 South Koreans, 131 North Koreans, 100 Filipinos, 50 Taiwanese, 8 Indonesians, and two Malays. These numbers are only for those who revealed their real names.There are much more victims living out there who do not want to identify their tragic past. Even after Korea's liberation from Japan in 1945, many of the Korean victims chose to live in the Asian country where they were forced to serve sex to Japanese soldiers.