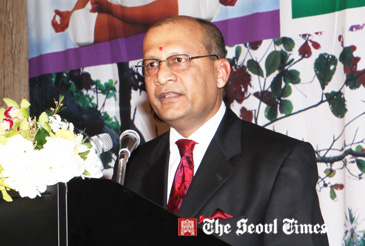 Indian Ambassador to Seoul Vishnu Prakash speaks at the reception held at Millennium Hilton Hotel in Seoul to mark India's 64th National Day on Jan. 23, 2013.
Indian Ambassador to Seoul Vishnu Prakash celebrated the 64th Republic Day of India, on the morning of Jan. 26, 2013 with great enthusiasm and joy, braving the cold temperatures of -15C. Around 250 persons including friends of India, embassy members, and others from Indian community in South Korea assembled at the Indian Cultural Centre, after the National Flag was hoisted by the Indian envoy at the Chancery.Ambassador read out excerpts from the address of president of India to the nation, which was heard with rapt attention. Members of the community and embassy, especially kids, put up a colourful and enthralling cultural programme, which was followed by light refreshments.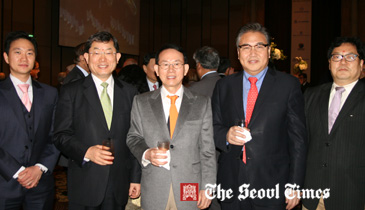 Dr. Min Byoung-Chul (center) poses with ex-lawmaker Park Jin (2nd from right), President Moon Kook-Hyun (2nd from left) of New Paradigm Institute, Lawyer John K. Min (left), and with Managing Editor Joseph Joh of The Seoul Times. Dr. Min, who is also professor of Konkuk University, has recently been appointed as ambassador for Cyber Public Diplomacy of S. Korea's Ministry of Foreign Affairs and Trade.
Earlier on Jan. 23, 2013, Ambassador Vishnu Prakash hosted a reception at Millennium Hilton Hotel in Seoul to mark India's National Day and 40th anniversary of establishment of diplomatic relations between India and South Korea.Vice Labor Minister Lee Jae-Kap of South Korea was the chief guest at the event. Speaking on the occasion, he said that Korea recognized India's potential and hoped that both countries develop a true global partnership, in times to come.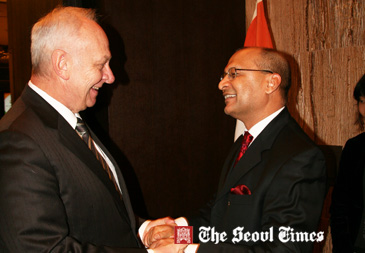 Indian Ambassador to Seoul Vishnu Prakash (right) greets Russian Ambassador Konstantin Vnukov at the reception held at Millennium Hilton Hotel in Seoul to mark India's 64th National Day on Jan. 23, 2013.
Addressing an unprecedented gathering of close to 400 persons representing Korean officials, industrialists, cultural and academic organizations, media, Indian companies in Korea, as well as diplomats and members of Indian community, Amb. Prakash said that the world perceived a rising India, as a factor in global peace, stability and growth.He recalled that President-elect Madame Park Geun-Hye saw India and Korea as natural partners, given their striking similarity of outlook, interests and challenges.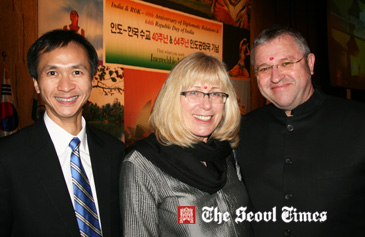 First Secretary Klaus Hofmann (right) of the German Embassy poses with Country Manager Clarence Chung (left) of Cathay Pacific Airways. At center is Mrs. Hofmann.
For the first time at a National Day reception, a cultural programme was also organized by the Indian Cultural Centre that included Bharat Natyam, Kathak and Veena recitals and an energetic Kalbelia (Rajasthani folk dance) performance by two young Korean ladies. The invitees partook of a sumptuous spread of Indian cuisine.During the course of the year, a number of events and activities are being planned to commemorate the 40th anniversary in a befitting fashion.
For details or inquiries call the Indian Embassy in Seoul at 798-4257 or leave an Email at mijito.chishi@gmail.com