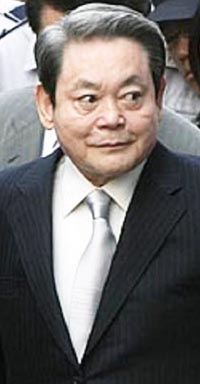 Chairman Lee Kun-Hee
of Samsung Electronics
Leak of deadly poison gas, hydrofluoric acid, killed one worker and wounded four others at the factory of Samsung Electronics in Hwaseong, South Korea's Gyeonggi Province on Jan. 27, 2013, reported Chosun Ilbo on its Jan. 29, 2013 edition.For Samsung it is the second leakage of the most dangerous gas within four months.On Sept. 27, 2012 about 10 tons of hydrofluoric acid leaked on the compound of chemical maker Hube Global at the Gumi National Industrial Complex in South Korea's Gumi, killing five workers. This time the leakage of hydrofluoric acid was due to the aged gasket, parts of the gas valve, the daily reported. Samsung Electronics failed to replace the parts of the gas valves until the accident took place.It was only after one of the wounded died that Samsung Electronics reported the case to the police and the government authorities. The report was made belatedly only after 25 hours after the accident.Samsung failed to take safety measures at the time of the accident, which happened at the wee hours of Jan. 27, 2013. The 34-year-old dead, known only by his last name Park, was not wearing proper protective attire at the time of the accident.Meanwhile, Samsung was quoted as saying "Only a very small amount of gas was leaked so that normal operation did not have to be stopped."At the time of the initial gas leak there were some 50 Samsung workers on site. And they were not ordered by Samsung to stop the work and leave the place of the accident.It was confirmed that Samsung did not notify the assembly workers of the gas leak accident.The part gasket, from which hydrofluoric acid leaked, was stopped temporarily by a plastic bag for 10 hours, the daily quoted Samsung as saying.It was only 10 hours later around 11:38 p.m. on Jan. 27, 2013 that Samsung replaced the gasket when the amount of gas leak swelled.
Samsung also failed to notify nearby residents about the gas leak. Some 12,000 employees are working at Hawseong factory of the Samsung Electronics. Nearby is the residential area full of apartments."It was highly absurd that world-class company Samsung failed to take care of extremely harmful material, causing the terrible accident," a 50-year-old resident only known by his last name Kim was quoted by the daily as saying.When the possibility of hydrofluoric acid leak was raised at Hwaseong and Kiheung factories last year after the September accident, Samsung announced that they were maintaining the factories with much stricter regulations than others.