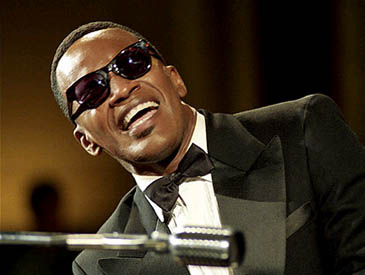 Jamie Foxx stars as Ray Charles in Taylor Hackford's film "Ray."
Nicola Goode/Universal Studios
When Ray Charles died in June, he had ascended to the most rarefied level of fame; no longer merely a celebrity, he had become an institution. There is no doubt that he deserved this status, or that he enjoyed it, but universal esteem is not always a blessing for an artist. Some of Charles's music has become so familiar that we risk growing deaf to the audacity and innovation that made it great in the first place. The opening bars of "Hit the Road Jack" can be heard at every ballpark in the land, whenever a hapless pitcher heads for the showers — a clever enough joke the first hundred times you hear it but a curious fate for a song that crackles with so much high-spirited sexual drama.In "Ray," the new film biography directed by Taylor Hackford, some of that drama is restored, and you hear some of Charles's best music — the signature R & B hits of the mid-1950's, the astonishing forays into orchestral pop and country-and-western of the early 60's — as if for the first time. In the movie's account, "Hit the Road Jack" emerges almost spontaneously from a hotel-room lovers' quarrel between Ray (Jamie Foxx) and Margie Hendricks (Regina King), one of his backup singers. This episode may be apocryphal, and is no doubt embellished, but "Ray" succeeds, to an unusual extent for a movie of this kind, in presenting a vivid, convincing portrait of an artist.If it falls into some of the lacquered conventions that bedevil so many biopics, it also has some of the sly candor that makes Charles's memoir, "Brother Ray" (written with David Ritz), such a delight to read. And though "Ray" occasionally strays into sentimentality and facile psychologizing, Mr. Hackford and James L. White, the screenwriter, have hit upon an insight that eludes most filmmakers who try to put the lives of artists on screen, namely that the real story lies in the art itself.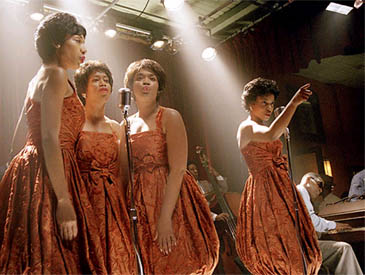 A scene from "Ray" with actresses portraying the Raelettes.
Nicola Goode/Universal Studios
So while "Ray" occasionally flashes back to Charles's childhood in Florida, recounting the twin traumas of his younger brother's death and his own blindness (the result of glaucoma), and while it does not shy away from his womanizing or his heroin addiction, its main concern is his music. Mr. Hackford trusts the audience's taste and intelligence enough to assume that, much as we might be curious about Charles's mother (Sharon Warren) or his marriage, we are most interested in learning — in hearing — how Ray Charles went from Nat King Cole-style crooning to a raucous fusion of gospel and blues and beyond, treating the whole range of American vernacular music, black and white, sacred and secular, urban and rural, as a cornucopia of musical possibilities. We hear a lot of what he made of this bounty, and "Ray" lets us appreciate Charles's genius and eclecticism in a way that no CD boxed set could. This is partly a result of Mr. Hackford's judiciousness and generosity, and the deft way he weaves Charles's recordings through the behind-the-scenes set pieces that fill out the narrative. But what makes "Ray" such a satisfying picture, in spite of some shortcomings and compromises, is Mr. Foxx's inventive, intuitive, and supremely intelligent performance. That this erstwhile comedian possessed formidable acting chops was evident even back in the days of "In Living Color," but it was not always clear how far he would go in developing them. It's clear now. He has mastered Charles's leg-swinging gait, his open-mouthed smile and the tilt of his head, as well as the speaking style that could sometimes sound like a form of scat singing. But there is much more than mimicry at work here. In his best big-screen performances — as Drew (Bundini) Brown in Michael Mann's "Ali," for instance, and as the young quarterback in Oliver Stone's "Any Given Sunday" — Mr. Foxx has displayed an intriguing blend of quick-wittedness, bravado and sensitivity, and his recognition of those qualities in Ray Charles is the key to his performance. You get the sense that he is not just pretending to be Ray Charles, but that he understands him completely and knows how to communicate this understanding through every word and gesture, without explaining a thing.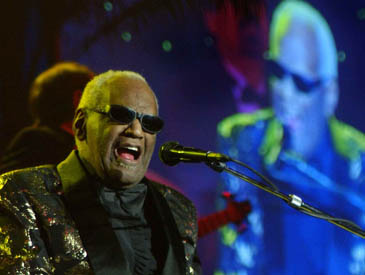 Great popular art speaks for itself. "I'm not one to interpret my own songs," Charles wrote in "Brother Ray," "but if you can't figure out 'What I Say,' then something's wrong. Either that, or you've never heard the sweet sounds of love." And "Ray," at its best, partakes of both the directness and the incomparable sophistication of his music. Apart from the flashbacks to Charles's youth in rural north Florida (where he was born Ray Robinson in 1930), the film concentrates on a two-decade span — roughly from the late 1940's until the mid-60's — during which he made his way from rough-and-tumble clubs and chitlin'-circuit dance halls onto the top of the pop and R&B charts.Along the way, we get a sense of the fertility of African-American popular culture in the era of segregation, and of the hustling, nickel-and-diming and endless negotiating that permeated all levels of the music business. Musical genius that he was, Ray Charles was also a sharp businessman. His experience taught him to be tough, ruthless and suspicious of everyone, traits that Mr. Foxx presents without apology. One of the insidious aspects of celebrity biographies is their tendency to become disingenuous fables about the pathology of fame, in which the price of success is reckoned in broken relationships, substance abuse and self-destructive behavior. Spectacles of unhappy genius, I guess, are meant to make the rest of us feel justified in our mediocrity.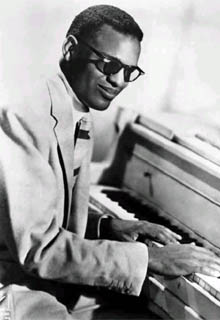 "Ray" does not entirely avoid this kind of moralism. Charles turns on some of his most loyal band-mates and employees, including his steadfast driver and road manager, Jeff Brown (Clifton Powell). Ray's relationships with Margie, with his wife, Bea (Kerry Washington), and with another singer, named Mary Ann (Aunjanue Ellis), all include their share of tears and melodramatic fights. (All three of the actresses hold their own in underwritten roles, with Ms. King in particular matching Mr. Foxx's feints and weaves with bouncing pugnacity). His drug habit and his workaholism take their inevitable toll.But if this kind of trouble is the price of artistic achievement, the movie makes clear, as "Brother Ray" did, that Charles paid it ungrudgingly, even joyfully. "Ray" is the story of a man surmounting the obstacles of racism and disability, but for the most part it steers clear of easy uplift or self-congratulation. Mr. Hackford trusts his material and loves his subject, too much to puff the man up with hagiography."Ray" while not a great movie, is a very good movie about greatness, in which celebrating the achievement of one major artist becomes the occasion for the emergence of another. I'm speaking of Ray Charles and Jamie Foxx, of course, though at this point I'm not entirely sure I can tell them apart.
"Ray" is rated PG-13 (Parents strongly cautioned). It has sex, drug use and some profanity.
Ray
Opens nationwide todayDirected by Taylor Hackford; written by James L. White, based on a story by Mr. Hackford and Mr. White; director of photography, Pawel Edelman; edited by Paul Hirsch; music by Ray Charles, score by Craig Armstrong; production designer, Stephen Altman; produced by Howard Baldwin, Karen Baldwin, Mr. Hackford and Stuart Benjamin; released by Universal Pictures. Running time: 152 minutes. This film is rated PG-13.WITH: Jamie Foxx (Ray Charles), Kerry Washington (Della Bea Robinson), Clifton Powell (Jeff Brown), Aunjanue Ellis (Mary Ann Fisher), Harry Lennix (Joe Adams), Larenz Tate (Quincy Jones), Sharon Warren (Mother) and Regina King (Margie Hendricks).
The above article is from The New York Times.