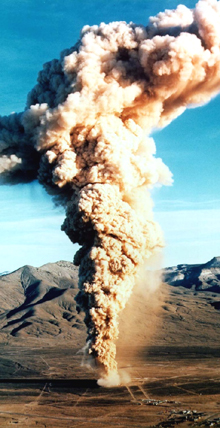 N. Korea tested on Feb. 12, 2013 "a small and light" nuclear device, announced the official Korean Central News Agency. The bomb was stronger than the previous two detonations with a yield of 6 or 7 kilotons.
At 11:57a.m. (local time) Feb. 12, 2013, North Korea, in defiance of the international warnings, appears to have conducted an underground detonation that is widely believed to be a nuclear weapons test. An "artificial earthquake" was detected from the northeastern area of the country with a magnitude of 5.0-5.1 according to the U.S. Geological Survey. North Korea's official news agency claims that this was a successful nuclear test using a smaller, miniaturized device. The White House released a prepared statement this morning condemning the test. If confirmed, this would be the country's third nuclear test since its previous tests in 2006 and 2009 and also the first test since Kim Jong-un took power after his father's death.The nuclear test came against the backdrop of already heightened tension in the region following North Korea's hostile statements in reaction to the recent UN Security Council Resolution 2087 against the country, which was unanimously adopted in late January 2013 in response to its long-range rocket launch using ballistic missile technology in December 2012.
Q1: How significant is this test compared to two previous nuclear tests in 2006 and 2009?
A1:
Details are still very sketchy and it will take a few days to confirm the test by government authorities. The only confirmed information is that the earthquake magnitude of previous tests in 2006 and 2009 were 3.9 and 4.4 each. Thus, this appears to be a test of a more powerful device.
Q2: Why did North Korea conduct a nuclear test now?
A2:
But there seem to be two major objectives. First and foremost is a desire to demonstrate a successful nuclear detonation to advance its weapons program. North Korea has boasted of its nuclear weapons status and this test adds further to the goal of mating a long-range ballistic missile with a miniaturized nuclear warhead that could reach the United States. Second, Pyongyang may want to perform a fait accompli with this test and compel the Obama administration to deal with North Korea as a full-fledged nuclear weapons state.Testing on the day before the president's state of the union address only accentuates the point. In the inter-Korean dynamic, this provocation is historically not unprecedented; North Korea has done provocations ranging from missile tests to military incursions within weeks of every South Korean presidential inauguration dating back to 1992. Thus, the North may well want to show the new government in Seoul who is the alpha dog on the peninsula with this test.
Q3: Does it matter that the test came before the inauguration of Park Guen-hye?
A3:
No. There will be some who rationalize the nuclear test as a parting shot to the outgoing conservative Lee Myung-bak government, thereby leaving Park some room to reach out to the North once she takes office but that is a stretch. Park, who ran on national security, will be compelled to take this as a direct threat to the country's security and will react accordingly.
Q4: What would be the likely international response?
A4:
The UN Security Council will convene immediately to seek another resolution against North Korea. This resolution should be a Chapter 7 resolution and should include more severe sanctions including financial sanctions, travel bans, and targeting of individual assets held outside of the country. UN member states will look to China to curtail undisclosed amounts of economic and energy assistance to the North. Chinese leaders cannot be happy with this test. In the world of diplomacy, little things do matter and conducting the test during the Chinese new year will be viewed by Beijing as extremely insulting, and perhaps will lead to them to take quiet punitive but temporary measures.
Q5: If this is a uranium-based nuclear test, would this be any different from past plutonium tests?
A5:
A uranium-fueled test would suggest several disturbing new problems in the effort to denuclearize North Korea. First, it would mean that the DPRK has not one, but two ways to make a bomb which doubles the problem.Second, highly-enriched uranium is much easier to hide than plutonium. It can be made in from centrifuges operating in buildings the size of a warehouse unlike the big and easily identifiable footprint of a plutonium nuclear plant facility.Third, the North can potentially produce a lot more uranium than it can plutonium and proliferate horizontally to others (like Iran) who may not need to test a device and feel confident that it has acquired a working device. Moreover, if this is proven to be a test of a miniaturized device as the North claims, then they will have crossed another technological threshold in mating a nuclear warhead with a long-range ballistic missile that could threaten U.S. security and that of its allies. Basically, none of this is good at all.
Q6: What is the road ahead?
A6:
It is very difficult to say. The test, if confirmed, would come one day before President Obama's state of the union speech and would constitute his first foreign policy crisis of his second term as North Korea's long-range ballistic missiles and nuclear weapons pose both a proliferation threat and a direct threat to U.S. security. North Korea's outrageous behavior encourages few voices for dialogue and we are therefore in for a period of heightened tensions. Yet at the same time, climbing down from these crises with the reclusive regime has only happened historically through a return to diplomacy. Whether President Obama and his new secretary of state can stomach such a thought in the months ahead remains to be seen.
The above story was written based on the dialogue between Victor Cha, senior advisor and Korea chair, and Ellen Kim, fellow and assistant director of the office of the Korea chair.Critical Questions is produced by the Center for Strategic and International Studies (CSIS), a private, tax-exempt institution focusing on international public policy issues. Its research is nonpartisan and nonproprietary. CSIS does not take specific policy positions. Accordingly, all views, positions, and conclusions expressed in this publication should be understood to be solely those of the author(s).