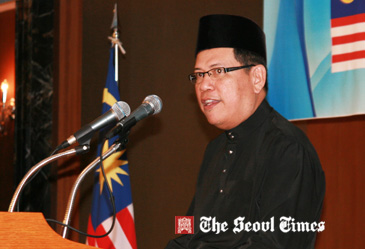 Malaysian Ambassador to Seoul Dato Ramlan Ibrahim

Dear Friends,
Thank you very much for coming and supporting MARK. Much appreciated. As requested below if the notice we posted on Facebook, Blog, Twitter and individual emails sent out based on various listings complied.Feel free to use attached contents for Joseph to post in Seoul Times. Thanks again.
Re : Malaysian Association of the Republic of Korea (MARK)'s Annual General Meeting (AGM).Dear Fellow Malaysians,I am pleased to advise that MARK will be holding it's 1st AGM, details as follows:
...
Date : Saturday, 23 February 2013
Time : 3.00-6.00pm
(Light refreshments will be served)
Venue : Embassy of Malaysia
129, Dokseodang-ro (Hannam-dong)
Yongsan-gu,
Seoul 140-884I am especially happy to note that His Excellency Dato' Ramlan Ibrahim, Ambassador of Malaysia to the Republic of Korea and Patron of MARK will be attending this AGM.Message from H.E. Dato' Ramlan Ibrahim and Patron of MARK"I am delighted to welcome the formation of the Malaysian Association of the Republic of Korea or better known as MARK. Now Malaysians in Korea have a focal point to meet, network and get to know each other; organize fun and beneficial activities; and enjoy our festivals in the truly Malaysian way. Through MARK, the Embassy looks forward to reach out to Malaysians in Korea and create bonds of friendship and effectively play its role to safeguard the interest of Malaysians in the country.The Association has the potential to project the Malaysian people and culture here in Korea and create a positive profile of the country by participating in outreach programs and charity events. Malaysians can thus feel truly at home in Korea while playing their role as integral members of society. Let this be the beginning of a great relationship not only between the Embassy and Malaysians in Korea but among all of us living, working or studying here.Good luck MARK and great to have you on board!"Grateful if you could reach out to all Malaysians living in Korea to come and support this event. Please bring along their families and their children. Feel free to access and pass along the following websites to your friends and fellow Malaysians. http://seoulmark.blogspot.kr/
http://www.facebook.com/seoul.markTo all Malaysians celebrating the Chinese New Year, "Gong Xi Fa Cai" and may 2013 and the Year of the Snake bring prosperity, good health and happiness to all.Look forward to seeing all Malaysians on Saturday, 23 February 2013.Aloysius Wee
President of the Protem CommitteeInquiries can be made through aloysiuswtb@yahoo.com