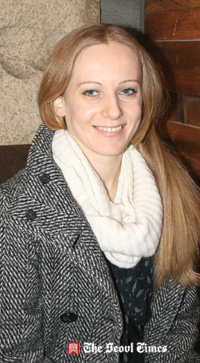 Ms. Petra Hovorkova, coordinator of "Czech Centre Seoul" being interviewed by The Seoul Times.The centre will open in March in Seoul's Hongdae area.
"Czech Centre Seoul," to be opened officially on May 1, 2013, will be the third cultural center of Czech Republic in Asia, said Ms. Petra Hovorkova, the coordinator of the center in a recent interview with The Seoul Times.Ms. Hovorkova, who has a command of six languages including Korean and Chinese, revealed her plans to bring more of Czech culture to South Korea in the upcomming mohths in the interview. The following is the full text of her interview story.
Q1: Although belatedly my sincere congratulations on your new appointment as coordinator of "Czech Centre Seoul". And also I would like to thank you for this interview opportunity. When was your "Czech Centre Seoul" office established and how?
A1:
There was an effort to establish the centre for a quite a long time. There was the Czech Info Centre in Castle Praha before, and we are going to be its "bigger successor." Since it is only the third Czech Centre to be opened in Asia (after Tokyo and Tel Aviv), the decision to establish it came rather slowly. But now everything is already in progress and we plan to open for the public next month.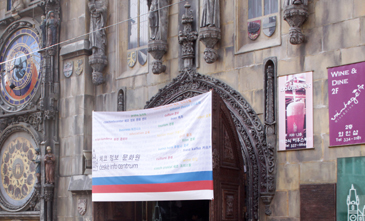 "Czech Centre Seoul" to open in Hongdae area on May 1, 2013
Q2: What is the purpose of the opening of "Czech Centre Seoul"? What can "Czech Centre Seoul" offer to the local Korean people? In particular what is your role as the coordinator of your office?
A2:
The Czech Republic is generally known in Korea as a popular touristic destination. Thanks to the fame of Prague, Franz Kafka, Czech classical music etc. among Koreans we have now a new opportunity to broaden this good image. The amount of Czech cultural events in Korea is unexpectedly high and the potential to organize more events is even higher. We are going to offer various programs, both regular and special events, such as exhibitions, concerts, movie screenings etc. We hope to inspire more curiosity in Korean people towards Czech culture and enrich their everyday life, showing them new perspectives. So far, there has only been myself and my colleague working on the project, so basically we both are in charge of everything.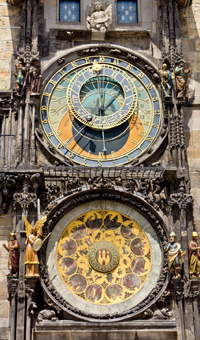 "Prague Orloj, " or the Prague Astronomical Clock, mounted on the southern wall of Old Town City Hall in the Prague's Old Town Square, is the third-oldest astronomical clock in the world and the oldest one still working. The clock was first installed in 1410.
Q3: Could you please tell us about your plans to further promote Czech culture in South Korea and amongst the Korean people? What are the plans and events scheduled in this year?
A3:
Our intention is to offer interactive programs, something where the guests could directly experience part of our culture. We would like to introduce a tradition of an annual Praha Street Festival with live Czech music, performances and, of course, Czech beer. Besides this, we have scheduled few exhibitions ranging from photography to marionettes. In addition, our regular programs will offer thematic evenings about literature, film or travelling once a week. Finally, we will also channel all Czech culture related information through our website, offering general information about the Czech Republic and tourism.
Q4: I believe that your linguistic ability and international experience have been very helpful for your position now. You are multilingual and multicultural as well. How many languages can you speak and how did you learn them?
A4:
It is true that Korean helped, but other languages were not considered for this position. English is a must nowadays. My major was originally Chinese, so I learned it through my studies. And Italian was a detour while being in Italy as an exchange student. Learning a language is learning a way of life, so I think travelling and living abroad is essential.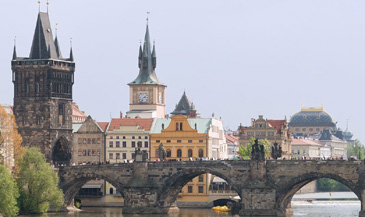 The Charles Bridge is a historic bridge on the Vltava river in Prague. The construction started in 1357 under the auspices of King Charles IV, and finished in early 15th century.
Q5: Could you introduce your educational background? What was your major back in college? Do you also hold an advanced degree? Did you study abroad?
A5:
To be honest, my very first major was biochemistry. But after graduating I realized very quickly that a job in a laboratory doesn't match my expectations. I think I just didn't appear at the right time in the right place and I wanted to change it. So I decided to study languages. First I went to Italy, then China and finally Korea.
Q6: Would you mind telling us about your professional background? What made you come to Seoul and get the position you are holding now? Were there any? motivations or special occasions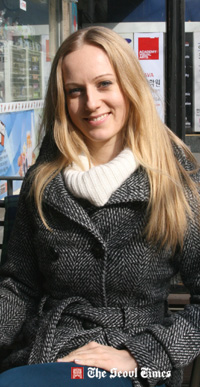 Ms. Petra Hovorkova, coordinator of "Czech Centre Seoul"
A6:
During EXPO 2010 in Shanghai I was working for the Czech section there and that was a very useful experience considering my present position. However, the reason why I came to Seoul was because I hoped to find here better a education than in China. I came to Seoul as a scholarship student studying Comparative Literature at Seoul National University.
Q7: Can you compare Korean culture with Czech culture? What are the advantages and disadvantages of Korean culture for Korean people in general?
A7:
Of course first of all there are huge differences, but maybe we share some of the historical experience of being a small nation continuously facing greater forces in our surroundings. I admire the will of Koreans to protect and continue their cultural traditions. And in general I like the social rituals and politeness Koreans show in public. It certainly has its disadvantages, such as reluctance to solve problems directly, but it suits me more than exaggerated emotionality.
Q8: What do ordinary Czech or European people think of South Korea and of Korean people now? How strong is the effect of so-called "Korean Wave" in Czech Republic?
A8:
Czech people see Koreans as a very industrious and diligent nation, sometimes maybe too much devoted to their work. Koreans are also said to be the most beautiful nation in Asia. Back to when I was in college I never heard about Korean Wave and only few Korean movies were known to us, but I think the situation is changing. Today everyone knows "Gangnam Style," even my brother was asking me about Psy!
Q9: How do you hobnob with the local Koreans? Do you have many Korean friends? How do you spend your leisure time in Korea? What are your hobbies?
A9:
I have many Korean friends but the relationships need a lot of time to develop and it's only my second year here so I would say these friendships are still lacking some depth. I like all kind of sports, so I usually go swimming or running or taking dance classes if I have time. My greatest hobby is horse riding, though unfortunately I haven't found many opportunities to practice it here in Korea.
Q10: Could you tell me about your future plans? Would you introduce your family? What do they do for a living?
A10:
Now my future plans are closely related to the Czech Centre. I hope we can give it a good start and expand it in near future. My parents and younger brother live in the Czech Republic.