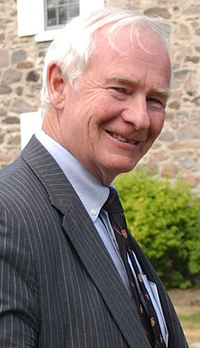 Governor General of Canada
David Johnston
Governor General of Canada David Johnston will arrive in Seoul on Feb. 24 (Sunday), 2013, announded the Canadian Embassy in Seoul on Feb. 22 (Friday), 2013.The embassay said that the governor general will attend the inauguration ceremony of South Korea's President-Elect Park Geun-Hye to be held at the National Assembly plaza in Seoul on Feb. 25 (Monday), 2013.After attending the ceremony Mr. Johnston will make a keynote address at Yonsei University in Seoul at 4 p.m. in the afternoon. He will speak under the title of "Where East meets West: Canada, Korea, and the Diplomacy of Knowledge."The speech will be delivered at Chang Ki-Won International Conference Room of Yonsei-Samsung Library Building on the campus.The following day the governor general will visit the War Memorial of Korea in Yonsan-dong in Seoul's Yonsan-gu area. Mr. Johnston will attend the wreath-laying ceremony to be held at 8:40 a.m. on Feb. 26, 2013.Mr. Johnston will leave Seoul for Canada on Feb. 26 (Tuesday), 2013 after rounding up his three-day visit to South Korea.Governor General Johnston's visit to Seoul will be made at the request of the Canadian Prime Minister Stephen Harper, according to the announcement of the Canadian Embassy in Seoul."As 2013 marks 50 years of diplomatic relations between Canada and the Republic of Korea, I'm honoured to represent Canada at the inauguration ceremony of Park, Geun-hye, President-elect of the Republic of Korea," said the governor general."Canada's long-standing relationship with Korea started when Canadian missionaries and teachers made notable cultural, scientific and social contributions to the country's development," he went on. "Over the last five decades, our bilateral relationship has grown, and has led to Canada and South Korea becoming important trading partners.""While in Seoul, I look forward to further strengthening our diplomatic ties with the Korean people and government officials during official functions and events," he added.
Who Is David (Lloyd) Johnston?
David Johnston is current governor general of Canada, and the 28th since Canadian Confederation. He is also a Canadian academic, author, and statesman.Johnston was born on June 28, 1941 and raised in Ontario, studying there before enrolling at Harvard University and later Cambridge andQueen's universities.He went on to work as a professor at various post-secondary institutions in Canada, eventually serving administrative roles as dean of law at the University of Western Ontario, principal of McGill University, and president of the University of Waterloo.At the same time, Johnston involved himself with politics and public service, moderating political debates and chairing commissions in both the federal and provincial spheres, his most renowned position in that field being the chairmanship of the inquiry into the Airbus affair.He was in 2010 appointed as governor general by Elizabeth II, Queen of Canada, on the recommendation of Prime Minister of Canada Stephen Harper, to replace Michaëlle Jean as viceroy.At the time, Johnston was predominantly praised as a worthy choice for the Queen's representative, though his appointment was denounced by some Quebec sovereigntists.As governor general, Johnston is entitled to be styled His Excellency while in office and The Right Honourable for the duration of his viceregal tenure and beyond. Given current practice, he will be sworn into the Queen's Privy Council for Canada when his term as the Queen's representative ends.
For details or inquiries call the Canadian Embassy in Seoul at 3783-6175 or leave an Email at Kyulah.Cho@international.gc.ca